There are plenty of ways you can increase traffic to your wash. One of the best ways is through proper branding and marketing – but that's a subject for another day. Today, we're looking at the small, quick, easy things you can do to increase traffic to your wash. From catching someone's eye when they're driving past, to giving customers that little something that will help with word of mouth, these are small steps you can take right now to see results almost immediately!
Eye Catchers Generate New Traffic
For many drivers, the act of getting their car washed isn't necessarily an intentional one. Many customers may just know that they need their car, truck, or SUV washed. They might not be concerned with where, specifically. They may just be driving around looking for a wash that is ready to serve them. The key is to make sure that in the end, yours is the car wash they end up at!
Signage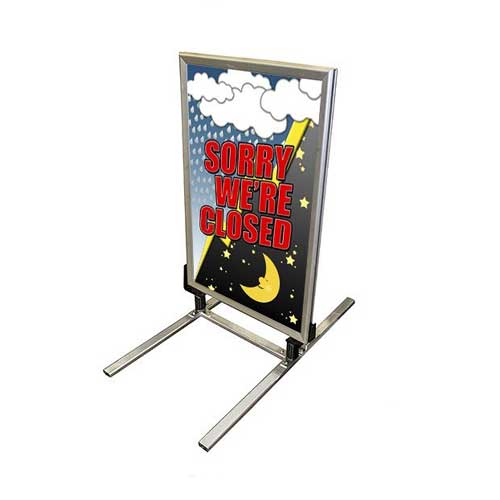 Nothing increases traffic more than making sure everyone who passes by knows exactly what you have on offer, and how it benefits them. Extra points if you're doing it at a lower price than your neighbors! But if they don't know what you've got, what reason do they have to stop in?
Windmaster signs are the perfect solution. Inexpensive yet durable, they hold up to wind gusts. They are easy to swap in and out. It's a breeze to rotate different signs through the frame regularly. This will let drivers-by see all of your products on offer! Changing these regularly also shows drivers that you are proactive and on top of the latest trends. You are committed to winning their business! In their eyes, stale and repetitive messaging is the sign of a stale business. They want vibrant, current, and active.
Flags and Inflatables
The fluttering and waving of feather flags and wacky waving inflatable tube guys is hard to ignore. It's human nature to give our attention to something moving quickly in our vicinity.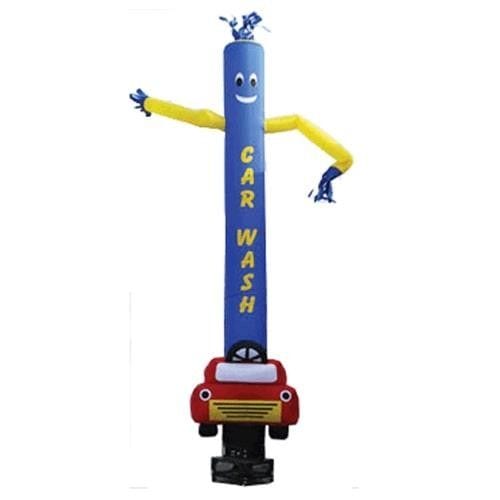 Wacky waving inflatable tube guys – officially called flag dancers, but come on, the former is more fun to say – do a great job of capturing attention. One of their great advantages is that they don't just grab the attention of the driver or customer. These are distracting and appealing to young passengers. Children will be quick to point them out to their parents that are driving. In turn, this makes the parents focus on your business.
While feather flags don't offer quite the "wow" factor, they do offer the opportunity to be a bit more informative. They can advertise anything from the fact that you are open, to specific processes or features you offer, all in a fluttering sign that will snag attention from passers-by. Feather flags are also comparatively inexpensive, and easy to rotate out for a new message or flag. Best of all, they are useful for a variety of business types. Maybe you run a detail shop, vendor, or quick lube as part of your business empire. You can rotate these flags across multiple businesses, making them seem fresh and updated without having to expend extra capital!
Lighting
Day and night, lighting can make a massive difference. It's not just about safety – although safety alone can convince potential customers to choose your wash, as we've talked about before. Bright lighting is attractive, and if customers can see colorful LEDs that light up your bays or tunnels as they drive past, that may be enough to draw them in to check it out! Consider going with lighting that fits your wash branding, or a theme you may be going with. Drivers love a show!
Lighting around vacuum islands, landscaping, and even your sign out front is also going to draw them in. No lighting makes it looks like you aren't open or are in disrepair. Bold, bright, maintained lighting across your property helps the customer know that you are open. It is welcoming, and particularly in evening hours and the nighttime, could draw traffic to your wash as other washes are dimly lit or not lit at all! Bendable lighting is incredibly useful for the modern long-each vacuum units.
Clean and Attractive Property
Everything from regular mulching and plant maintenance to trimming the bushes, clean walls, and a nice coat of paint can bring in the drivers. If a wash is dirty or in disrepair, a potential customer will turn away and perhaps never return. Making sure you are picking up trash every day, even if it is on the road just outside of your property, is a place to start. Wash down or repaint exteriors as they fade or get dirty. Don't let bushes overgrow curbsides or block signage. Small steps can make big inroads when it comes to attracting extra traffic into your wash!
Word of Mouth
In some cases, increasing traffic can come from word of mouth, or takeaways from visits to your wash. Customers can be pushed towards your wash by a friend's recommendation, or simply catching your logo somewhere. It would be a sticker, a custom freshener, or any of the branded options out there!
Custom Car Fresheners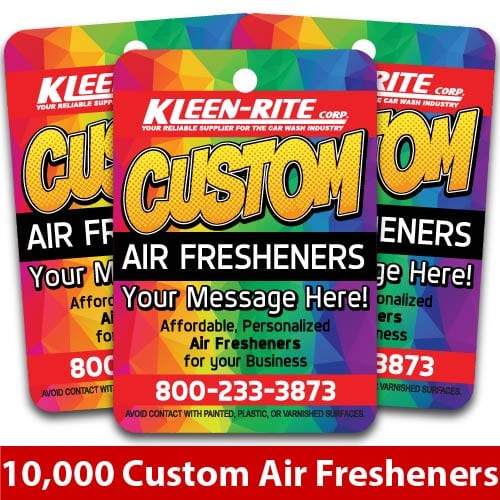 As a giveaway item with certain packages – or all of them, considering how inexpensive they are – or as a retail or vending item, custom car fresheners with your logo on them are eye-catching reminders for customers. On top of that, potential customers may see your logo out in the wild – as passengers, or simply walking past a vehicle sporting the freshener in a parking lot.
Retail Options
In today's world of convenience, drivers love one-stop-shops. If they can get their washing done – while also picking up car care products, getting the interior clean, getting their vehicle detailed, or even getting an oil change – it's even better! One of the best ways to provide for this one-stop-shopping is through vending machines or a small retail shop packed with the latest in car care goods. When folks find out they can some visit you for a car wash, an interior vacuum, car air fresheners, and even care products for in between washes, they'll certainly go for that option over having to go to two or even three locations!
Repeat Visits, Constant Traffic
It's cheaper to keep customers and encourage return visits than it is to generate new customers. Some business experts have estimated that it may be as much as five times less expensive to retain than to add a new customer! Encouraging repeat visits by existing customers is a great way to see improved traffic. It also helps to create a sense of community and familiarity.
Membership Programs
Perhaps the best and easiest way to guarantee increased traffic is to implement a membership program like those managed by EverWash! Membership programs are constantly generating visits, and will provide regular traffic along with regular income.
"But wait," you say, "Those people have already paid, so I'm not making more money from the increased traffic!"
They may not be increasing your profits, but think of it this way – would you want to go somewhere with regular business that seemed popular? Or would you rather go somewhere that seems to get low visit numbers? Wouldn't you assume that the latter has something wrong with it?
While the traffic from a membership program may not be constant money flow, the traffic can be a magnet for further traffic. It's all about building momentum, using traffic to attract traffic!
Loyalty Program
Nipping closely on the heels of membership programs, loyalty programs drive the same repeat visits, but focus on encouraging a certain number of visits to gain an advantage or prize. From a free wash, to promotional products, to an upgrade to full service washing, a loyalty program encourages customers to keep coming back and buying washes in order to get that next step up. Loyalty rewards have been used across almost every industry and sector in one way or another. Even here at Kleen-Rite, our Kleen Rewards program rewards customer loyalty with things like free shipping and cash back!
So take the opportunity to up your traffic today, as the wash season begins to come into full swing! Some of these are super easy, while others may involve a little more time and effort – but they have all been shown over the years to increase traffic. From self-serve to tunnel washes, you'll see more cars, more work, and more profit!