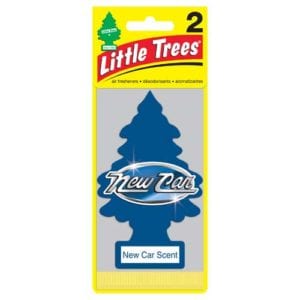 When a customer pulls into a car wash or detailing shop, their intent is to restore their car to a condition as close as possible to its brand new appearance. The outside of the vehicle should glisten and sparkle, and the interior should be free of stains, dirt, and dust. The happier the customer is with the end result, the more likely they are to return. The final touch, the cherry on top of everything, is adding a quality air freshener that removes any lingering odors and adds a pleasant fragrance to the inside of the vehicle.
Removing Odors
Many different habits lead to bad smells in vehicles. For example, many car owners transport their pets in their vehicles. Other people eat food or use tobacco products while driving. Forgotten clothing left in vehicles might leave unpleasant odors such as perspiration and mildew. A thorough cleaning of the interior involves cleaning carpet and upholstery. This is done with a vacuum, heated extractor, or steam cleaning system. Plastic and vinyl components are cleaned and treated with chemicals to protect the materials from sun damage. Even after all this interior cleaning has been done, the vehicle can still have subtle stubborn odors. An air freshener can combat those unwanted smells.
Offering a Great Air Freshener Selection
That means your car wash should offer an ample selection of air fresheners with vending machines or counter retail sales. Kleen-Rite has the best air freshener brands in the industry, including Car Freshner, Armor All, Yankee Candle, Glade, and many more. We have different styles like vent clips, scent cans, sprays, or the more traditional hanging air freshener. We also have a multitude of designs that cater to a variety of different tastes. Choose from classic tree shaped air fresheners, sports teams, superheroes/comic book characters, Yankee Candles, and many other colorful, attractive designs. You can even pick up some custom air fresheners.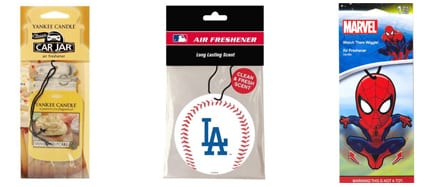 The smart car wash operator will have many different air freshener options as they can to satisfy all customers. For an auto detailing shop, you might consider offering a free air freshener with your detailing packages if you don't want to go the vending or retail sale route. Giving customers the opportunity to get that perfect, fresh-smelling final touch keeps them happy and provides a secondary profit stream for your business!