Introducing the newest car wash profit center for top car wash package sales, from JBS Industries! The revolutionary Ceramic Finish chemistry provides car wash operators a new exciting Protectant offering that produces an instant, noticeable shine. This will help both Self-Serve and automatic washes garner higher sales per vehicle, while increasing customer satisfaction.
The Ceramic Finish technology features two remarkable formulas:
Whatever your service options may be, Ceramic Finish produces hand wax quality shine and superior protection to all modern paint finishes.
Ceramic Finish Technology
For many years, Ceramic automotive technology has only been available to consumers in Detailing shops and Auto dealers. These treatments utilized polysilizanes fusions and heat lamp processes that required hours of curing time, special training, and equipment.
Today, JBS Industries has created a Clear Coat formula that has superior Hydrophobicity – which means it "hates water". This formula contains Hydro Carbons which displaces water faster than conventional protectant technology.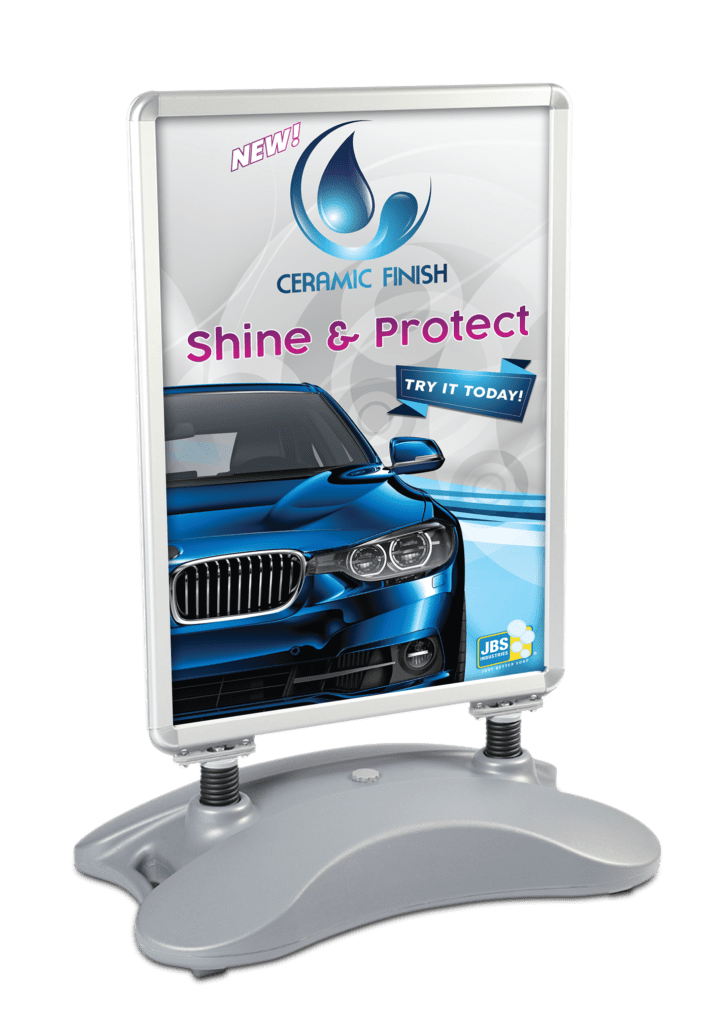 JBS Industries has simplified Silicone Dioxide technology to produce a modern Ceramic protectant. The chemistry of the new formulation features similar properties to more expensive Ceramic treatments. More importantly, it also provides similar results, including high shine. The Ceramic Finish Clear Coat formulas produce a "self-cleaning" effect when they're applied, whether through Arches or In-Bay automatics. The applied finishing clear coat adheres to positively-charged modern clear coat paint finishes, repelling negatively-charged dirt and grime.
At JBS, we recommend rolling the new Ceramic Finish Clear Coat application into one of your existing top car wash packages. You could increase the overall price of the top service, and include the Clear Coat process. Alternatively, some JBS Industries car wash customers have found that providing it as a stand-alone package upgrade may also be a good option. Numerous washes have found it to be an effective addition, even if only adding $5.00 on to the ticket price! This is a game changer in Express car wash operations. Using the available marketing tools from JBS, including banners, Windmaster signs and more, they are increasing their total car wash average ticket revenue by a dollar – or more!
Limited Time Offer!
JBS Industries is offering a FREE Windmaster sign insert for all customers purchasing 10 gallons of Ceramic Finish Clear Coat. Show your customers you are proud to offer this revolutionary formula! These formulas are packaged in 5-gallon containers and the car wash operator will get over 900 applications in each container.