Sometimes you just marry into families.
David Sanders married into an industry.
The owner of six car washes in Lufkin, Texas and a seventh down the road in Corrigan, David started working for his wife Kathy's stepfather on Labor Day of 1996. It wasn't his original aim, but with his wife's stepfather looking to make a career change, David was in line to take up the family business.
"He said, 'I'm going to hire you to work at the car wash for a few years and learn the business, and then I'm going to sell them… to you'," recalls Sanders. It wasn't a gradual introduction into the industry either. Within two years of starting, David had been integral in the construction of two more locations, from the ground up.
Growing the K&D Empire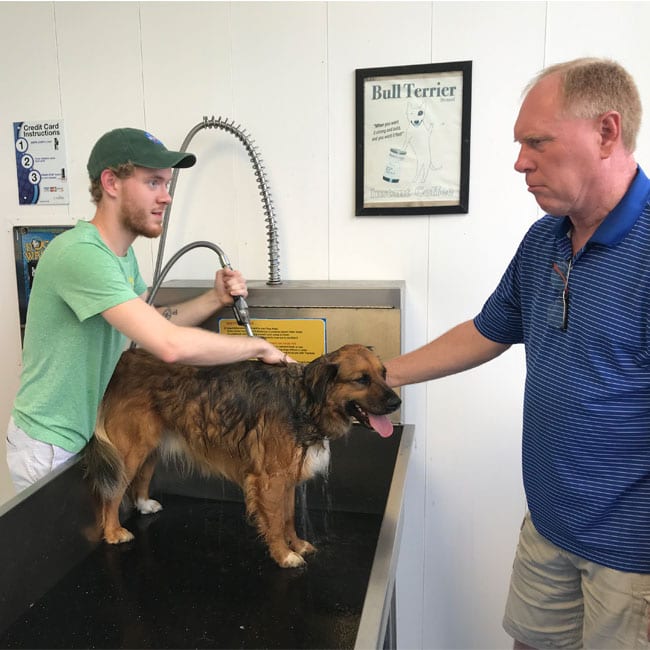 By 2004, the K&D Car Wash roster had grown beyond the original wash building and the six-bay building across the alley. It now encompassed six washes, including a wash that David built for himself in 2003, but David wasn't done. As recently as 2016, he added a seventh wash into the fold, blanketing the town.
Over the years, K&D has evolved to meet the needs and demands of the area. In 2014 David enclosed a bay in the original wash building and turned it into a pet wash, which the Sanders' dog Tucker enjoys. This climate-controlled pet wash allows folks in Lufkin to beat the summer heat and keep their pups clean.
"I think it's pretty good… the reason that I did the pet wash was because of Kleen-Rite, because of the equipment package."
K&D has even capitalized on unused buildings on the lot. They looked at an empty building on the lot, and decided to rent it to a detailing business. This meant they could make use of what would be empty property, for added income that could balance some costs. Another plus? The detailers use the car wash for exterior washes. This creates even further income while making use of what would be dormant bays throughout the day.
Commit to Your Customers
Six high-clearance self-serve bays allow for people to clean recreational vehicles, tractor cabs, boats, and more – all the trucks and toys of the Lufkin region. The truck bays see plenty of business, says Sanders. "There's log truck guys that come from 40 miles away to wash at my wash." By taking the risk of having six oversized bays, he ensures that truckers and boaters can use any bay on the lot instead of having only one or two high bays and forcing them to line up and wait – or go elsewhere. It offers flexibility and keeps traffic flowing.
It's one of the reasons why K&D has stuck to self-service instead of converting to tunnels and automatics. Instead of dedicating bays and causing traffic back-up, the big bays allow for vehicles of all sizes. Everything is bigger in Texas, including the pickups – lifted trucks and off-road vehicles would have a clearance problem in the automatics with clearance.
Sanders says he doesn't plan on changing any time soon either. He noted that other tunnel and automatic washes in the area don't always seem as busy as his spots, while requiring additional maintenance and on-site attention. Besides, he says, "I'm happy being a self-service guy."
Relationships Matter
One relationship leads to another. David's stepfather already had an ongoing relationship with the team at Kleen-Rite through the years. This allowed David stepped right into working with the Kleen-Rite team. He remembers, "When I worked for him about three or four years, he started turning the operation over to me gradually, so I started doing the ordering, and so I learned right away how great it was to work with you guys at Kleen-Rite."
It's a relationship that grew over time too, with K&D turning to the team when there were wand issues that were chipping into profitability. "I like to talk to Keith and those guys at the show, ask them some questions," he said, "I told them I was having problems with my wands breaking, and they told me about the spring wands, and I have very few problems with it now, so that was awesome."
It can also help to keep morale up, especially as more and more tunnel and automatic washes open up. "I feel like Kleen-Rite's one of the only ones out there supporting us," says Sanders, "Because a lot of other guys have abandoned the self-serve business."
On top of customers and suppliers, relationships with others in the business have been important to David too. "People in the car wash business, generally I've found are really receptive to telling you their secret, the how and what they do." Making those connections has helped him find new ways of doing things, and offer some of his knowledge to others.
Being Committed
In the end, David sees the business as being tough yet worthwhile. Only hours after hopping off the plane from Hawaii, he was back on site to catch up on work and chat with us, before slipping on the rubbers and heading out to unclog drains and perform maintenance. "It's been an interesting business; I meet lots of interesting people. It's a hard job, people think it's just easy… and it's not. It's 24-7."
Does David have any advice for people looking to get into the carwash business?
"Be prepared to spend all the time that's necessary to make it function properly, or you will not succeed. It won't take very long for customers to find out you don't take care of your stuff, and they will go elsewhere. I've got guys who drive 40 miles to wash at the truck wash because no other truck guys keep up their bays."
With that level of attitude and effort, it's no wonder that K&D continues to be a prominent part of the Lufkin community. While David hasn't planned any further expansion yet, Lufkin can be sure that the K&D Car Wash locations will continue to provide great facilities to keep the cars, trucks, boats, and RVs of Lufkin clean year-round.