Steve Bulboff wanted to buy a house. The 20 year old truck driver was paging through MLS listings in 1979 when he saw something completely different – a car wash. Bulboff immediately knew this was the property he actually wanted. Made of just a few self service bays along a road in suburban Deptford, New Jersey, the wash was pretty small. But Bulboff had an idea, and he knew how to make it work.
The First Wash
That first purchase became the Deptford Shammy Shine, which is still open for business today. Over the decades, Bulboff and his management team improved the property, adding more self service bays, a full tunnel, and vacuums. In fact, vacuums are partly responsible for the business still existing today.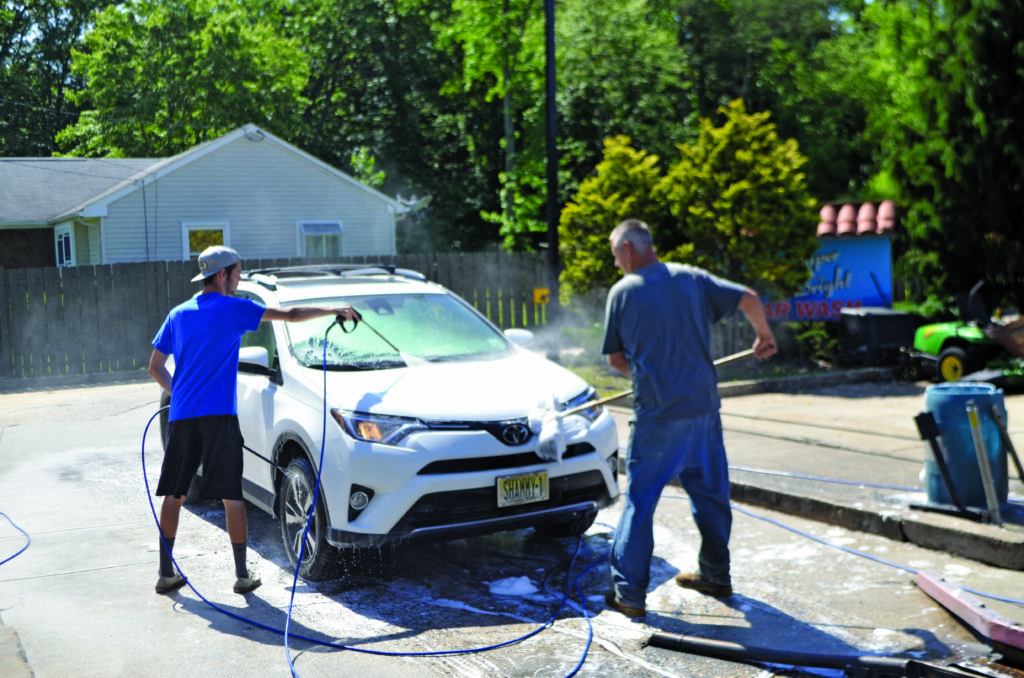 Bulboff opened the Shammy Shine on September 5, 1979. It was a great start – until a truck backed into his only vacuum. He loaded the busted unit into his car and drove over two hours to Columbia, Pennsylvania, where he showed it to Kleen-Rite founder Harold McKonly.
"I drove it up to Harold, and he said it couldn't be fixed," Bulboff recalled. "I said, 'Harold, it has to be fixed, it's my only one!' and Harold gave me two new vacuums. He said to save up the quarters and pay him back as I made money on them."
This trust enabled Bulboff's business to remain fully functional. He did indeed pay McKonly back for the vacuums and moved on to opening 16 car washes through Pennsylvania, New
Jersey, Delaware, and Florida.
"Interest rates were really high (in the 1970s) but we did a lot of business," Bulboff said. "I remember paying 23 percent interest but was happy to do it."
Bulboff also spent some time working with Mace Security International. The group held 72 car washes at the time.
Today, Bulboff owns the Deptford Shammy Shine and the Florida Super Wash in Riverview, Florida. The Super Wash is his largest property, with ten self serve bays, an express tunnel, and a touchless in-bay automatic. As in Deptford, many vacuums are available as well – only they're covered by canopies so customers get a break from the hot Florida sun.
Bulboff works with his manager, Eddie Rivas, to ensure that both properties are working well. Based out of the Deptford location, Rivas has been working with Bulboff for 30 years.
A Golden Touch
Rivas was working in warehousing when an acquaintance got him a car wash maintenance job in the 1980s. His interest in mechanical work grew, and he spent the next two years doing equipment installs. Rivas was actually running conduit at a car wash when he met Bulboff. Soon after, their longtime partnership was born.
"Everything I touched turned to gold," Rivas said, laughing. His natural skill continued to develop into solid experience. Today, Rivas can not only install, but build, his own equipment.
"(A colleague) and I go around and do the landscaping. When it rains, or when it's slow at night, I do maintenance to keep it running," Rivas said. "The conveyor, we built ourselves. We're fabricators, welders, electricians."
Rivas keeps an eye on what New Jersey customers want, so he and Bulboff know what to do next. Most recently, the Deptford Shammy Shine added three lanes of pay stations to the tunnel wash. Customers can pay with cash, credit card, or a Fast Pass membership.
Unwavering Committment
As many operators will agree, car washing can have its fickle moments.
"Back in the 1970s, when I started, we had a much stronger business," Bulboff said, attributing it to a stronger economy. "The first Saturday I opened up, I did 1,000 cars. Now, that's a pipe dream. I would tell you if you went into the car wash business, to hold on. It will be a rough ride."
While it may have been rough at times, Bulboff knows the business and how to make money in it. Even with fluctuations in economy and competition over the years, his washes still do a strong business.
"It depends with the weather, but on a normal day we do 200 to 400 vehicles (in Deptford)," said Rivas. Bulboff also sees positive business levels at his Florida Super Wash location.
From a chance real estate find to a successful multi-state business, Bulboff and Rivas seemed to have honed the right formula for car washing victory. Both men feel that always improving your car washes is key – and luckily for the residents of Deptford and Riverview, their clean cars get to benefit from decades of experience!