Do you have all the car wash bay signs you need?
It's important that customers feel at ease when they pull up to use your car wash. If they don't know how to use certain features, how to maneuver around your lot, or how much your services cost, they may turn around and leave. There might even be another car wash right up the street that is easier to use! To avoid this scenario, you'll want to make sure that your wash services are clear and easy to understand. You also don't want to rely on a car wash employee to answer all customers' questions, especially on a busy day. What you'll really need is proper, informative car wash signs!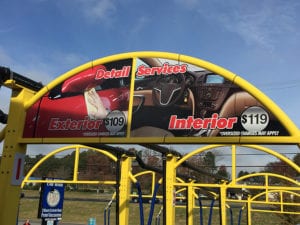 Take a look around your car wash lot. Is it equipped with all the signs you need for successful, hassle-free operation? Have any customers voiced complaints or confusion lately? When customers feel confident about using your car wash, they're more likely to return and recommend it to their friends.
To ensure that you have all the proper signage you need, we've compiled a checklist of common sign types! Use this list to double check that you have the best car wash entrance signs, instruction signs, and warning signs for your business. Or, if you're just starting a car wash, this handy guide will help you select the signs you need.
Bay Signs by Application:
These signs are easy to attach to the wall inside your self serve car wash bay.
Freestanding Signs:
Windmaster signs are durable freestanding vertical signs with a spring flex built into the base. A Windmaster sign can bend slightly in the wind without snapping or breaking, and it is great for outdoor curbside messages and promotions. Some Windmaster signs are double-sided so customers coming from both sides of the street can read your message. Plastic barricade signs have a freestanding A-frame design that is great for advertising messages curbside or in front of your car wash bay. Examples of these signs include "Sorry Temporarily Closed" or yellow "Caution Wet Floor" signs. We also have 3D bright orange cones designed to direct traffic.
Don't forget, we also have bi-lingual signs and pictorial signs! These signs are effective for communicating your message in ways other than the English language.