There is power in building your unique brand. It is the creative part of growing your business. It is the act of helping your customers to think of your business spontaneously and favorably when they see your logo, name, or packaging. However, there is a time when in the process where you must "ask for the order." You need to invite your customers to enjoy the win-win benefits of your monthly wash program. In short, to be successful you need to have many "Buy Now Buttons."
These "buttons" or invitations need to be continuously available for your customer to buy-in to your unlimited wash offering. They should be on your website, at your payment kiosk, and as app on Google Play© and the Apple Store©…and most importantly on your towels!
Packaged Microfiber for Vending Success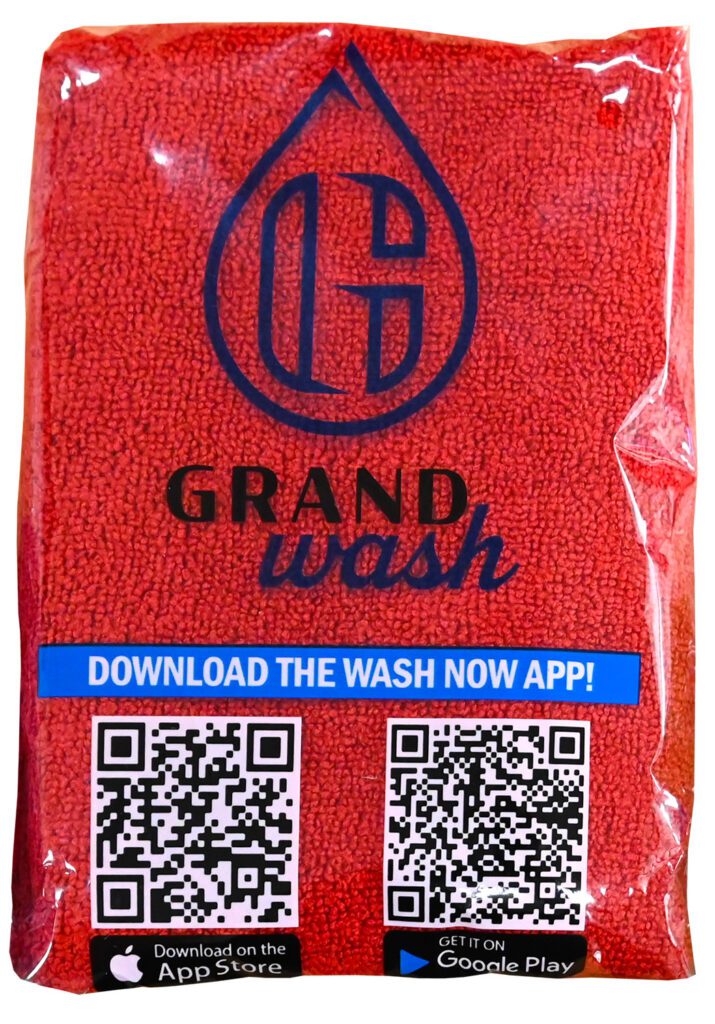 Good news for Self-Serve and Express Exterior guys who vend – sales for vend products reached US $19.5 Billion in 2022. If you are not vending, you are leaving a lot of money on the table. You are also reducing your opportunity to create brand loyalty that can lead to higher monthly memberships.
What am I talking about here? Something as simple as placing your logo, name, and message on a towel's package that connects you to your customers. The packaging and the microfiber towel can also be loaded with several "Buy Now Buttons" making a call to action to join your unlimited club. For instance, you can print a QR Code on the package with an enticement to "PLEASE SCAN ME." The QR will carry your customer immediately to your website making the pitch for your monthly wash program.
But there is more. Your microfiber towel and its package are selling machines! They afford you several opportunities (invitations) to download your custom carwash app as well. Merely place the dual QR Codes for the Apple Store© and Google Play© on the package with an invitation to scan and download the apps. These "Buy Now Buttons" are immensely successful. I visited Dunkin Donuts© on a recent trip to Kleen-Rite and saw the Dunkin App in action. Most customers ordered, paid, and picked-up orders with their app. I would like to add a word to their famous slogan "America Runs on Dunkin" — "America Runs on Dunkin's App." And your community can run on your car wash's app as well!
What about the Towel's Label?
There is more good news. All custom microfiber towels come with a customized towel label. The special Tyvek© label will not scratch clearcoat or paint. You can place one or more "Buy Now Buttons" (QR Codes) on the towel's label, along with a "PLEASE SCAN ME." The back of the label can support a pitch for your app, display your logo, or even list a short message. And yes, most customers look at the label first before using the towel. Don't you?
What does the label's cost? Nothing, it's FREE from Doctor Joe. For about the price you are now paying for a microfiber vend towel you can get a custom towel label, artwork, customized packaging, professional design service and FREE SHIPPING in the lower 48. What's not to like here?
Tell me about Doctor Joe's Microfiber Vend Towels.
There are three selections for custom vend towels: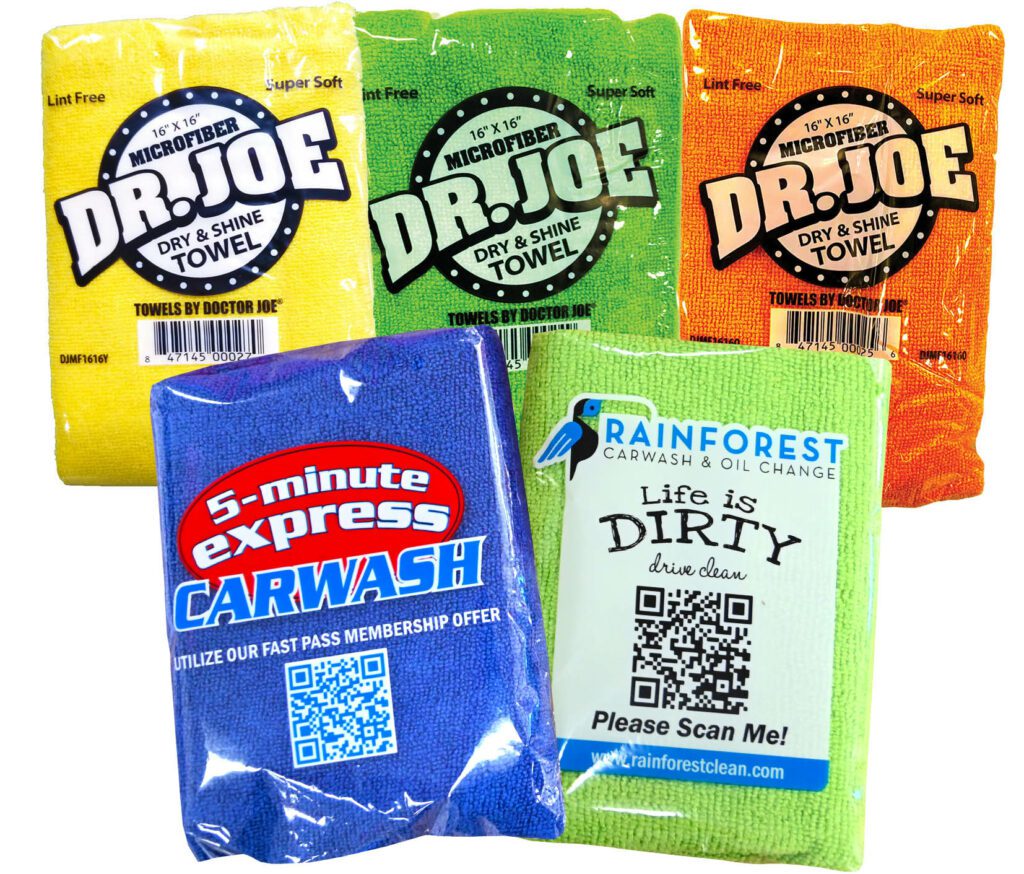 Option 1
The first is the European Style Soft Microfiber. It is a lint-free, pre-laundered circular knit, 16" x 16", in solid colors of your choice (one color per order). The only problem you will have with these towels is that your customers will buy extra towels for home use and for gifts!
Kleen-Rite currently sells this popular European Style towel in five colors (DJMF1616XX) under the Towels By Doctor Joe © brand name. You now can have this best-selling microfiber towel with your logo on a multi-colored package, complete with the "Buy Now Buttons" — the QR Codes driving traffic to your monthly wash program.
Option 2
The second towel selection is the Thrifty Choice. It is a solid colored 12" x 16" 300 GSM traditional microfiber towel. You pick the color. There are over twenty-seven color selections (only one color per order). Your order ships complete in beautifully printed multi-colored packages, displaying your logo and name, customized towel labels, and the "Buy Now Buttons" (QR Codes). Remember, all microfiber towels will last long after your customer leaves your vacuuming stations. Your towel label will continue to provide marketing impressions for months after the customer leaves your premises. Thrifty is still nifty.
Option 3
The third towel selection is the Marketing Powerhouse Option. There is always a best salesman, and this is it. Starting with a plush, dual surface 300 GSM microfiber towel, your logo, name, and message are exquisitely printed on the microfiber towels, not just the packages. The printing process is called Inkjet Sublimation. The graphic images and text are dyed into the towel. The printed surface is as soft as the microfiber towel.
Available in 12" x 16" or 15" x15" sizes, these towels make an immediate statement of quality. They perform perfectly on site and continue to make sustainable impressions off site for at least four months and up to two years! Each time the towel is used, your logo and name are viewed.
The Marketing Powerhouse Option is a great package deal…no pun intended. It also comes complete with printed customized packaging in vibrant colors, professional design consulting, printed towel labels, and of course the famous "Buy Now Buttons" – QR Codes bringing your customer to your website and / or App Store.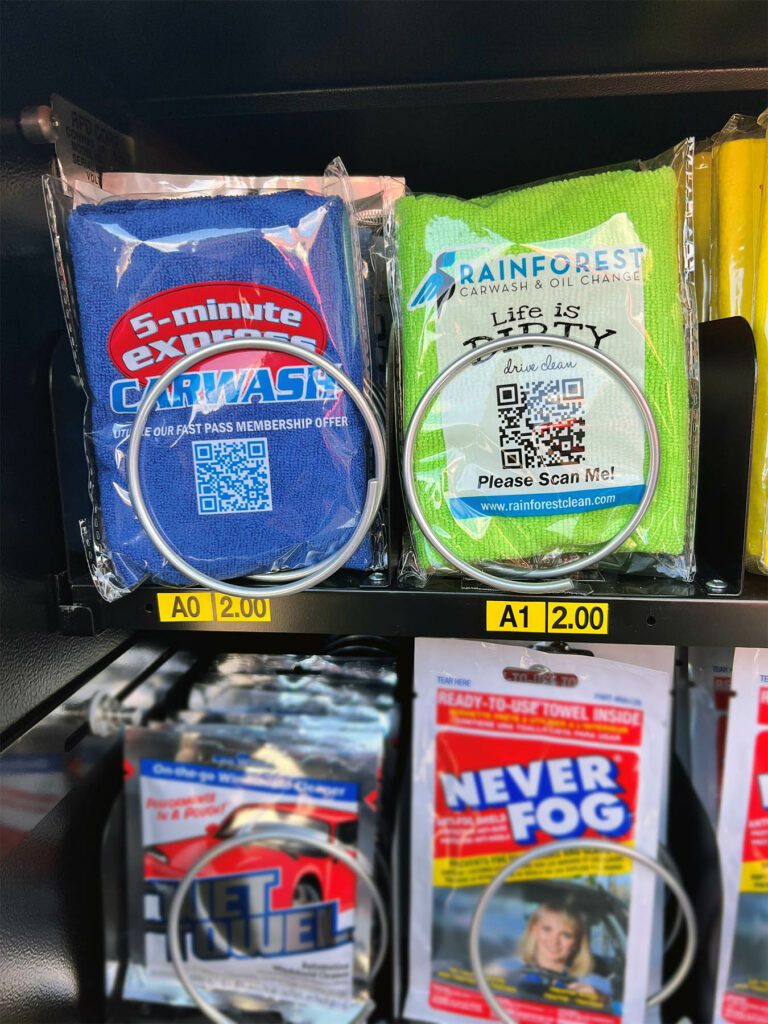 Do Custom Printed Packages properly dispense in popular Vendors?
The answer is yes. How do I know? I did the testing myself. All custom vendor packaging listed here were tested in the Laurel Single Mechanical Vendor 800, Laurel 899-Max Three Column Vendor and the Mega Vendor Three (coil / corkscrew). Your customized towels will also work with other vendors that are designed to vend packages and towels, including the built-ins, that have compatible spacing for products.
What else can you do with Custom Packaged Towels?
If you have vending machines or don't have them, you can sell the towels in other ways: feature them for sale in your lobby, sell them as a kiosk option, or make them part of "Towel Replacement Program." Here is an idea, give them out FREE in a gift pack when you open a new store. The Dash Wipes will last a few minutes. The Air Freshener, a few days, but the microfiber towels with your logo complete with the "Buy Now Button" will last months if not years!
Can I get custom towels without packaging?
Yes. There are two options. If you are supplying towels for your customer's use on premises, you can order custom printed towels in bulk. The good doctor recommends providing towels printed with your logo, name, and message. Each time your printed towels are used, your brand recognition is immediately boosted. You are finally getting a return on the expense of providing towels.
Printed microfiber towels in bulk are available in a large variety of colors, with Royal Blue being the most popular. Sizes available are 12×12, 14×14, 16×16, 16×24, and 16×27 in 300 GSM and 400 GSM.
The second choice is to continue using black- or solid-colored towels with a "Buy Now Button", on the towel's tag. This is the QR Code that transports your client to your app download or website. The back of the tag can display your logo or perhaps a message like
"THOU SHALT NOT STEAL." There is no charge for customized labels in either option. You buy the printed towel or the non-printed towel, your logo on the label is FREE.
At this point, I know you have some curiosity in Customized Microfiber Vend Towels or Printed Bulk-Towels. Isn't it a cool idea to put your name of the towels, and who doesn't want to grow their business? Doctor Joe has a lot of experience you can call upon to make this happen. The next step contains no risk. Just give the good doctor a call for a FREE SAMPLE and quote. You don't even have to dial. Just scan the "ORDER NOW BUTTON" to talk to Doctor Joe immediately. If it works for me, it will work for you!
This article originally appeared in Kleen-Scene Issue 40.