Color LED Lights and the Car Wash Industry
One of the hottest trends at car washes is to add color LED lighting to different wash process stages. Operators are seeing tremendous positive impact on customer experience, branding, and promotions. In addition, it increases customer traffic and dollars-per-car!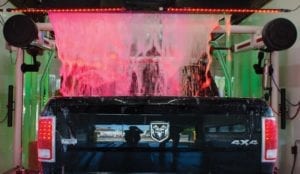 G&G LED Lighting has seen the positive impact these simple additions can have, and released a series of color lighting kits to make the installation process as simple as possible for operators. Designed specifically for the car wash industry, the kits utilize the same push-and-click system and low-profile design as their popular bay lighting kits. With the addition of secondary optics to focus the light output, G&G's color lighting packs a serious punch as far as compact, waterproof, car wash friendly design. Below are some simple steps to consider when buying LED lights.
Purchasing Color LEDs
Determine the effect you are seeking and select the appropriate color and size lighting package. Whether it is creating a green presoak, an amber lava foam, a blue rinse waterfall, or a red drying area, G&G has you covered. Kleen-Rite is happy to assist you with any questions you might have while creating your ideal package.
Install the lighting and mount the fixture (s) in the most appropriate position for your application. This product can be directly mounted on an arch, overhead on the ceiling, or on the sides. The lower profile design and focused light output of G&G color LED kits allows operators to get very creative with the fixtures.
Connect the power supply to your tunnel or in-bay automatic control system. Colorful lighting will turn on and off at desired times during the wash.
Make your wash come alive and provide customers with an experience they won't soon forget with G&G's LED color lighting kits, and get the best deal on them at Kleen-Rite!