LED Lighting and Energy Efficiency at the Car Wash
Car wash operators are really seeing the benefits of switching to LED lighting at their wash. The advantages simply can't be ignored any more. With lower prices, quicker installation times, and rebate options from state and federal governments, now is the time to jump on the LED bandwagon!
Energy Efficiency
LEDs emit more light per watt than traditional light sources. "LED uses about 1/3 the power of a metal halide fixture and 1/2 the power of a fluorescent fixture", states Jason Baright, President of G&G LED Lighting.
Long Life
According to GE, high-end LEDs can have an expected lifespan of 30,000-50,000 hours. In some cases, that can be even longer. A typical incandescent bulb only lasts about 1,000 hours, and a fluorescent bulb has a life of about 8,000-10,000 hours. Using LEDs reduces labor costs because you aren't paying somebody to go around changing bulbs all the time. Rather than burning out, LEDs just get dimmer over time.
Temperature
LEDs operate at a much lower temperature than traditional blubs. Cooler operating temperatures mean that you don't have to wait for the LED chips to "warm up". Most LED fixture are operating at 100% of their capability as soon as you turn them on, unlike traditional bulbs. If that isn't enough, operating a lower-heat light is simply safer than traditional incandescent and fluorescent lights.
Resistant to Breaking
Old school lighting is typically encased in some kind of fragile glass or quartz material. LEDs, on the other hand, use semiconductor materials. These materials are simply mounted on a circuit board. They either do not need to be contained or can be contained in more durable materials like plastic or polyester without fear of that material melting or catching on fire. This renders LEDs less vulnerable to damage.
Low or No Maintenance
LEDs require almost no maintenance for a long period of time after installation. Baright notes, "The new kits that we're releasing are 10-year fixtures. No maintenance for 10 years. You don't have to touch them. So there's no bulbs or ballasts to replace." There is plenty of maintenance on pumps, motors, and other equipment that is unavoidable. Why not take one thing off your to-do list?
Talking LEDs with Jason Baright, President of G&G LED Lighting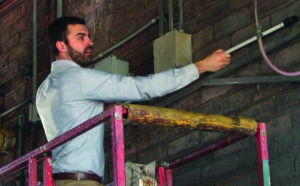 We recently observed Mr. Baright install some new G&G GPX Linear Driverless LED lighting, and he allowed us to film the process. Check out the video footage on the Kleen-Rite YouTube channel. He also gave us a few minutes of time to answer some of our questions:
Q: Do you have a suggestion where car wash owners should start when transitioning to LEDs from incandescent?
Jason: "As for where to start, just identify what lighting products are available for your wash. The Kleen-Rite catalog is a great place to start just to see what's out there. The important things to look for are things like a UL wet listing, which ensures that it meets the electrical code. Also look for a DLC rating. That ensures that you're going to be eligible for any rebate programs that the state or utility company would provide for you."
Q: As I was looking through the G&G website, I browsed some of the auto detailing and car wash case studies. Some of the summaries mentioned the good "CRI" of LEDs. That is a 0-100 scale (100 being best) ranking a light source's ability to show a color. Can you provide a quick estimate of where an LED might be on that scale versus an incandescent light source?
Jason: "100% CRI or 100 CRI would be direct sunlight. You can't create color rendering any better than the sun. So that's really what everything is based on. Metal halides and especially high-pressure sodium bulbs are poor at color rendering. I think they're maybe 60 or 70. So when you pull into the bay if it's all orange, a white car looks orange, a red car looks orange. It doesn't really make the colors pop or look like what they do under sunlight. Fluorescent is okay, usually in the 70s or 80s. LEDs vary widely depending on the quality of the product. A cheap LED will be about 70 CRI up to about 80. High-quality LEDs will be up there around 80 to 90 CRI. We (G&G) are up to about 87 CRI for the self-serve kits that we're installing today."
Q: Can you briefly describe the importance of a light's CRI to professional auto detailing and washing?
Jason: "What that means is that LEDs are going to produce accurate colors and when you're washing your car it will appear bright and crisp. It'll look clean!"
Q: Can you give us some more thoughts on LEDs and energy management?
Jason: "I think most operators probably underestimate how much just changing the lighting can save. If you're using a couple metal halide fixtures at 320 watts apiece in each bay and you're going to switch over to a new LED kit that is 100 watts, you can really drastically reduce your consumption of energy. The lighting is probably the easiest to do, and the most cost effective. It's a fast ROI, typically under two years ROI. You really can't beat that with any other electrical equipment upgrade at a self-serve wash."
Q: What are G&G's most popular products for car washes and auto detailers?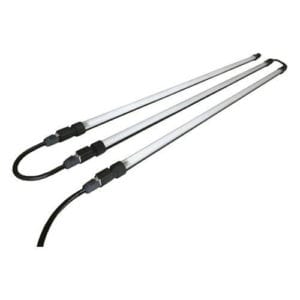 Jason: "Traditionally our high-power, low voltage lighting system, the linear WPX, has been the most popular. We've sold it for about 4 or 5 years on Kleen-Rite. We're most excited about the GPX, the driverless system that we're introducing here today. It will come in at a very affordable price point at under $1000 per bay in most cases. It also installs faster than our older systems, so it's easy to install and it's affordable with a quick payback."
As someone with a brain geared toward engineering, Jason could probably talk technical specifications all day. And if you ask him to, he probably will. But even he knows that a car wash owner makes decisions based on practicality and common sense. He ended our conversation with a simple but astute point:
Jason: "Probably one of the biggest benefits to upgrading to LED is that, as soon as you round the corner or come up the street, you can see the bright car wash bay staring right at you. That will really pull people in off the street. People feel safer at night when the whole thing is lit up. They are just much more willing to come in at night. They'll certainly know you're open! People underestimate how much a really bright car wash bay can increase revenue and overall aesthetics."
Thanks, Jason!
Final Thought
According to the Department of Energy, it's estimated that LED lighting could save as much as 190 terawatt hours per year by 2030. That equates to approximately 15 billion dollars. With relatively simple LED installations, your car wash can enjoy its fair share of those savings!