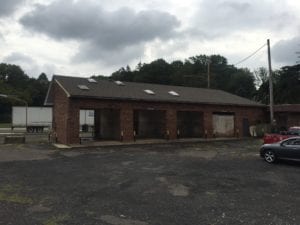 Magic Touch car wash had seen better days. Once an active car wash, a fire gutted the place, leaving it a burned out husk in Chalfont, Pennsylvania. It sat that way for 11 years as its then-owner Whitney Watson battled insurance companies, borough council boards, and neighbors. This process cost him several sale offers over the years.
Pete Grzesnikowski already had a successful wash operation in Levittown, Pennsylvania. He knew of the ruined Chalfont location for a long time and tried unsuccessfully to acquire the place many years ago. Finally, in 2016, he was able to put together a deal that got him the property.
Total Overhaul
A lot of work had to be done to the property. To start, Grzesnikowski completely gutted anything remaining at Magic Touch.
"I put in all the same equipment that I have at my other location to keep things easy for repairs and replacements," he said. "The pump stands, vacuums, and bay equipment came out of a car wash in Alabama. I went down with my truck and trailer and hauled it all back up here."
Fresh Design
Next, Grzesnikowski had to evaluate the property's layout.
"There was a conveyor tunnel that I replaced with an automatic because the tunnel exit was so short before it connected to the main road," he said. "it would have created a backlog of cars trying to get out of the tunnel on a busy day – it just wouldn't have worked."
Grzesnikowski put a peaked room over his automatic to improve curb appeal. Overall, the project took him about nine months.
"The place came out great," he said. "The local customers really like the place and are grateful someone finally fixed it up. It was a real eyesore."