Flojet offers one of the most trusted small air-operated diaphragm pump models in the car wash business in their G57 Series pumps. Model G57, engineered by ITT, are designed to be the ultimate in efficiency, performance and reliability.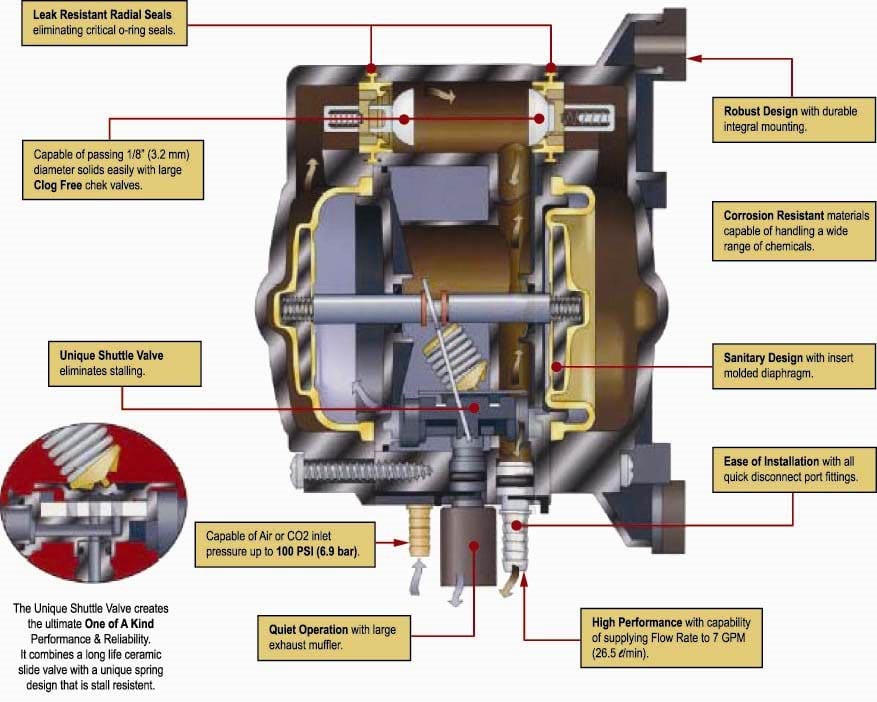 The robust design of the G57 pump combines innovative features and relentless testing to offer a pump that has a long, trouble-free service life. G57 pumps have a Polypropylene body and high-performance elastomer seals and check valves that offer unmatched chemical resistance. Simply choose the component material that best suits the chemicals that you are using.
G57 Series pumps have a uniquely designed shuttle valve that eliminates stalling and extends the life of the pump. G57's large clog-free check valves are capable of passing 1/8" (3.2mm) diameter solids. In addition, G57 pumps have quick-disconnect liquid/gas ports that make installation and hookup simple and fast.
These incredible air driven pumps are capable of pumping at a flow rate of up to 5 GPM. That is an incredible rate in relation to their size. What's more, you can select from several seal material options, port fitting sizes, and inlet port sizes . Flojet G57 pumps are very useful to car wash operators. You can use them for standard water transfer and spraying, and they are the optimal pump for low-pressure services like presoaks, soaps, tire cleaning, waxes, drying agents, and more. If you haven't already made the move, discover why Flojet G57 pumps dominate the car wash industry!