Car Wash Safety Tips
Car washes can be dangerous places if you aren't careful and prepared. Think about all of the potentially harmful things you can encounter at a car wash. There are industrial motors operating at several thousand RPM, high-pressured water spraying at intense PSI levels, and concentrated chemicals that can hurt skin if used carelessly. Let's not forget the vehicles driving around in different directions, coming around blind corners, and parking at strange angles! None of these are a surprise to car wash owners, who have probably seen just about everything on their property. Still, it's good for even the most experienced owner to have a car wash safety item checklist that they occasionally review.
Safety Products to Keep On-Hand at Your Car Wash
Make your wash is equipped with these safety items year-round: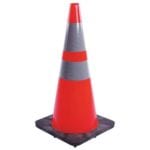 Traffic cones are useful for guiding cars in preferred directions, alerting people to dangerous areas, and marking off areas under repair. Kleen-Rite has several different options like reflective and collapsible versions.
Safety eye protection and gloves should be worn when mixing dangerous chemicals. Kleen-Rite has safety goggles and glasses that are comfortable and protective. Jersey cotton gloves, nitrile gloves, and heavy-duty chemical resistant gloves are available.
Ear protection is very important around loud machines like motors and pumps. Ear protection is also recommended when an employee is using cutting, grinding, and hammering tools while doing maintenance. Kleen-Rite carries both ear plugs and ear muffs.
Rubber boots can be crucial in rain, slush, snow, and ice. They have a heavy-duty, safegrip sole and heel that prevent slipping in icy or wet conditions. We also have boot covers with slip-resistant soles that serve the same purpose.
It's smart to maintain a supply of cleaning equipment that is in good shape and specifically designated for accidents. Brooms, squeegees, buckets, and sponges for general cleaning. Use spill kits to clean major spills in a hurry before they cause any extended issues. In addition, you'll want to have wet floor caution signs to alert folks of slippery areas.
A first-aid kit keeps an injury from becoming an even worse problem. In extreme cases, it might even save a life! Kleen-Rite first-aid kits contain items like eye washes, bandages, ice packs, antiseptic, gauze pads, and band-aids. Injuries and accidents occur when you least expect it, so it's smart to have a well-stocked first-aid kit that leaves you prepared for virtually anything.
Ideas for General Car Wash Safety
Only authorized employees should conduct electrical or mechanical repairs. Lockout/tagout procedure should be used to be sure that all electricity or power supply to the area being serviced is shut off.
Carefully read labels and SDS on all chemicals used at the car wash. These have detailed information letting you know the actual breakdown of the chemicals in a particular container, how to use the chemical safely, how to store the chemical, and how to administer fist aid if accidental contact or consumption occurs.
Properly train employees on how to use all the equipment on the property.
Post and enforce speed, traffic flow, and parking restrictions to reduce accidents.
Do not allow employees to ever stand in front of vehicles once an automatic wash has begun.
Teach employees to properly lift heavy items to avoid strains.
Keep areas free of clutter and clean up spills immediately to avoid slips and falls.
Encourage employees to wear protective items like gloves, glasses/goggles, protective boots, and ear plugs/muffs.
Keep a first aid kit on hand to deal with any accidents.
Keeping safety in mind is not just important for maintaining employee and customer comfort, staying efficient, and protecting your equipment. You should also keep in mind that your business might be liable when an accident occurs. Don't put yourself and your car wash in a vulnerable position; stock up on safety products now and rest easy!