Anderson's Car Wash celebrated 53 years at their Dover, Pennsylvania location in a huge way, with a major renovation. Second-generation owner Cheryl Anderson Martin and her husband Ken worked diligently over the course of four and a half months to completely demo and rebuild their automatic tunnel! They are now the proud owners of York County's first and only Spin-Lite facility, featuring top-of-the-line equipment.
Visitors can regularly find Cheryl and Ken working at Anderson's doing everything from daily maintenance to long-term improvements. Like all car wash operators out there, they know it's a 24-7 business. This meant fitting the renovation in during ongoing operations. They began the demolition project September 2018, with renovation work wrapping up in January 2019.
Kleen-Rite, along with other attendees of the 2018 Kleen-Rite Expo, visited Anderson's in November 2018 as part of the Car Wash Experience bus tour. Car wash owners and vendors visited notable nearby car washes to see equipment in action. At the time of the tour, Anderson's had some new items installed in their equipment room, ready for integration into the Spin-Lite system. They also had their conveyor in place, along with portions of framing and other equipment. It was fascinating to see the rebuild in progress.
The Big Debut
To celebrate the long-awaited grand re-opening of the tunnel, Anderson's held a Dash and Donut Day event. Customers enjoyed donuts, in addition to entering drawings to win a wide range of prizes at the end of the day.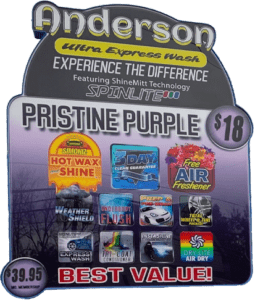 "It's just a completely different experience from before," Cheryl Martin said. "Customers love the light show, the experience, the kids' reactions," she continued. She enjoys seeing the videos the customers are posting to social media of their enjoyable car wash experience.
The new 100% Belanger Spin-Lite tunnel offers four different packages with lights and scented soaps. Each package features a different color, and the top tier has vibrant purple.
In addition to the tunnel upgrades, Anderson's also installed new pay stations. Meanwhile, new car wash membership opportunities help to get customers through the tunnel even faster.
"Right now [the tunnel] is set to wash 85 cars per hour. That is an upgrade from before… The pay station quickens the process," Martin says.
Kleen-Rite is happy to see Anderson's hard work pay off. We asked them to describe some of the large-scale tasks they completed and the challenges they faced.
"New equipment was installed, ceiling raised, walls completely re-covered, cement completely demolished and re-poured, and a new conveyor [was added]," Martin says. She recalls it was challenging to get "the equipment set correctly so that everything fell into place where it needed to be as the car wash being processed."
What's Next for Anderson's?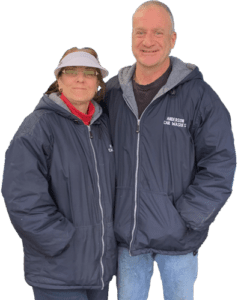 Does Anderson's Car Wash ever rest? We asked what was next for the future of this facility.
"We're still doing some renovations; we're not quite done yet at this location," Martin said. "An in-bay automatic is going to be coming over here in the next several weeks. And that one will be open 24 hours, seven days a week. The tunnel is always going to have an attendant."
It doesn't appear that Anderson's Car Wash is slowing down anytime soon. Cheryl and Ken are keeping the excitement of the car wash industry alive in York County, Pennsylvania. We look forward to hearing more about their latest upgrades as they see the benefits pay off!