What do memorial headstones, tent rentals, and car washes all have in common? They're all part of the history of Cantele Car Wash, which recently opened its second location within Columbia County, New York. The two car washes are located in Hudson and Valatie.
Benjamin J. Cantele is the third generation of a memorial headstone company, which was founded by his grandfather. Then, while he was working for UPS in college, he and his wife started a tent rental company. They were looking for some extra income in the winter months, and they knew those months were busy for car washes. He laid the groundwork to open their first car wash in Hudson once he retired. The couple originally faced stiff competition in the bustling Hudson area, but they held their own.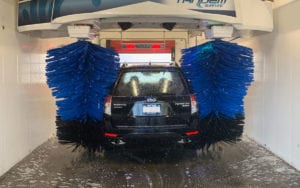 Getting a Footing
The Canteles knew very little about the car wash industry when they first began. "A lot of money, a lot of risk," said Cantele. "The bank was a little nervous, but we did it, and it's been great." He recalls there being a lot of trial and error, plus many expensive service calls, at the beginning.
"Sometimes you get the service guy there and then think, 'oh my goodness, I could have fixed that myself,'" he said. "And you remember, because once the problem happens, it's going to happen again down the road. So, the next time you have the parts on hand, and then you can fix it quick."
He recommends that industry newcomers become acquainted with basic electronic, plumbing, and mechanical issues in order to address future problems as they arise. He and his wife are now able to do most of the maintenance work themselves. Their favorite part of the car wash business is the opportunity to interact with and help other people.
"You see people you know; you meet new friends . . . And as far as the problems, I like helping them fix the problem . . . It makes me happy when you can fix somebody's issue quick, and they remember that."
Cantele's Expands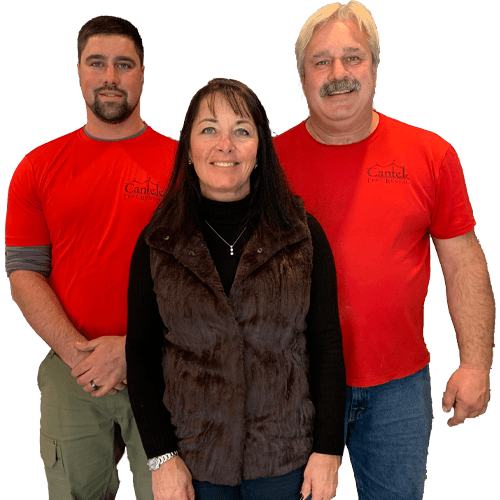 With the first car wash running smoothly, the Canteles entertained the thought of opening a second wash.
"Well, we know a lot of people up here, and they kept asking me why don't you find a place in Valatie, why don't you find a place up here in the northern part of the county? We have nothing up here," he said.
They soon received an offer to purchase an old restaurant property in Valatie. Already standing across the street from the property was another car wash. It was an old tunnel with outdated equipment, and signs prohibiting pickup trucks and credit cards. Once the car wash found out the Canteles acquired the property across the street, they closed.
"They closed April 15, and we opened the following April 20," he said. "So, they were closed the whole year, with no car wash up here at all."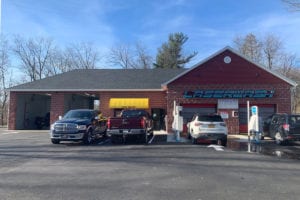 A Modern Cantele's
The new Cantele Car Wash was full of modern amenities and became the only game in town. It features two self serves, a dog wash, a soft touch wash, a touchless, and two vacuum islands.
There's also a lot of volume for customers in the area. "This area is a bedroom community for Albany, so there's a lot of housing tucked in the woods and a lot of housing developments," he said.
He recommends that all new car wash owners consider the location before they invest in a property for a car wash. "Do your homework first, because it's expensive, and you have to have the cars every day," he said. "I get asked a lot about putting a car wash up in a town with about 400 people, and you don't realize you need volume to pay the bill every month."
Now, with both locations up and running full steam ahead, the Canteles use the Kleen-Rite catalog to buy their spare parts and soaps.
"[I] save a lot of money buying the soap from Kleen-Rite," he said. "Another advantage is, you call during the day and it's out the door the same day. Usually the freight company gets here the next day . . . I've gone to Connecticut where they produce Simoniz because, before I knew Kleen-Rite had it, I was out and I had to go pick it up. [With Kleen-Rite, it] ships for free, and [you] pack anything else you want on top. That's the way you do it."