The last impression your customer has of your car wash or detail center is when they get into their car and looks through the windshield. What happens when they see white streaks and smears? Dare I say, "you never get a second chance to make a last impression." Obviously, it is important to get this right. This is an easy thing to say, but not always an easy thing to do.
So, why are windshields so challenging? The short answer is there are so many things that can go wrong. There could be anything on the windshields. Common contaminants include smoke, oxidized plastic, Armor-All, body oils, fingerprints, lint, smears, streaks, and more! They all are different, and all must be removed from the glass.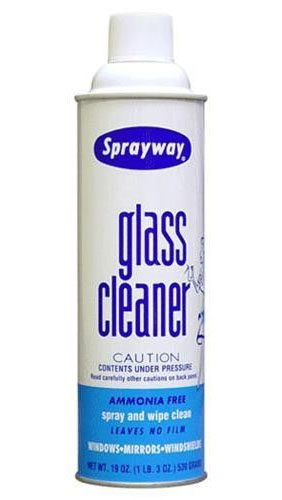 Where does one start? Just like with a clock, there are multiple moving parts. And as with a clock all components must work together for things to function properly. The factors needing consideration are glass cleaners, towels, towel cleaners, best practices, and training. If you pay attention to each of the elements and disciplines of glass cleaning, you will consistently have the best outcome – gorgeous windshields every time!
Let's look at glass cleaners first.
Kleen-Rite has assembled 53 professional grade glass cleaning products. What to use will depend on what you need to do. If you run a Full Serve Wash, consider Mothers © Glass Cleaning Concentrate in a bulk 5-gallon bucket. It is uniquely formulated to perfectly dissolve and clean anything on windshields. For small and medium sized detailers. I personally recommend Sprayway© SW050 19 oz. Glass Cleaner, 12 aerosol cans per case. The creamy foaming action leaves glass completely streak-less.
What about towels?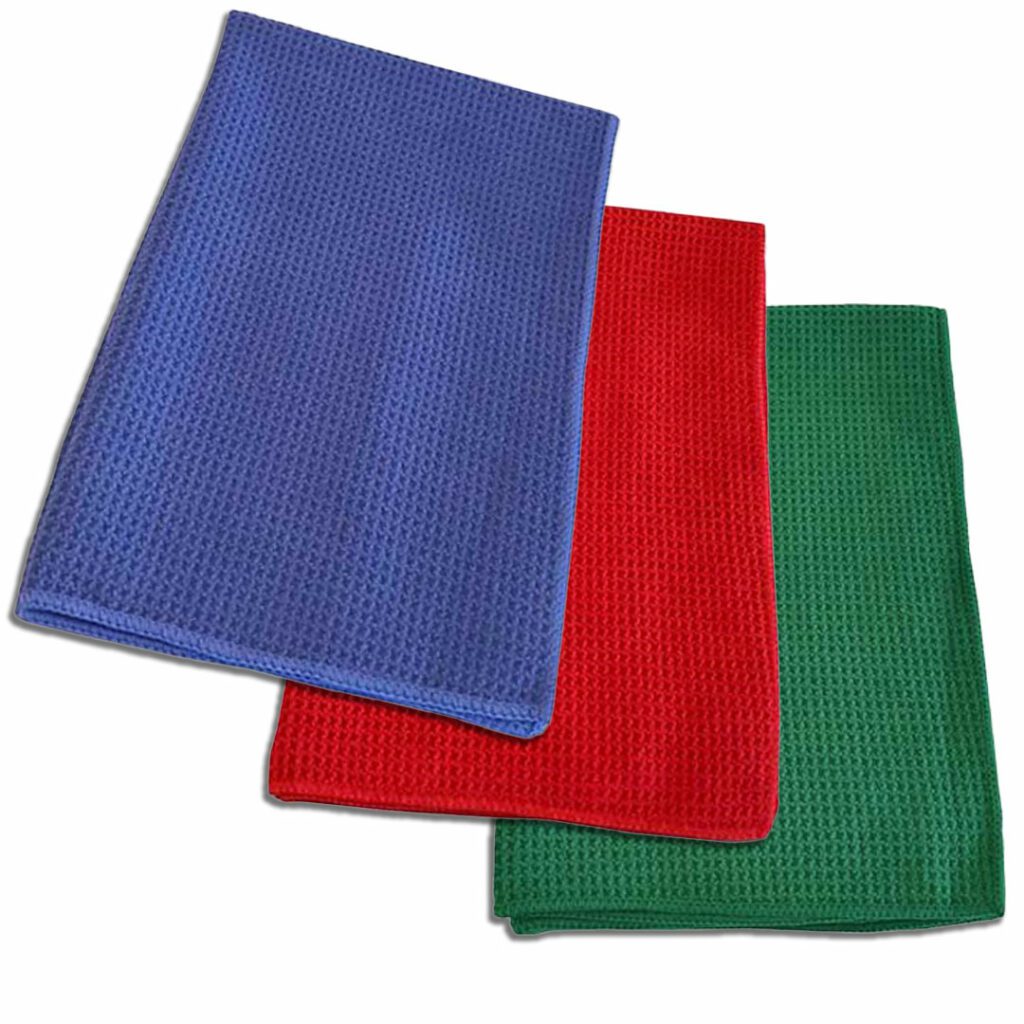 There are several things to consider. Let me start by suggesting what should not be used. Cotton terry towels are very fibrous. Although very absorbent for drying the body of a car, lint shedding is inherent in its nature. Terry microfiber has the same bad habits as well. On the bright side, it wicks water like a sponge. On the dark side terry microfiber deposits filament lint on glass. The fibers look like a dusting of fine snow. It is very difficult to remove.
Waffle-Weave Microfiber is Doctor Joe's first choice in glass cleaning towels. It is made from open end yarn and has zero filament lint. The deep pouches scoop up liquid and glass surface contaminate immediately. The good doctor offers several selections in waffle-weave, all in a beefy 400 GSM weight – 16 x 24 Ultra-32 Waffle-Weave in red, royal blue, and dark green; 16 x 16 Ultra-36 Waffle-Weave in hot pink, grass green, and royal blue; and 16 x 16 Ultra-37 European Style Waffle-Weave in sky blue and green.
What about the streaks?
"I clean the windshields and when the car moves into, the sun there are streaks!" Here is the dirty little secret. When the sun bakes the dashboard, the plastic oxidizes and deposits itself on the glass as white film. If you treat the dash with a polish, the bad situation deteriorates. After oxidation, the streak becomes a greasy smear. When the windshield is cleaned, the white film is diluted when wet and gets lighter, but does not go away.
There are two good solutions for the problem. The first choice is to wipe the glass with a clean 16 x 16 Ultra-51 Smooth Microfiber Towel. It is the same microfiber towel provided by your optometrist for your glasses, only heavier and larger. The streaks will instantly go away. Ultra-51 is available in magenta (reddish pink), sky blue, green, and yellow. The second option is Doctor Joe's Diamond Glass Towel. Available in 16 x 24 and 16 x 16 the unique diamond weave is the next generation in glass cleaning towels. The diamond pattern cuts smoke, streaks, and smears off glass. It works like a razor shearing off grime.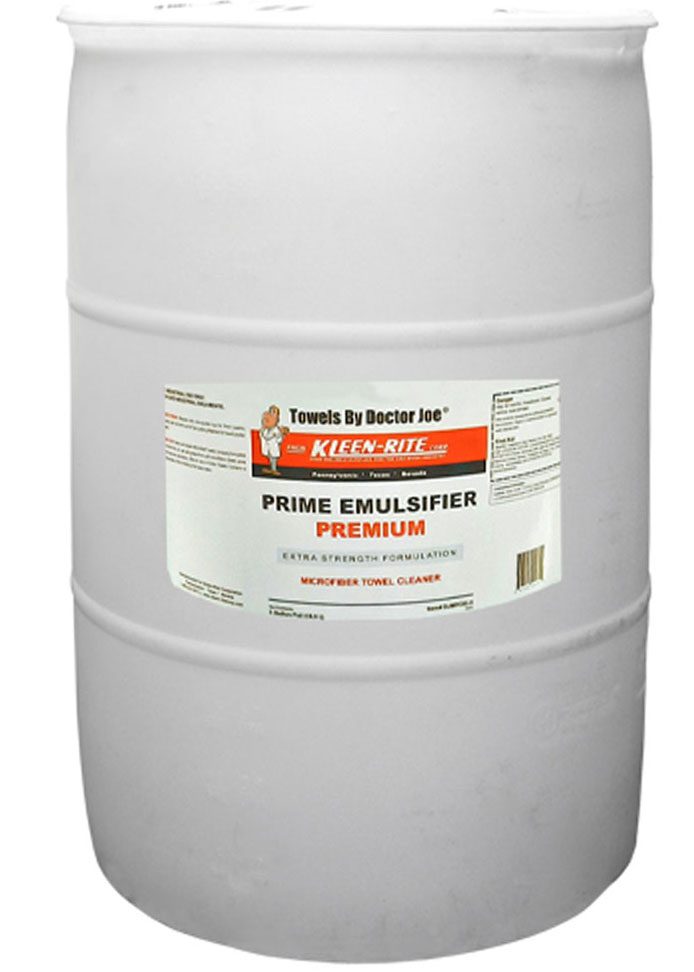 What about washing glass microfiber towels?
Microfiber glass towels need to be washed separately and never co-mingled with body or detailing towels. Prime Emulsifier© is the best product to use for cleaning not only glass microfiber towels, but all microfiber towels. It is specially formulated to release all grease, soil, oil, wax and other contaminates. It also opens the split microscopic, matted fiber and brings back absorbency. Prime Emulsifier© is available in 5-gallon pails and 55-gallon drums.
Best practices bring the best outcomes. Starting out, use a proper microfiber glass towel for cleaning windshields. Do not use cotton or microfiber terry. Wash glass towels separately, preferably with Prime Emulsifier©. Change out the towels frequently, using one towel per car. Do not use a soiled towel on a soiled windshield. Encourage your staff to keep an extra Diamond Towel or Ultra-51 Glass towel in their back pocket. These are indispensable for streak touch-up. Most importantly, keep an adequate microfiber glass towel inventory so there are always clean towels around.
In closing, your best resource in getting the windshields clean is a trained, knowledgeable, and motivated team. Nothing mentioned here will help if you do not put it into practice. It's time to take the good doctor's advice!
Doctor Joe Gartland
The Towel MD