Coin boxes, also known as meter boxes, are an incredibly important part of your self-serve car wash system. They act as the means for the customer to control their wash cycle while accepting and storing money. Their importance also makes them a target for vandals and thieves looking for a quick score. If you're noticing that people have been tampering with your coin boxes, or just want to be fully prepared in case they do, it's probably time to switch to high security coin boxes in your bays.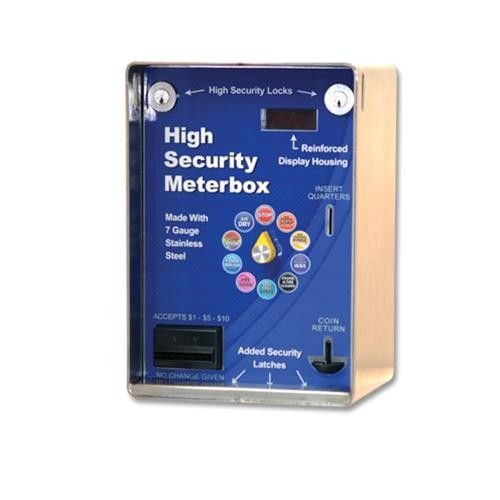 Why Make the Switch to High Security Coin Boxes?
As with any upgrade, you're going to pay more. Fortunately, Kleen-Rite's High Security Coin Boxes are more than just a name change and some small tweaks. The advantages are real, and they're easy to understand.
Thicker Steel – High Security Boxes are made with a beefier 7-gauge steel versus the 11-gauge steel used with our Deluxe Boxes – that's nearly twice the thickness. It can mean the difference between success of failure for a thief trying to break and get into your coin box.
Secure Plug Locks – Improved plug locks on the High Security act as yet another obstacle for somebody trying to infiltrate your box. Rather than just being able to pry open the faceplate, the box is protected by two strong locks.
Round Lock – A strong round lock is included to protect the storage box for coins.
Three Prongs – Speaking of prying, the faceplate on the High Security has three prongs that slide into the body of the box. This makes prying the plate off with something like a crowbar even more difficult.
Reinforced Timer Housing – Even if you're coin box takes some abuse, your timer is guarded by a tougher housing. A broken timer might as well be cash stolen from your pocket – why not protect it better?
Optional Security Bar – You can choose to purchase a security bar separately to add yet another deterrent to would-be thieves. Not only does it make it harder to enter the box, it adds a visual deterrent.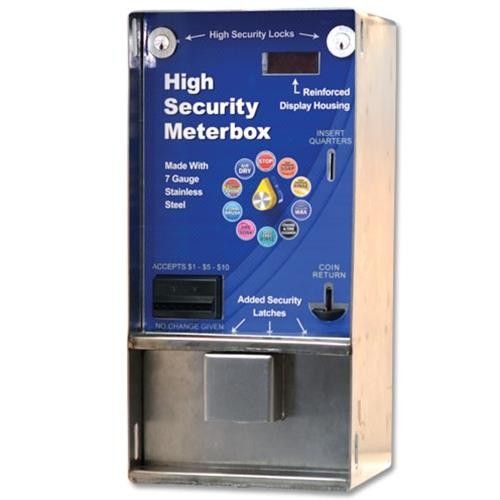 It's worth noting that tougher, upgraded coin boxes will also stand up to general abuse better and last longer than standard boxes. While the theft deterrence is obviously the main selling point, the longevity is a pretty great advantage too.
Short and Long Hull Options Available
The Long Hull High Security Coin Box includes built-in storage box for currency, meaning the money is stored in the coin box. The Short Hull High Security Coin Box is designed for use with a vault of some kind that is separate from the coin box.
Think about the area you're in, weigh the advantages compared to the cost difference, and figure out if High Security Coin Boxes are the right move for you. Watch our video on High Security Coin Boxes to see and hear more about them and read our blog about choosing coin boxes for more details to figure out what's best for you.