Try the Simoniz Diamond Plate Detailing Kit for amazing professional level detailing results!
What is Simoniz Diamond Plate?
Diamond Plate from Simoniz is a revolutionary way to protect your car's finish. When applied, the chemicals react with your vehicle's paint, fill in pores to make the surface smooth, and prevent dirt or water from sticking. Just think of it as a second clear coat that boosts shine up to 10%. Paint coatings provide greater protection than traditional car wax or paint sealant, which can wear off in several months. In fact, Diamond Plate can withstand 5000 scrubbings and two years of weather exposure! Simoniz is so confident in Diamond Plate that it includes a 2-year warranty backed by a qualified insurance carrier. In the event of a filed claim, consumers and installers won't need to pay for the price of repair.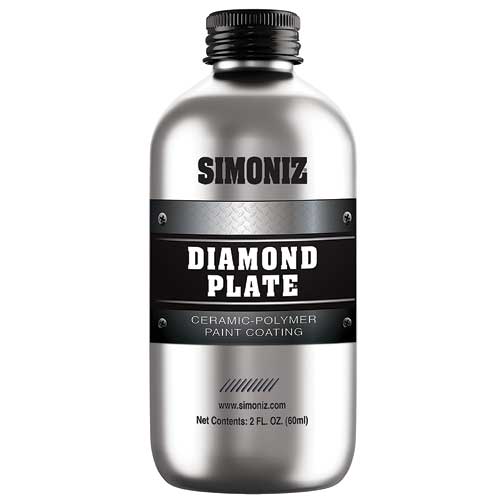 Thomas Palancia, International Sales Manager of Detail Operations at Simoniz, said, "Diamond Plate has been developed to be easy to apply with a fast reaction time. That means that it cures quickly enough that a customer can wait for the service to be completed. The entire Diamond Plate application process can be done in just about the same amount of time as a hand wax. There is no sterile work environment needed and you won't have to keep the vehicle indoors overnight to allow to cure."
What exactly is Diamond Plate? It is a nano-ceramic polymer paint coating. It protects against aerosol spray paint, hard water spots, UV damage, bird droppings, tree sap, and paint overspray. When you buy the Diamond Plate detailing kit, you'll receive one vile of Diamond Plate, one Vision Blade windshield protector, gloves, applicator pad, microfiber finishing towel, and warranty. Vision Blade forms a chemical bond with glass to repel water. It lasts up to 6 times longer than silicone-based products.
How Do You Apply Diamond Plate?
Follow these steps:
1. First, thoroughly wash the exterior of the vehicle. Make sure it is clear of tree sap, tar, bird waste, and bug debris. Use a clay bar to remove contaminants from the paint. Dry the vehicle with a soft cloth and blow out the weep areas (mirror housings and door handles) using compressed air. Inspect all sides of the vehicle to ensure it is clean. If contaminants are still sticking to the paint, the paint coating won't properly adhere.
2. Put on the protective gloves supplied with your Diamond Plate package. Apply Diamond Plate to one side of the supplied microfiber applicator pad.
3. Beginning with the front driver side of the vehicle, apply in long overlapping motions to one painted panel at a time.
4. Cover one-third to one-half of the vehicle before returning to wipe or buff to clarity.
5. Allow to set up for roughly 6 minutes. At this point, Diamond Plate will appear to evaporate, leaving a residue on the surface. Using the supplied microfiber towel, wipe or buff the Diamond Plate to level it.
6. Repeat this process until you complete the entire vehicle.
7. Next, make sure windshield and wiper blades are clean, and lift the wipers from the glass.
8. Hold the included Vision Blade windshield protector to the center of the windshield by the wings of the applicator. Squeeze the wings to allow the product to wick into the felt pad.
9. Apply the product to the glass starting on the driver's side, first to the border, and then filling in top to bottom.
10. Then apply to the passenger side of the windshield, making sure it covers the entire windshield.
11. Using a clean towel, buff the product into the glass until it is perfectly clear.
Ways to Advertise Diamond Plate at Your Business
Once you master how to use Diamond Plate, it's time to advertise the service at your car care facility. Check out these amazing Simoniz branded products to market Diamond Plate!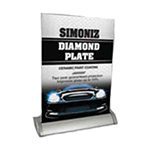 The Diamond Plate detailing package gives vehicles long term exterior protection. This detailing kit will improve gloss and maintain car paint for years to come! Browse our Simoniz Detail Products category for more professional car care solutions.