Which Buffing Pad Works Best for Your Application?
We use car detailing pads, also known as buffing pads, in the auto detailing industry to polish car paint, apply wax, and apply sealants. A detailer may use pads by hand, with dual action orbital polisher machines, or with rotary electric buffers.
A good buffing pad applies even pressure to all car paint surfaces, even curved surfaces. It is not recommended to buff with towels, since buffing pads hold polish more evenly than standard towels do. A good flexible pad that distributes polish and pressure evenly across the surface will protect the car's finish. One important reason to invest in buffing pads is that they absorb heat and keep surfaces cool. As the pad rubs along your car surface and creates friction, the friction generates heat. Heat can damage both your surface and your pad, so the heat-absorbing properties of the pad are essential.
Buffing Pad Materials:
There are several different types of car detailing pads. This post will compare each type so you can select the right one for your auto detailing business. There are foam, wool, and microfiber buffing pad materials. These types are then broken down into subcategories in terms of their aggressiveness. Less aggressive buffing pads remove paint defects slower and require a bit more time than more aggressive pads. However, less aggressive pads leave a smoother finish. Some manufacturers claim that pads designed with a textured surface cooldown the car surface more easily and offer a longer service life. However, flat pads can be cheaper and more common. Here is our breakdown of each pad type: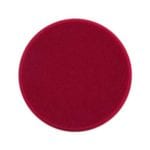 Foam Pads:
Compounding: Most aggressive. Use as the first step of removing surface defects.

Polishing: Less aggressive. Use as the second step to remove surface defects.

Finishing: Little to no aggressiveness. Use as the last step in restoring a finish. Great for use with sealants.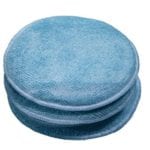 Microfiber Pads:
Cutting: Most aggressive pad used with cutting compounds. Removes paint quickly.
Finishing: Less aggressive pad used with polishing compounds.

*Note that microfiber pads, in general, tend to be more abrasive than foam pads.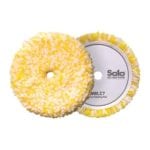 Wool Pads:
Wool pads are typically used on rotary polishers. Due to the naturally abrasive fibers, it is recommended to use a foam finishing pad after using wool pads.

Buffer pads are great for detailing cars, but they are not much use to detailers once they become dirty. Don't miss our selection of pad cleaners! We also have a heavy-duty buffing pad washer unit.