Note: This post was updated on August 31, 2021 with added helpful information.
Are handheld car wash dryers a good option for your self-serve car wash bays? In the past few years, hand dryers have become very popular with self-serve customers, and many people are starting to expect this feature when they pull up to a self-service bay. Virtually all operators we know who have installed these types of blow-drying systems have had at least 80% of customers using the new feature. That directly translates to more time spent in bays, and increased ticket revenue!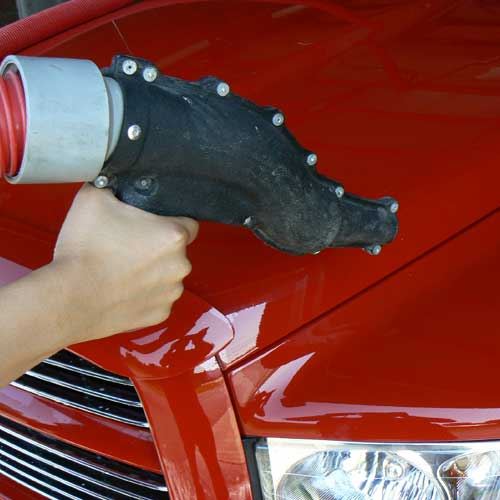 Why Do Customers Like Handheld Car Wash Dryers in Self-Serve Bays?
Customers love completely drying their cars and getting a professionally detailed look with absolutely no water spots. Motorcyclists, for example, would rather use an air-driven drying system rather than toweling the intricate areas of their bike – it's easier and yields more effective drying. If you can eliminate physically touching a vehicle during the washing/drying process and maintain (or improve, in this case) the effectiveness of the service, it's a positive. Not having to use a towel means less chance of scratching, marking, and other damage.
Who Are the Best Manufacturers of Handheld Drying Systems for Car Washes?
Kleen-Rite is proud to offer the most respected names when it comes to handheld car wash dryers for self-serve bays. If your system isn't working, it's just taking up valuable space in the bay. That's why we only sell dryers from trustworthy names in the car wash industry.
*Read our blog post about Air Shammee to get a fast introduction to this excellent line of products!
Ready to Install a Self-Serve Car Dryer?
You can integrate most dryers into your main wash without a lot of problems, but consider whether your electrical system can handle the load. Normally, pumps and other equipment are not running when the dryer is on. That means there will be no increase in electrical demand. The electrical cost is only pennies per use – a very small increase in expenses for a healthy boost in profits. With a fairly low initial investment in equipment, materials, and installation, the units will most likely pay for themselves in 12 to 18 months!