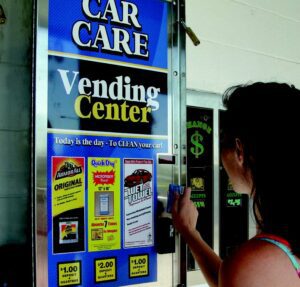 Kleen-Rite is very proud to announce that we have acquired Laurel Metal Products. The two companies have been partners for several decades, with a great mutual respect for each other, so the acquisition makes sense for both parties. The move will streamline the process of building and stocking Laurel products, allowing us to better serve our customers. The acquisition is an important part of Kleen-Rite's overall strategy of continuous improvement in the dynamic, evolving car wash industry.
Laurel Metal Company Info
A staple of the car wash realm, Laurel Metal Products is a leading manufacturer of car wash vending machines. They specialize in drop-shelf vending, a method that reliably delivers products to customers at a highly successful rate.
The company originated in 1959, started by Rich Kent as a sheet metal fabrication shop. In 1970, the company developed their first car wash vending machine. Laurel saw growth, and Rich's brother, Tom Kent, began helping run the company. After decades of dedicated work and success at Laurel, Rich and Tom retired to enjoy life at a much slower pace. Rich's sons Chip and Pat Kent took over, continuing the Kent tradition at Laurel.
Chip Kent explained how Laurel and Kleen-Rite have always approached building and selling car wash equipment: "Two generations, each with long legacies, have spent thousands of hours designing and improving the equipment that serves the customers and increases the bottom line of owners. The Laurel code: 'Simple is better, less expensive is better, and only dependable equipment is serving the customers.' We don't design all the ideas – customers often tell us what they want and we take that feedback very seriously."
Read a full history of the Laurel company.
Laurel vending machines are built with durable materials, so they are resistant to tampering and have a long lifespan. The company has smartly and strategically advanced their product line, offering both mechanical and electronic units with different column amounts, payment options, shelf sizes, and more. You can find exactly what you need for your car wash vending!
Will Much Change with the Acquisition?
Although Laurel is moving under the Kleen-Rite umbrella, much will stay the same with daily operations after the acquisition. Laurel's current management will stay in place, and Laurel will retain all long-term employees. Their products will continue to offer exceptional quality backed up by trustworthy customer service. This exciting acquisition will only serve to bolster the strength of both Kleen-Rite and the Laurel brand in the future!
Keith Lutz, Kleen-Rite Vice President, is confident about the trajectory resulting from the acquisition. Lutz remarked, "Kleen-Rite is excited to partner with Laurel Metal. It provides a great opportunity to maintain the legacy the Kent family has built over the last 60 plus years. Our families have worked together for decades, and with current management staying onboard to ensure a smooth transition, the future looks promising. We look forward to continuing to service the vending segment of the car wash industry and help accelerate the upcycle from mechanical to electronic and from coin to cashless in the vending space."