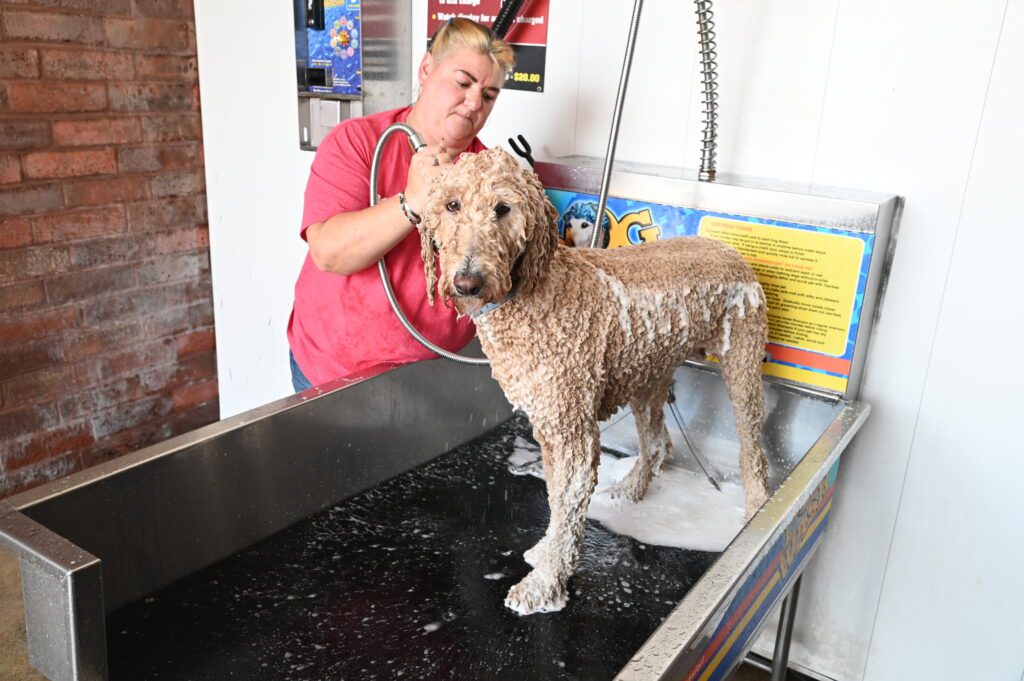 As a car wash owner, you may already know the value of creating a self-serve dog wash at your facility. The selection of products you offer in your dog wash bays is equally important. Your customers must trust that the cleaners and conditioners you provide are both safe for their precious pets and that they'll get great results. Pawed patrons may come in after an unfortunate encounter with a skunk or maybe they're just popping in for routine bath and blow dry. Either way you want your customers to leave happy and satisfied so they come back again!
As someone in the car wash industry AND as a dog lover and pup parent, dog washes are operations I think about a lot. My Great Pyrenees, Isaac, and my Standard Poodle, Lexi, volunteered to test out the local dog wash with us. If you know these breeds, you know their coats are some work to manage! So let's take a look at the self-serve dog wash product line-up, and review how they perform from a pet owner's point of view.
Self-Serve Dog Wash Shampoos
We recommend you offer a variety of shampoo options for self serve dog wash customers. Different pets have different needs, so between varying coat types, and skin conditions and the level of cleaning that has to take place, you'll want to provide choices that make the experience easy and reliable.
Tearless Shampoo
Tearless dog shampoo is a gentle formula, specially designed for dogs with sensitive skin, including puppies. Whether in the ready to use or concentrated option, these formulas are free from harsh chemicals and pH balanced. With this is an option on your rotary, customers can either use it as a total cleaner or switch to this from another option to wash closer to their animal's face. I washed Lexi with this option, and the rich pink lather really provided nice coverage on her thick, curly coat. The concentrated version features an herbal, slightly minty fragrance that I really liked, It should be diluted 30-40 parts to 1 part of water in your wash. Both versions provide an excellent, thourough clean, leaving coats shiny and soft.
Veterinary Grade Shampoo
Kleen-Rite's Veterinary Grade Pet Shampoo is a neutral formula that's gentle on skin yet tough on greasy, grimy hair and odors. I would recommend this option to users with pups that maybe had a little too much fun rolling in something gross, or that have gone quite a while between baths. Surfectants effectively strip away dirt, dust and oils for fresh, clean skin and coat. Aloe and oatmeal help condition in the rinse, and aids in healing hot spots and aggitated skin. I used a combination of this and the next product on my Pyrenees, Isaac.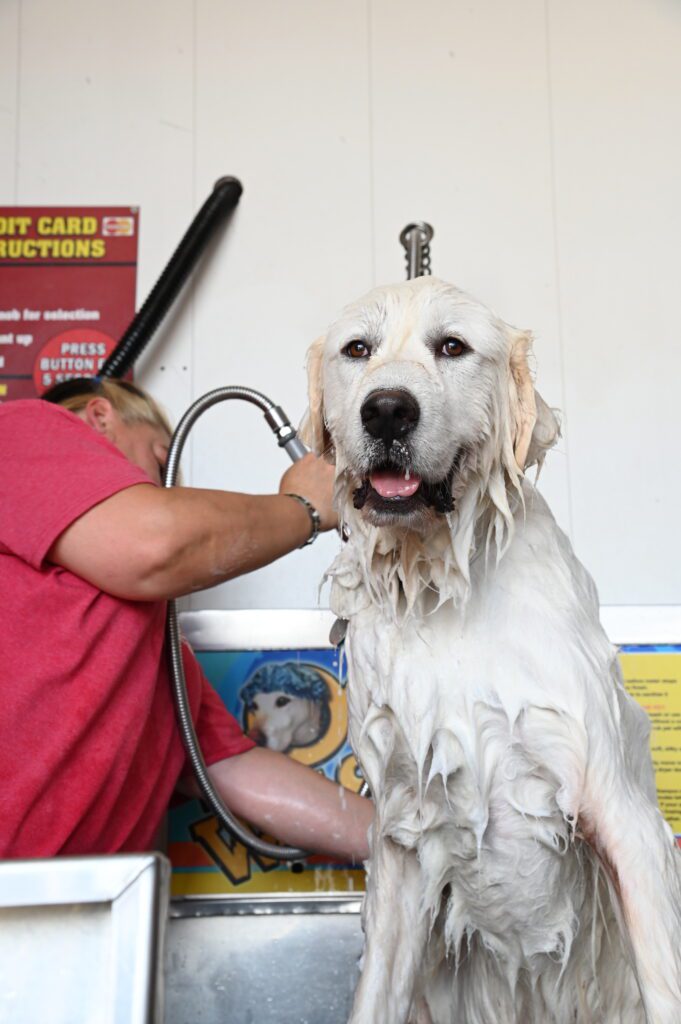 Oatmeal Treatment Shampoo
The oatmeal treatment was a perfect choice for Mr. Isaac. After a thourough lather with the vet grade shampoo, another shot of this neutral, hydrolyzed oat protein treatment replenished healthy moisture to his long, silky strands. He also had some minor inflammation on his belly from high grass that disappeared after the warm, soothing bath. This shampoo, along with the ease of bathing my 130 pound beast in a tub that let us both maneuver was a win-win situation.
Creme Rinse Conditioner
Kleen-Rite's Creme Rinse conditioner is an ultra creamy, moisturizing product featuring coconut derivitives to soften the coat and skin. It's gentle on your furry friends, with neutral pH, which is important for their wellness and comfort. This Creme Rinse left both of their coats with great lustre and sheen. They also had a pleasant (but not overbearing) fresh fragrance. The conditioner is thick and silky, and easy to work onto thier coats and easy to rinse away after. The detangling action was magnificent! Isaac's long white strands ended up manageable and light. Lexi's trademark curls came out frizz free, yet soft and flowy where they were intended to be. This product should be a "must have" offering in your self serve dog wash.
De-Skunk Treatment
I've personally never had the misfortune of having to bathe a skunked dog. The noxious scent of skunk spray can be irritating and overpowering. Skunk spray contains sulfur-based organic compounds called thiols. These compounds let off an immediate blast of acrid scent, reminiscent of pungent rotten eggs. I remember a time or two in my childhood when family pets had to be ushered outside, wreaking of polecat perfume. Back then, eau de skunk was usually tackled with tomato juice and a garden hose. Luckily for us, advancements in cleaning chemistry actually neutralize or eliminate skunk spray!
De-Skunk gets rave reviews from our dog wash operators. This fast acting liquid skunk odor remover is a neutral cleaner that uses a proprietary enzyme blend to break down the musk molecules. The product needs a little time to work. Massage De-Skunk into the coat as it dispenses, and let it to soak for a few minutes. It rinses away clean, leaving a more pleasant fragrance behind. In even better news, De-Skunk is ready to use and also safe and effective on carpets, clothing and other materials, too!
After checking out the self-serve dog wash products for myself, I can safely say they're a pleasure to use. You don't have to spend bucks on bougie boutique level soaps and shampoos to provide great results to pet owning patrons…stock your wash with high quality commercial ready to use and concentrated shampoos and treatments from Kleen-Rite!