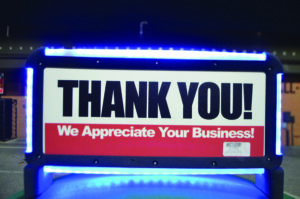 Many customers have found Kleen-Rite's lighted vacuum topper signs to be a perfect way to boost revenue and visual appeal at their car wash. Easy to install, our vacuum topper signs can be added to any standard commercial vacuum dome top for eye-catching advertising.
Plus, each lighted vacuum topper sign allows the operator to change LED colors with a push of a button! This ensures the signs will be a focal point both day and night. Operators can choose from 20 color choices, three light modes, and adjustable brightness levels.
Easy Install
Operators can install each vacuum topper sign themselves, with just a few tools. Check out our video below for instructions!
Customer Testimonials
"I thought it would be a neat item. We have 8 vacuums at our car wash, and only installed credit card payment on two of them. We thought the vacuum toppers were a great way to let customers know! I had instant results – the number of transactions took off right away. In the spring, we are going to add credit card payment to all of the vacuums, and when we have that, I'm going to change some of the signage. I love that you can change the message on them! The LED light is pretty impressive."
– Bruce McLaughlin, Squeaky Clean Carwash, Columbus OH
"Kleen-Rite had the bases covered with signs. I bought every one, except the credit card sign because I don't offer that on vacuums. It's nice! You have that space, you can do what you want there. With all the signs I have spread around, I hit all the talking points. The light effect is eye catching at night, it really does pop."
– John Edmondson, Rain Tunnel Car Wash, Chambersburg PA
"They're working just fine! I have one out now and bought three more. I've been advertising credit cards, and put the sign in at the same time as the vacuum itself."
– Scott Brackmann, customer