Sludge Pit!!!
Just the sound of the word sludge pit conjures up images of a smelly, gooey, black oozing substance in most people's minds. But for car wash operators, it's more than just a disgusting thought, but a necessary part of their job. All of them must learn the proper way to collect the waste and dispose of sludge in the proper way, or face serious consequences later. While no one enjoys dealing with sludge. Collection and disposal has become easier in recent years. Thanks to innovative inventions that have emerged, operators can now dump their waste fewer times and with less mess than they could before.

Bag it and Toss it!
One of the newest ways to conquer sludge comes from a company called Sludge Bagger, which markets a system of the same name. Their system allows operators to collect the sludge, then leave the bags outside. Once dry, they can then be disposed of like any other type of trash.
How Does Sludge Bagger Work?
According to the company, the Sludge Bagger works via a submersible sewage pump, which is placed in the center of the primary vault. An integrated control panel places the sludge into bags, which allow it to be dewatered, compacted and wept. After approximately four to six weeks, the bags can be removed for drying and disposal.
According to sales and marketing manager Kelli Johnson, the Sludge Bagger automatically pumps the sludge, eliminating any manual pumping.
"Minimal regular maintenance will be required to remove large debris such as pop cans and other items from passing to the pump," she says. "Placing a simple screen between the pit and main vault will be necessary."
Since the unit runs by an integrated control panel, the operator can easily adjust the cycling schedule and frequency to maintain a low level of sludge accumulation, if necessary, she says.
"The bottom line is, this unit is designed to replace all pumping schedules," Johnson says.
Sludge Bagger Installation
Once a Sludge Bagger unit has been delivered, it can be installed in approximately three or four hours, according to Johnson, assuming that the inlet and outlet piping have been placed in the ground to and from their main collection sludge vault. In terms of space, a typical four-bagger unit, which maintains sludge for the average car wash that runs an average of 300 cars a day, measures 22d x 72w x 58h, Johnson says. They are not custom-designed for individual car washes but come in standard four- or six-bag units. The piping placement and inlet/outlet piping need to be custom-designed, however. Local laws dictate the disposal of waste.
"Most county and/or state landfills only require the sludge to be dry before disposing of the bags into their dumpsters," Johnson says. "At most, a simple paint test done yearly to ensure that no hydrocarbons are found in the bags is sufficient. Since most operators dig out their pits with a shovel, collect it in five-gallon buckets, dry it and toss it in the dumpster now, the Sludge Bagger basically follows the same idea."
Take this Sludge and Shovel It

One of the most common and least expensive ways to rid a pit of its contents is to simply shovel it out, although this method is by far the most labor-intensive and least popular.
To make the job easier, many companies manufacture systems that will dig out the pits with much less labor on the part of employees. Pella, Iowa-based Ring-O-Matic Manufacturing Company makes a hydraulic clamshell digger which will dig out the mud but leave the water.
"It leaves some water behind, which is more desirable when it comes to getting rid of the mud," says Craig Van Zante, sales representative for the company. "The drawback with the diggers is that they work in car washes that have pits or bays that are around two feet wide and four feet long, and up to seven feet deep."
Another product is a vacuum that allows the mud to be sucked out.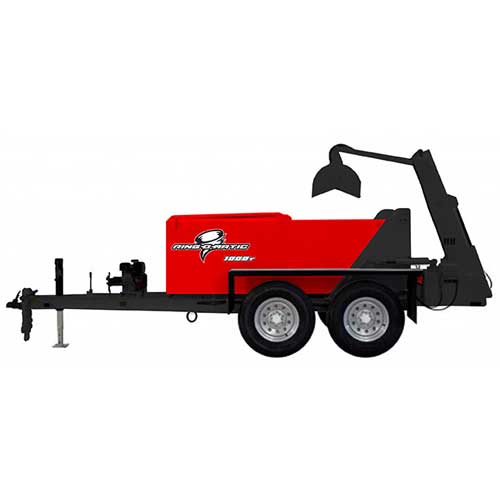 "Those are ideal for pits that are accessible only by a manhole, around say a 24-inch hole or so," Van Zante says. "In my experience, some car washes were built with a trough or a trench along a wall where the pits may be running perpendicular with the flow of traffic. Diggers don't work well in that situation because they can't get that bucket swung around."
Ring-O-Matic Pit Cleaner and Trailer Options Available
500T-RTD-02 – 330 Gallon Pit Cleaning Excavator with 6.5 HP Honda Engine (boom reaching 5′ depth)
1000T-RTD-01 – 550 Gallon Pit Cleaning Excavator with 6.5 HP Honda Engine (includes extended boom reaching 7′ 6″ depth)
1000T-RTD-02 – 550 Gallon Pit Cleaning Excavator with 6.5 HP Honda Engine (smaller boom reaching 5″ depth)
Vacuum Style Pit Cleaning Systems
Vacuums can be more versatile, but they also take the water and mud with them, creating a messy mixture. You can use a vacuum on just about any size pit that you can fit the vacuum tube into, but you're sucking up everything that's residing in the pit.
"You can dewater or drain the water off the tanks, but it can be time-consuming. Depending on the viscosity of the mud, it takes an average of 30 minutes to remove it," Van Zante says.
Ring-O-Matic offers a 850DV-RTD-01 Deep-Vac 800 Gallon Pit Cleaner if this method seems appropriate for your car wash.
Keeping it Legal
Although ordinances and regulations vary from state to state, almost all require the waste to be tested. Local landfills often have information on what ingredients aren't allowed in their fills, such as arsenic, mercury and cadmium. According to Van Zante, independent labs can also do the job by allowing car washes to submit samples, then receive complete test results in the mail. The benefit of using an independent lab comes from being able to have waste tested before having to submit it to authorities. That way, operators have the chance to correct potential problems, which can sometimes be the result of careless customers, he says.
"If your first test fails, don't submit it," he says. "You never know if someone may have just changed their oil in your pit. I've also talked to owners where they had drug users dumping chemicals such as paint thinner and ammonia," Van Zante says.
The Right Size Pit

Designing the correctly-sized pit helps with keeping it maintained properly. William Zuraff, a former Las Vegas operator, is now a full-time contractor who builds car washes. The ideal pit size, he says, depends on several things.
"First, you need to select the parameters, needs and limits of your pit design," he says. "How much room does the overall design for the wash allow? Usually you can look at the site plan to determine this."
Secondly, the projected amount of waste that will be generated should be considered.
"If the wash is in a rural location with dirt roads, the operator will need a design to accommodate this. If he's in the middle of a large metropolitan area with paved streets and a mature neighborhood, his needs for sludge will be much less," Zuraff says.
Next, operators also need to consider their preferred method of removal and disposal.
"Some operators are more hands-on, which can save money. Others are not interested in getting dirty and are willing to pay for pumping via vacuum extraction," he says.
Depending on the amount of time they want to put into designing their pits, and local regulations, operators may be able to design their own disposal system or method of treating and removing the pit sludge, which is cost effective enough to almost eliminate the financial impact, Zuraff says.
"There are a variety of sand/oil separator designs to choose from, and there are a couple of ways to design the bays to receive and convey the mud and road film to the separators, or pits," he says. "Some methods of design will allow for recycling."
Get the Funk Out
One of the biggest problems with sludge is the smell emanating from the pits, which can be very offensive. Maintaining the pits on a regular basis will cut down on the odor factor. But even with regular cleaning schedules, you'll still experience some pretty foul odors if you don't do anything to address the issue. Thankfully, there are now plenty of deodorizing options on the car wash market that make it easy to maintain a relatively stink-free area.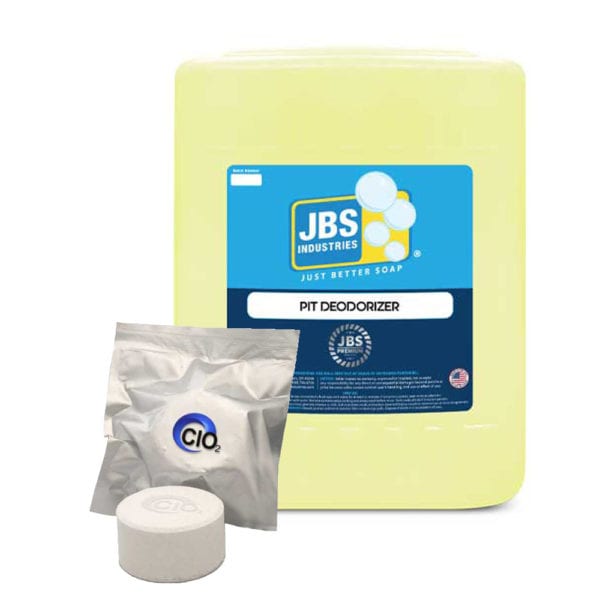 Pit Deodorizing Chemicals
Simoniz Sani-Tab 100 gram and 20 gram sanitizing tablets
National Chemical Pit Deodorizer in 5-gallon bucket size or 55-gallon drum size
JBS Pit Deodorizer 5 gallon jug
AP Formulators De-Funk Tablet
AP Formulators Pit Enzyme Odor Remover with enzymes
Other Helpful Products to Keep Pits Clean
We carry some products that help customers deal with common problems that they have with the grates on their pit/reclaim systems. If you have issues with mud, waste, and trash collecting on the outer holes of your fiberglass grating, try Mud Stopper Grate Plugs. A simple but ingenious solution, these plugs fit into the holes in your grating so nothing can collect in them. That means waste is guided towards the holes closer to the center where it can then reach your pit where it belongs!
Speaking of fiberglass grating, Kleen-Rite has now introduced EZ-Grate. This grate option offers all the benefits of regular fiberglass grating, but is available in smaller sections that are easier to move around because they're lighter and less awkward to handle versus large, bulky sections. EZ-Grate is available in 3′ x 4′ sections and 4′ x 4′ sections. It's also easier and less costly to ship because it can be stacked and have a smaller footprint.