Parker Engineering, the maker of Slugbuster coin acceptors, originally prepared this article for The Kleen-Scene magazine.
At Parker Engineering, our number one goal is to make our product as bulletproof as possible. This is true for any reputable equipment manufacturers in the car wash industry. If we can't do our part to keep your wash up and running, then we all lose. But that doesn't mean that problems won't arise and require coin acceptor troubleshooting and repair.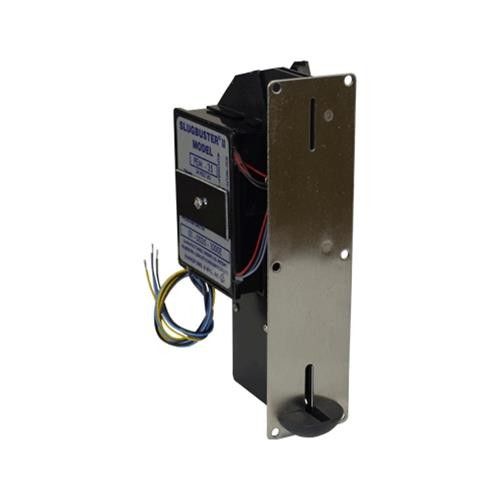 We Know Troubleshooting can be Frustrating
Communication is key in resolving any problem and is a first priority when you call us with an issue. Understandably, you may be under duress and frustrated because you have a bay down and perhaps the equipment is malfunctioning on the busiest day of the week. You might have irate customers reading you the riot act because their quarters were "eaten" by a machine. Added to this is the frustration of trying to track down exactly where the problem is coming from, and the list of potential issues is enormous. Now, let's try to diagnosis what's going on over the phone. Yes, long distance troubleshooting can be frustrating.
Here are some of our tried-and-true tips that will either help you completely avoid that call, or make discussions with us much easier.
Coin Acceptor Troubleshooting Questions
Be ready to answer these questions when you reach out to us. It will make it much easier for us to help you and vastly reduce the length of the call.
What model coin acceptor do you have?
What brand of timer are you using?
Are the problems related to existing equipment, or is it a new build/rehab?
Is your acceptor interfacing with any other equipment?
When did you purchase your coin acceptor and/or what is the manufacture date?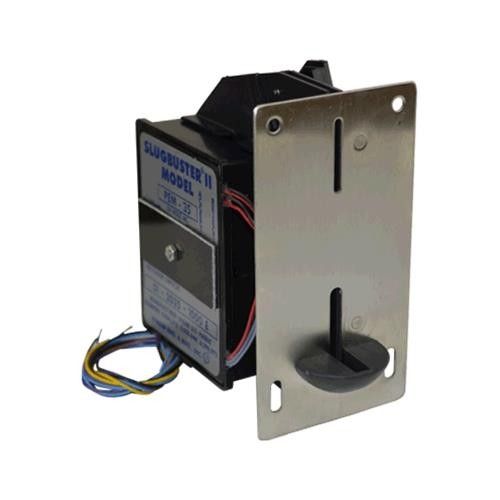 Coin Acceptor Troubleshooting Tips
Use a meter to check that power is going to the black and yellow wires. Set meter to read AC volts. Connect the red lead to the yellow wire at the timer. Connect the black lead of the meter to the black wire of the coin acceptor at the timer. Make sure to turn on the power. The acceptable range of power should be 20 to 26 volts AC.
Check if sample coins are in place. If you have a multiple coin acceptor but are currently only accepting one type of coin, there still needs to be sample coins in place for good discrimination. An empty coin holder will result in your acceptor not performing correctly.
Check if the coin path is clear. Make sure there are no jammed or bent coins stuck in the coin path.
Check to make sure that the wiring harness is not interfering with the moving part on the coin acceptor.
Make sure all the wires are intact. Look for broken or cracked wires.
Parker Always Wants to Solve Your Problem
Sometimes Slugbuster coin acceptor troubleshooting requires significant trial and error. Be as patient as possible.
Each and every customer is important to us and we try to find a solution to your issue. Electronic parts fail, humans make mistakes, and Mother Nature can wreak havoc. We continuously improve our products and services, and we can resolve most problems.
We recently encountered a new warranty product issue that we were able to resolve successfully. A car wash owner called after suffering a substantial loss from a tornado. He was pleasant despite a very difficult situation and laughingly asked if one of his recently purchased acceptors would be covered under warranty. In the end, we were able to fix his mechanism and move him one step closer to reopening. Whether it be Parker or another manufacturer, remain as patient and calm as possible, be prepared with any information you can give the manufacturer, and always ask about warranties and repair parts. You might end up surprised at how easy it is to fix your problem!