Car wash owners constantly brainstorm the best way to run their business. They learn what their customers want from a car wash and figuring out the cheapest way to deliver those services. There are a variety of automatic car wash types, allowing operators to choose the equipment that best matches their needs. Learn about the the different styles below!
Automatic Car Wash Types
In the most general sense, automatic car washes are split into two types:
In-Bay Automatics
For these washes, customers drive vehicles into a bay and remain stationary while a spray or brush system rolls over them (see the difference below). These require less space than a tunnel car wash.
Tunnel Automatics
These washes move the car through a "tunnel"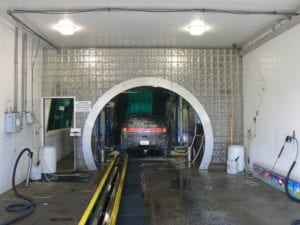 on a conveyor system employing a chain, rollers, and a motor. Customers choose their wash services, follow simple directions to drive their car onto the conveyor, and then sit back and allow the system to do its work. Different stages begin and end as the vehicle enters and exits designated areas.
Both in-bay and tunnel automatics can be:
Touchless
Only use detergents and high-pressure spraying/rinsing to clean vehicles. There is no abrasive physical touching between the equipment and automobile.
Friction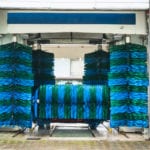 Brushes or scrubbers come into contact with the vehicle to loosen dirt and soils on the car exterior.
Hybrid
Simply combines elements of both touch-free and friction car washes.
Generally speaking, bays are most likely to host touchless automatic spraying setups, while tunnels typically hold friction automatic arrangements. It's worth noting that this is not always true and is not a hard and fast rule.
Some more specific examples of tunnel automatics include:
Express Exterior Tunnel
Customers pay at an automated station and ride straight through express exterior washes with no cleaning or scrubbing by an attendant. Express exterior washes are an excellent choice for high volume washes. Pros: Quick, require little to no employees (other than servicing equipment). Cons: Potentially, not as thorough of a wash since there is no attendant to address specific problem areas or especially stubborn dirt. Requires an initial investment in costly equipment like paystations and devices to automate the entire wash.
Flex Serve Tunnel
Automobiles drive through this style of wash that offers full exterior and interior services. This wash functions like an express tunnel but also have options completed by hand. Pros: More complete exterior and interior cleaning. Maintains the speed of an express but with a more personal touch. Cons: Requires at least one employee to be on hand. More equipment and chemicals are purchased for interior cleaning.
Full-Service Tunnel
This style of tunnel offers complete exterior and interior cleaning. After the customer chooses their package, employees take over the vehicle and run it through the tunnel for him or her. Pros: Customers get thorough exterior and interior car wash. Operators can offer things like oil changes, lube jobs, and precise detailing. Waiting customers have more time to purchase vending machine products and other retail items. Cons: Require the most employees and take a long time to complete. Owners need to build a lobby or sitting area for customers to safely wait for their vehicle.
Mini-Tunnel
Mini-tunnels are smaller versions of standard tunnels and are often found at gas stations. Pros: Require little space. Can complement another business and provide extra revenue without purchasing a separate piece of property. Cons: Can't accept larger vehicles like 18-wheeler trucks/semis. Limited space means fewer services are offered.