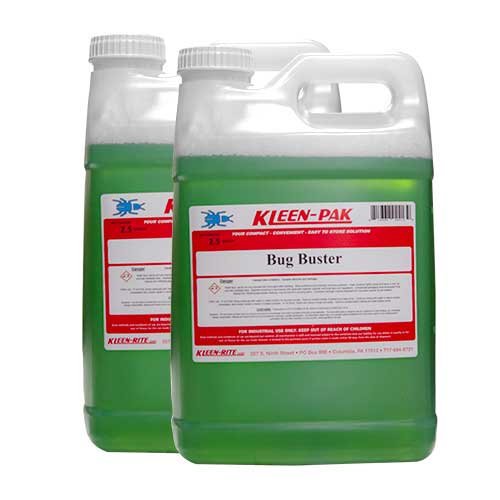 As a car wash operator, you know that space is at a premium. There is always so much equipment and soap to store that it can seem like a never-ending puzzle. While you might not be able to make your pumps smaller, you can save space by choosing efficient chemicals that are easy to transport and store. Our Kleen-Pak hyper-concentrate line is a great place to start! It's a unique system that completely eliminates 55 gallon drums from the equation.
All-Around Easy
The problem with round 55 gallon drums is that they don't sit flush against walls or each other. This results in inches of lost space around each container. Plus, they're just so big! Unlike drums, rectangular Kleen-Pak containers stack and store neatly, with minimal lost space! The 2.5 gallon size is easy to lift and transport.
"The size of the containers is an absolute bonus. I handle my car wash by myself and it was a big job to move around (55 gallon) drums," said Tom Tona, owner and operator of the Main Street Car Wash in Fort Walton Beach, Florida.
All Kleen-Pak chemicals can be shipped through UPS without any extra hazard fees. Thanks to the broad selection of formulas available, many car wash operators have found it easy to make a full switch.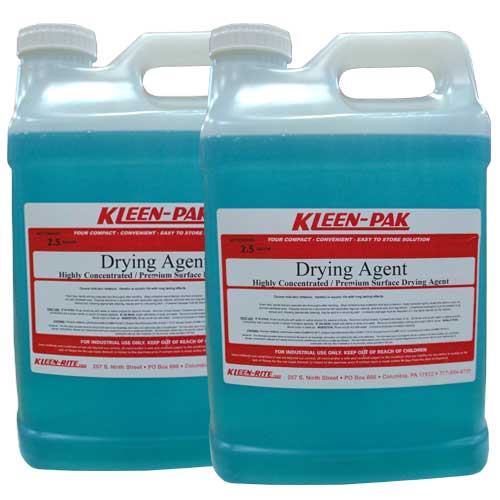 "I'd been complaining about my soaps for 10 years, and now I love the Kleen-Paks," said Tona. He discovered that Kleen-Pak products work well in both his automatic and self serve bays.
"I'm almost completely switched over; I just had some old soap inventory to use up," Tona said. "The number one benefit is the performance, by far. I've gone through most of the major brands over the years, and for different reasons I didn't find anything really good. This one seems to nail all the categories really well – it works well on the cars."
Tona said customers have commented on better results since he began using Kleen-Pak.
"I found that (Kleen-Pak) performs a lot better, and I use a lot less soap. Even when I accounted for the concentration, I had to turn down the metering," Tona said.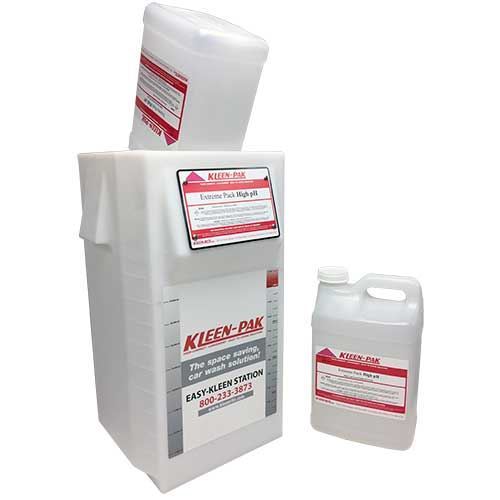 Simple Bulk Storage
High volume car wash operators may want to keep many Kleen-Pak products on hand. While the 2.5 gallon size fits onto shelves well, some customers like to decant the product into a larger container. Enter the Easy-Kleen station, a rectangular storage unit that holds the contents of up to five Kleen-Paks.
Simply upend your sealed Kleen-Pak over the station and insert it, allowing the station's specially designed top to break the container seal. The Kleen-Pak container will now drain directly into the station, eliminating any mess and spill! Because the chemicals are so highly concentrated, one full 12.5 gallon Easy-Kleen station often lasts longer than an entire drum of other chemicals. Operators should only store one type of chemical in each Easy-Kleen station, so grab a few and line them up!
A Variety of Kleen-Pak Options
Kleen-Pak hyper-concentrate formulas include Aquaguard, Low pH Presoak, High Pressure Detergent, Bug Buster, Foam Brush, Drying Agent, High pH Presoak, Fragrant Presoak, Wheel & Tire Cleaner, Body Shampoo, Cherry Sealer, and Clearcoat Conditioners.
Making the switch to Kleen-Pak products is as easy. Just visit kleen-ritecorp.com or give our sales team a call at 1-800-233-3873. Kleen-Rite experts will be happy to help you choose the right products and configuration for your car wash!