High temperature and moisture levels inside a car wash pose many challenges to traditional equipment. As a result, heavy-duty solutions are required to withstand the environment of a self-serve car wash. Banner vehicle sensors, indicators, and LED lighting products are designed to perform and last in these rigorous conditions.
Vehicle Detection in a Self-Serve Car Wash
Application: Sensing vehicles as they travel through a car wash
Challenges: Extreme conditions – high pressure, drastic temperature changes, mist, steam, humidity
Solution: QS30 High-Performance Long-Range Sensor
Product Features & Benefits:
Innovative 30 mm housing and 200 m range for flexible mounting
High-power opposed mode with infrared light to burn through mist and steam
Rated IP67; NEMA 6P; quick disconnect (QD) models are washdown tested to IP69K
Bright LED operating status indicators with bar graph display visible from 360°
Excellent noise immunity
Two frequency selection to help prevent crosstalk
Bipolar discrete outputs, PNP and NPN & Light or Dark Operate models available
Models available with 2 m or 9 m (6.5 ft. or 30 ft.) cable or quick disconnect
Unique water/debris-shedding lens design reduces lens contamination; lens material survives impact, washdown and cleaning chemicals
Encapsulated electronics for protection against water ingress
Detecting vehicles in automated car washes presents several unique challenges due to the extreme conditions. High-pressure water, temperature variation, sunlight, reflective surfaces, mist and steam, and constant machine movement are all factors to consider when selecting a sensor for vehicle positioning.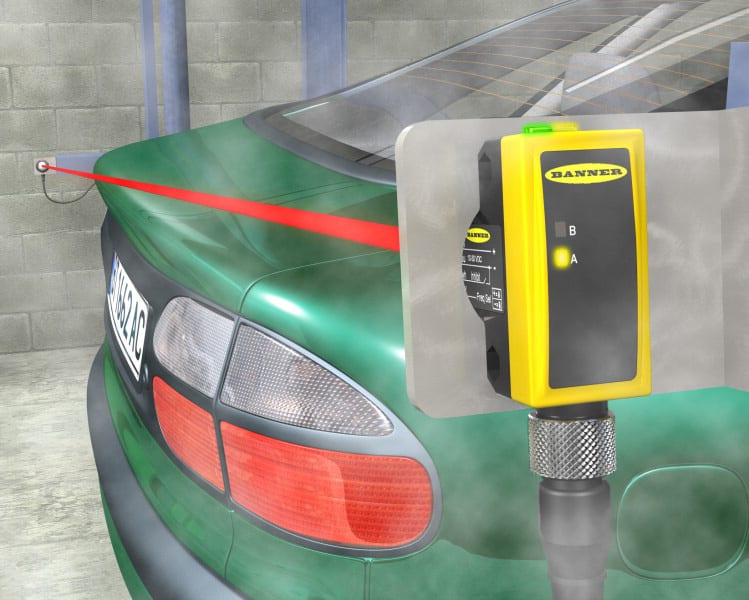 Banner Engineering's QS30EXQ and QS30RRXQ sensors are designed specifically for reliable, long-lasting performance in the extreme environments of car washes. The QS30EXQ emitter and QS30RRXQ receiver are configured in opposed mode to verify that a vehicle has passed completely through the drying stage of wash. This signals the car wash that another vehicle can begin its wash cycle.
Protecting Electronics from Damage
The QS30 sensors have epoxy-encapsulated electronics to prevent water ingress from destroying the sensitive components. Additionally, models with quick disconnect (QD) electrical connection fittings have IP69K-rated housings to withstand the constant presence of water and extreme temperature swings.
Infrared Lights Push Through Mist, Steam, and More
Q30 sensors have an opposed-mode range of 213 meters for flexibility in mounting. In addition, the sensors utilize 875 nm wavelength infrared light to burn through mist and steam and provide a reliable beam-break sensing field.
If additional QS30EX and QS30RRX sensors are used concurrently in the same car wash stations, they can be configured to operate at different frequencies. This eliminates cross-talk that occurs when high powered infrared light bounces off shiny surfaces found in wet environments. Specially designed circuitry is used to eliminate false trips caused by outside sunlight and ignore signals and noise from electromagnetic and radio frequency interference (EMI and RFI) caused by the concentration of automated equipment in car wash stalls.
The content of this blog post was provided by Banner Engineering.