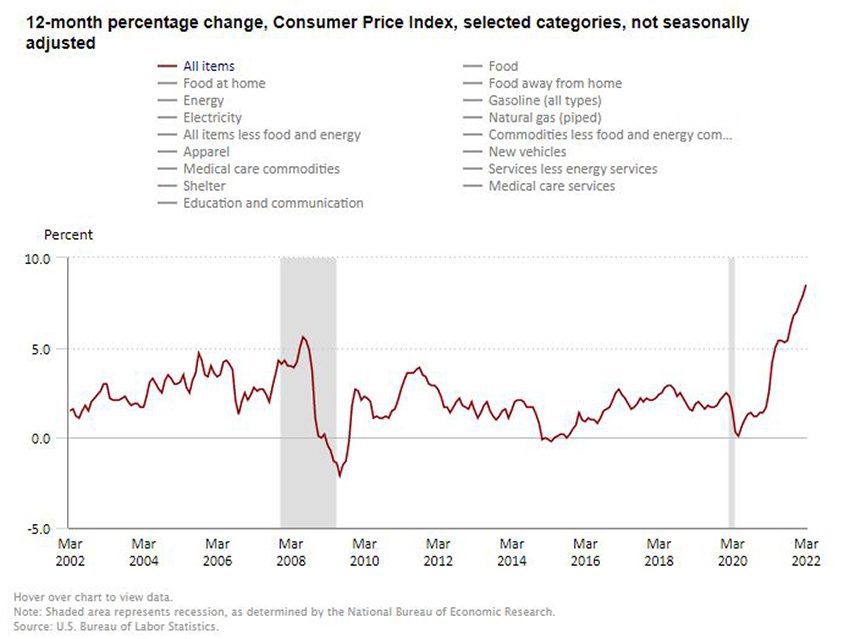 Major worldwide events are causing record-breaking inflation and supply chain disruptions, producing anxiety among business owners. According to a survey conducted by MetLife and the U.S. Chamber of Commerce, "85% of small business owners say they are concerned about the impact of inflation on their business." Learning to combat inflation is the key to ensuring your car wash survives. Here are some strategies to help you navigate economic turmoil.
How Bad is Inflation?
On April 12, 2022, the U.S. Bureau of Labor Statistics reported that all goods included in the Consumer Price Index Summary increased by 8.5% over the previous year. The number indicates that you are paying about 8.5% more for your car wash supplies.
Increase Your Wash Prices
As goods rise in cost, you have two choices: hemorrhage money or increase your prices. MetLife and the U.S. Chamber of Commerce revealed that 67% of small businesses raised their prices to combat inflation. To stay afloat, many companies have increased what they charge customers. Even though it is nerve-wracking, price increases are necessary to retain a profit margin.
Before raising your rates, research the pricing of other washes in your area. Then, calculate what you need to charge to maintain profitable margins. Use the information you collected to set a competitive price for your packages so you will bring in a profit without needing to change anything. Customers will accommodate a higher price as long as your wash quality remains consistent.
Never Compromise Wash Quality
You have probably used the same chemicals for a long time. However, shortages and product discontinuations might force you to change chemicals. If you find yourself in this situation, you must select chemicals that match the quality of the ones you previously used. Never sacrifice the quality of the wash you provide.
Test multiple chemicals to find one that produces the results you are looking to achieve. Once you have the desired results, offer customers a free wash if they complete a survey. You will obtain valuable feedback that will tell you if customers are happy with the results of your new packages.
Customers will notice if their vehicle is not clean. There are plenty of other ways to slash your operating costs.
Cut Your Operating Costs
Reducing expenditures is vital during economic turmoil. To start, examine your expense report. It should help you find where money is draining. Here are a few budget drainers to consider:
Older Equipment: If you discover a machine is nickel and diming you, consider replacing it. The upfront cost is expensive, but it may save you in the long run. For example, a critical component might break down the road, shutting down that piece of equipment until the part arrives. With the current condition of the supply chain, the item might not come for a few weeks or even months. Can you afford to wait that long?
Wasted Product: Replace or repair equipment that leaks, such as worn spray tips, leaky lines, worn valves, pumps, etc. Wasting chemicals and water will increase your operating costs. Once you have eliminated the source of waste, your expense report should shrink.
Vending Supplies: If a product does not sell well, do not reorder it. You don't want to purchase products that won't deliver a return on your investment. Only invest in new products for your vending machines if there is high demand. Stick to your bread-and-butter vending supplies.
Eliminate Debt: Pay off as much debt as financially possible. If paying off loans is not feasible, refinance them with fixed-rate loans. A loan with a fixed rate will not increase every time the Federal Reserve raises interest rates to battle inflation. Once these monthly payments are decreased, more of your budget will be available for other needs.
Shipping Costs: As energy prices climb, the cost to ship your supplies will grow. Use your Kleen-Rite Rewards points and take advantage of our free shipping offers to reduce your shipping costs. If you are not signed up yet, don't worry, Kleen-Rite Rewards is free!
Every penny cut from your expenses will add up over time to help you save money. Use the extra cash to keep your wash stocked with the supplies you need.
Plan and Order Supplies Ahead of Time
Just-in-time delivery is no longer sustainable. A Small Business Pulse Survey conducted by U.S. Census revealed that "45% of small businesses note they have been affected by supply chain shortages and delay issues." With that in mind, it is crucial to forecast your needs.
Examine your purchasing trends. A good strategy is to order supplies a few months ahead of time if you have space to store everything and the extra money. Maintain a reserve of parts that you regularly replace. That way, you have what is needed when equipment needs repaired.
If you need help tracking supplies, try KR Stock. The app helps you track inventory at your car wash and reorder supplies when you run low, even across multiple locations.
Communicate With Your Customers
Communication will help you maintain a good relationship with your customers, especially during challenging economic times. If you increase prices, let customers know you did this to ensure the quality of the wash you provide remains the same.
However, if you change the products in your packages, let your clients know. Inform them you took steps to ensure the wash quality remains the same. Customers value transparency, and it will help nurture your relationship with them.
Inflation and supply chain disruptions do not appear to be easing anytime soon. We hope this guide helps you implement strategies to help you weather inflation and the supply chain crisis.
Don't forget; we are always here to help you select cost-effective supplies for your wash. Give us a call at 800-233-3873. We are happy to help you!
This article was originally published in Kleen-Scene 39 and written by Joseph Herr.