When you arrive at the self-serve car wash, one of the first interactions you have is with the meter box. This small yet essential piece of equipment is used to sell your car wash services, so you need a quality coin box you can depend on at all times. For this important job, look no further than a Kleen-Rite's Deluxe meter box. They make it easy for customers to make payments and select wash functions.
Our Deluxe meter boxes are secure, durable, and reliable upgrades for aging self-serve bays. They're also an excellent choice for newly-constructed wash sites, since they make interacting with bay functions simple and easy.
Meter Boxes Offer Ease of Payment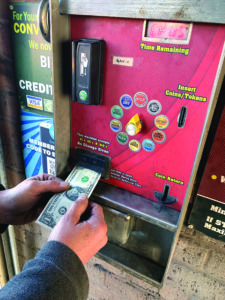 As a car wash operator, you want to make it as easy as possible for customers to spend money. Our meter boxes accept coins and bills, and we offer optional credit card acceptance. The bill acceptors will take denominations ranging from $1 to $20 bills. The coin acceptors allow you to accept virtually any type of coin you wish, whether quarters, tokens, or dollars coins. We offer a variety of options for credit card systems, ranging from low-cost systems for simple credit card acceptance to more elaborate systems for fleet and gift card capability.
William Moe of Moe's Super Wash in Coos Bay, Oregon uses Kleen-Rite Deluxe coin boxes to accept cash and credit. "People aren't carrying cash as much, so our coin boxes accept coins, cash, and cards," he said. "They're user-friendly for everyone no matter what currency they carry, and that fact alone has been able to increase our business up to 10%."
Our Deluxe coin boxes offer ease of payment for the customer, which leads to more income for car wash owners. Inserting dollar bills or swiping a credit card is much more convenient than going to a changer and getting a bunch of quarters to plug into the coin box.
Vernon Hildebrand of H&H Car Wash in Newton, Illinois is currently remodeling his locations for this very reason. "We've done a lot of business at Kleen-Rite," he said. "We're redoing our boxes in our locations—we have six total—in order to go to dollar bills and credit card acceptance. It cuts down on the use of quarters. I've been in the business since the 1980s, and we used to start the wash with quarters," he added.
Also, the time a customer spends going to the changer and bringing his quarters back is the time when your bay is sitting idle. This may not seem like much, but on a busy weekend when all your bays are in use this can really add up.
Tony Crawford of Circle T Car Wash in New Hampshire says offering all forms of payment brings his per customer average up in terms of sales. "We want to make it super convenient for customers of all markets," he said. "We take credit cards, cash, and tokens. If you buy 10 tokens you get 3 free, and if you buy 20 you get 7 free. So, the tokens help us create loyalty with customers."
Crawford reaches out to Kleen-Rite every time he revamps self-serve bays for advice. He replaces his coin boxes about every 10 years and intermittently makes updates to coin box validators and decals to keep them looking fresh.
High-Security Reinforcement
When choosing Deluxe coin boxes for your bays, it's important to consider several different styles. We offer short hull CBK6000 models and long hull CBK5000 models with optional security reinforcements. Long hull styles hold the coins inside the actual coin box in a secure coin drawer. Short hull styles send the coins to a safe or vault that is separate from the box. For any coin box equipped with a bill validator, the bills stay in the coin box until emptied. They cannot be sent to a separate vault.
Moe uses high-security coin boxes at three different locations, and his preferred model is the Deluxe long hull. "The coin boxes are practically bulletproof, the price is excellent, and Kleen-Rite's always taken good care of us," Moe said. "The equipment works well for our applications."
Kleen-Rite's stainless-steel coin boxes are extremely durable and secure, but many operators invest in security enhancements for added peace of mind. While our Deluxe models have cutouts for regular padlocks, our Deluxe high-security boxes use plug locks in the top corners. High-security boxes also have three pins at the bottom of the box, so there's no way to pry money out from the bottom or the top.
High-security boxes are made of thicker 7-gauge stainless steel, making it very difficult to bend or warp. They also have a reinforced timer display housing, high-security plug locks, and added security latches. Operators can even choose to put an additional security bar over any box if they so desire.
Hildebrand said, "We buy a heavy-duty box with a hex key and a lighter duty one where the door opens up. My son orders the coin boxes, and I think they're all pretty secure." While every car wash can benefit from coin boxes with extra security features, they may be especially pertinent for certain locations. Get some more details in this Kleen-Rite High Security Coin Boxes blog post.
The easier any car wash owners makes it for the customer to spend money, the more they will spend. Coin boxes are some of the most important investments an owner will make. When was the last time you upgraded your boxes? Check out our long hull and short hull Deluxe coin box features and specifications to learn more.