If you read the last Kleen-Scene, you may have met Todd Perkins in our article about his Vacuum Prospector product. This ingenious device makes it easy to collect coins and valuables at the bottom of car wash vacuums. It sifts out dirt and debris as it works, keeping your hands clean. Perkins has enjoyed success with the Vacuum Prospector and has garnered significant sales and interest in the car wash industry. Perkins is not resting on his laurels; he's already developed his next clever car wash product! His new invention is the Mud Stopper Grate Plug, a handy accessory that helps keep fiberglass grating clean and unblocked.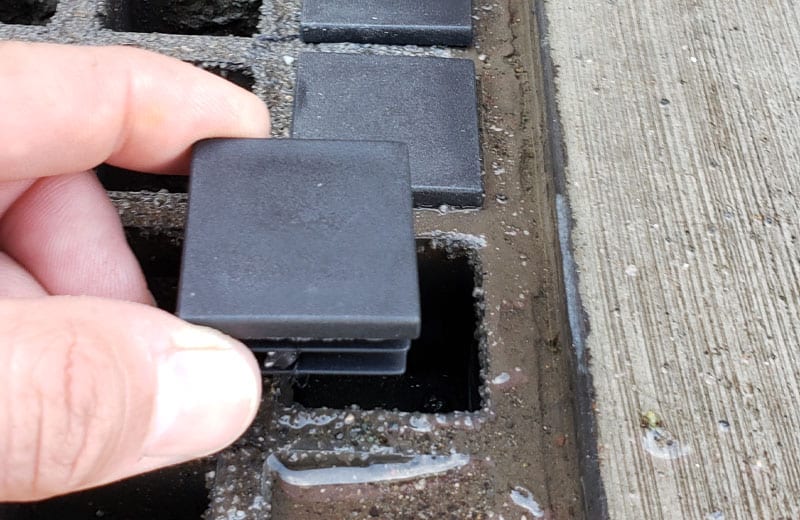 Car wash operators have probably noticed that mud, grime, and trash collect in the outer holes of fiberglass grating used in car wash tunnels. It's particularly severe where the ledge is located that supports the grates. This debris can build up very quickly and become slippery and dangerous for customers and employees walking in the area. It also increases the chance that stray grit and particulates get on vehicle surfaces and cause damage. And, of course, keeping grates clean helps maintain a clean and attractive appearance in your tunnel!
What is a Mud Stopper?
Mud Stoppers are small square plugs that fit snugly into the square holes in fiberglass pit grating. They're easily to install with a mallet or hammer. Simply pinpoint the places where buildup is occurring, clean those areas, and then install the plugs. The plugs direct mud and debris towards the center of the grating, where it drops through and reaches the pit.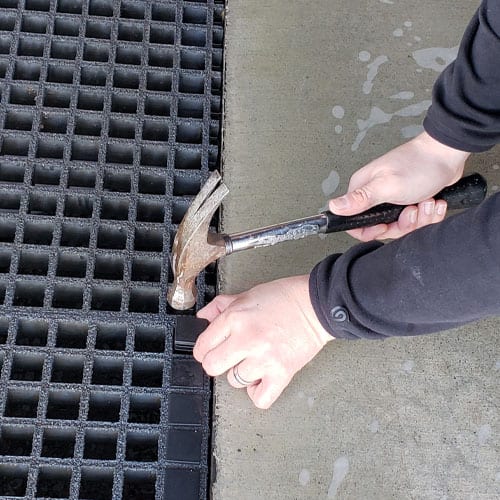 We talked to Todd Perkins about the Mud Stopper Grate Plugs so he could discuss his brand-new product in his own words!
Kleen-Scene: What inspired you to create the Mud Stopper Grate Plugs?
Todd Perkins: At Vacuum Prospector, LLC we like to focus on the dirtiest jobs at the car wash. (First) was cleaning out the extremely dirty vacuum debris with The Vacuum Prospector Clean Out Bucket, and now tackling the other dirty job of cleaning out the car wash pit and making it quicker, cleaner, and safer with The Mud Stopper Grate Plugs.
I have two express tunnels and keeping the tunnel floor and grates cleaned has always been a pet peeve of mine. Not only do you want the tunnel area clean for looks, but also for safety. I didn't want the tips of the brushes potentially getting dirty which could cause damage to customers' vehicles. Also, if I would have a customer complaint, showing them a clean tunnel always helps your case in a damage dispute.
The main portion of the pit grates that fill up with dirt is the portion that sits on the one inch or so ledge of the conveyor and the ledge of the pit. The dirt gets trapped and fills up the grate squares along the ledge up and down the tunnel. Plus, the mud buildup made pit cleanouts extremely messy. There had to be something that I could do to stop the mud from filling those squares up with mud, and that is why the Mud Stopper Grate Plugs were born.
Getting Mud Stoppers to You!
KS: What obstacles did you face in developing the Mud Stoppers and getting them to market?
TP: Like any new product you face many challenges. Making different prototypes [using a variety of] materials and sizes takes time and money. The inside of a car wash tunnel is a pretty harsh environment so you need something that fits snug and will hold up to water, mud, and chemicals.
Once you have a working prototype, then you need to find a manufacturer that makes quality products at a reasonable price. Once the product is made, how do you get the word out? Luckily, we have Kleen-Rite as our exclusive distributor of The Mud Stopper Grate Plugs, as well as The Vacuum Prospector Vacuum Clean Out Bucket! Through the website, car wash shows, and other publications, they have been the driving force in bringing my products to market.
KS: What do you think are the biggest advantages of using Mud Stopper Grate Plugs?
TP: They are simple, inexpensive, and they work. My tunnel floors and grates look much cleaner, and pit clean-outs are much less messy. Hopefully, they work for other car washes across the country!
You can buy Mud Stopper Grate Plugs today Kleen-Rite, in packages of 100 plugs! Plugs fit in fiberglass grating with 1.25" holes.