Car washes need dependable equipment to operate smoothly. CAT Pumps offer a solution that should meet your needs. They manufacture several types like pressure wash pumps, piston pumps, centrifugal pumps, plunger pumps, and extractor pumps.
CAT has been manufacturing some of the most dependable and reliable high-pressure pumps on the market for more than 45 years. As a result, their reputation has made them a renowned favorite in the car wash world.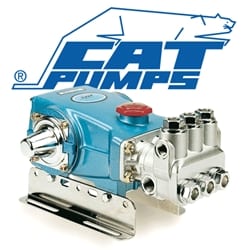 These pumps feature stainless steel valves and seats, which are corrosion resistant. In addition, the high-pressure seals in these pumps offer superior performance and extended lifespan. The triplex displacement pump design gives the user both a low-cost lifecycle, as well as years of reliable service.
Maintaining one of these pumps is simple and straightforward. Making sure that the pump stays well lubricated. Also, do routine periodic checks on the various belts, filters, pulleys, and seals for trouble-free operation. CAT Pumps boast user-friendly designs, and routine maintenance is simple and easy.
A variety of markets use CAT Pumps units, including: vehicle cleaning, agriculture, military applications, government, food applications, cooling and fogging.
Choose a CAT Pump for a reliable way to keep your car wash running smoothly 365 days a year. Check out our top selling CAT 310 pump!