Wintertime can be the busiest time of year for us car wash operators.
Snow, salt, and road grime is our friend for the next few months. Now is the time to make sure your car wash is prepped and ready for the added business, as well as the extra work associated with Wintertime. Knowing that freezing temperatures and wintry precipitation can sometimes strike without much notice, being prepared is key to making this season a profitable success.
Weep System
Probably THE most important piece of equipment for most self-serve operators this winter season is their weep system. The Weep Mizer is a microprocessor controlled system which will automatically cycle your existing normally open solenoid valve, depending on the outside temperature. Basically, the system allows the flow of water through your pumps, out of your high-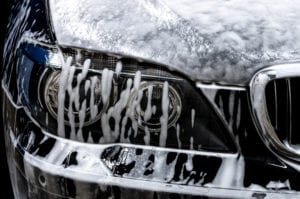 pressure gun assembly to prevent freezing.
Now is the time to make sure the sensors and solenoid valves associated with your weep system are functioning properly. Be sure you test the system by disconnecting the power source. For more information on the Weep Mizer, please visit our website or give us a call. A simple system that is crucial for getting through cold weather.
Anti-Freeze
Gone are the days of weeping your foam brush in the winter months. Today, most people use a methanol based soap product instead. Kleen Rite Anti-Freeze detergent (PN# KR55AF) is a solvent based cleaning compound designed specifically for winter foam brush soap. The high foaming, pink colored detergent is the perfect supplement for the winter months in self-serve foam brush applications. Check out the video on our website to see tip recommendations! We also have a full line of anti-freeze detergents for triple foam applications.
Heaters
It's a good idea to check your heaters a few times before the winter winds are upon us.
Thermostats and fans in the equipment rooms and automatics.
The pressure of your floor heat system and add anti-freeze (PN#FHAF5) if needed.
Check heater lines in your trough to make sure it is enough to keep surrounding hoses unfrozen.
Winter Formula
When making your wintertime checklist, don't forget your vacuum combination units and detail stations. Change to the winter shampoo (PN#VSK825), winter spot remover (PN#VSK905) and winter carpet protectant (PN#VSK915). These products are good to about 5°F. Use an oil based fragrance (Green Label) for your fragrance stations. The formula is good to about 0° F and will not stain. Visit the "Vacuums" section of our website to view our full line of winter formulas for vending!
Try Something New
With a big increase in the liquid brine mixture that many states are going to for road clearing, it proves to be more difficult to remove from vehicles. Simoniz Desalt (PN#PA5568) is a unique formula that removes salt and calcium from the vehicles surface. Now would be a great time to replace a low-pressure function in your self-serve bay such as "Bug Remover" with the desalt product. Touchless and Tunnel operators can use desalt as a high PH pass. We have many forms of advertising for desalt, including Windmaster signs (PN#WMS400), for you to grab your customer's attention.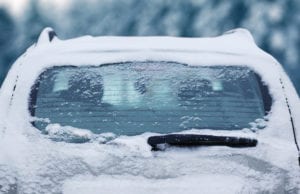 The wintertime can be the most profitable time of year for car wash operators. Keep an eye out for the things that can cause you headaches and downtime in the upcoming colder months. Have a few spare parts, and fix potential problems ASAP. As always, if you have any questions or need some recommendations, please give us a call!