Let's face it, nothing lasts forever, which includes equipment at your car wash. Fortunately, with the click of a few buttons, you can find a plethora of components to purchase online. However, not all spare parts are of equal quality, which makes parts labeled as OEM the ones you want to buy. These parts may cost extra to acquire, but they offer several benefits that offset the higher price.
What Are OEM Parts?
The acronym OEM stands for Original Equipment Manufacturer. An OEM car wash part originates from the company that produced a piece of equipment. These components are brand specific and designed by the manufacturer for specific models of their products. Furthermore, the company that puts out the equipment may either manufacture the smaller components themselves, or have a specialized manufacturer that makes the part to their exact OEM specs. Either way these parts are considered OEM.
Manufacturer Parts Fit Perfectly
Third-party components will sometimes require adjustments for them to fit, increasing installation time. Since OEM parts are for specific models, they are guaranteed to install easily. You won't need to make any alterations, which ensures repairs are fast and easy. Check out our YouTube channel for installation guides.
OEM Parts Function Properly
While you might be able to force an aftermarket part to fit, surfaces might catch one another, causing malfunctions and premature wear. As a result, the new component will wear out quickly; or it will not work at all due to incorrect sizing. Assuming you install it correctly, a manufacturer part will operate correctly.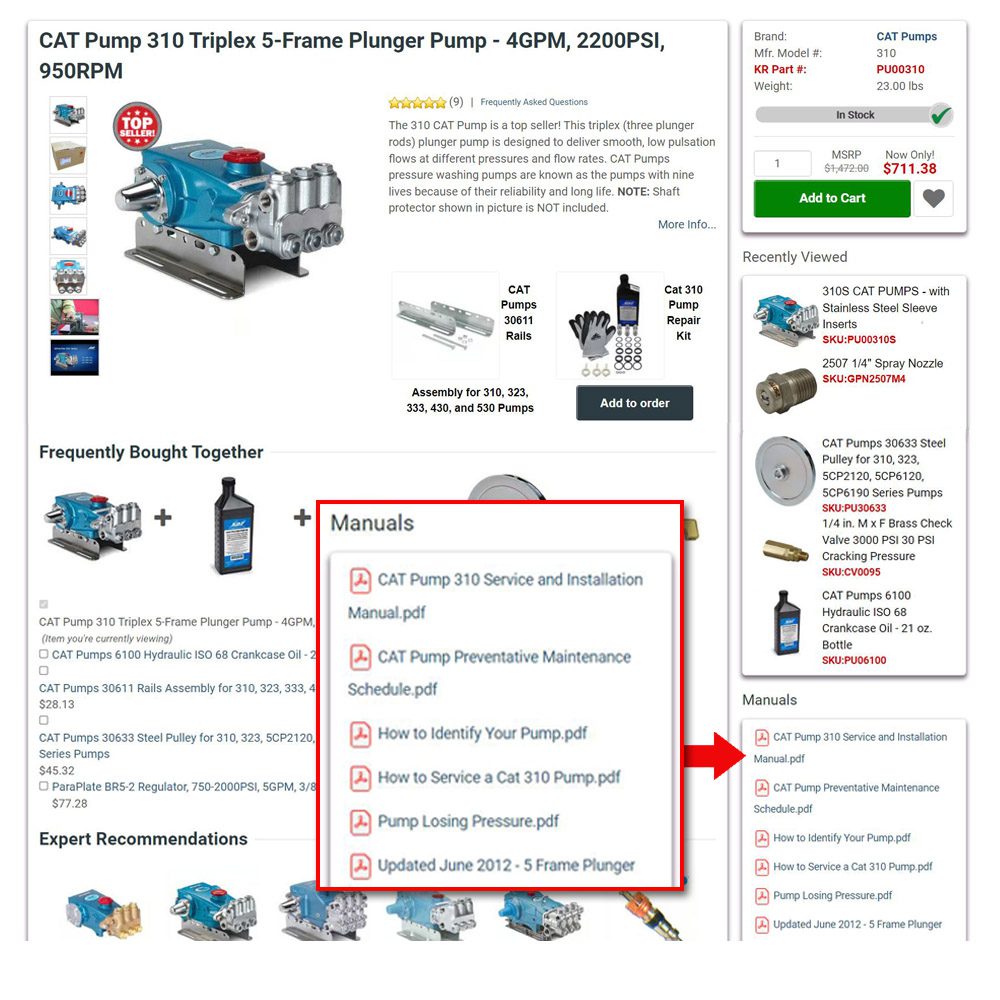 Feature Manufacturer Support
Unfortunately, we do not live in a perfect world, and mistakes happen during manufacturing. These errors can cause an improper fit or premature failure. Aftermarket and third-party replacement components do not typically include any guarantee. Official OEM parts typically included a warranty to give you peace of mind should something unfortunate happen. Or, if not a warranty, an easy return and exchange process where the company wants to back up their products and maintain their reputation.
Genuine Parts Feature the Correct Materials
Equipment in your wash is engineered to endure the requirements of a specific application. Therefore, OEM components feature materials compatible with the chemicals used with the intended application. Since OEM components use the correct materials, they will last much longer.
How Do I Know Which Part I Need?
Manufacturer part numbers identify replacement components. You can find these numbers in spec sheets and parts lists, which break down equipment piece by piece. You can typically find these materials by visiting the brand's website and searching for the product you own. Or in Kleen-Rite's case, look for the "Manuals" section on the right side of product pages to find relevant literature. Once you have the part number visit our website to purchase it.
While OEM car wash parts might cost extra, these high-quality manufacturer components will speed up repairs and minimize downtime. Most importantly, your customers will be able to use the services and equipment at your wash without much interruption, which will help you to retain profits even when something breaks down.
Pump Parts for Popular Car Wash Brands