Kleen-Rite is celebrating its 60th anniversary in 2019. In honor of this milestone, we wanted to take a closer look at the company and dig into what has made it successful while considering how that prosperity will be maintained. In addition to offering straightforward historical information about the company, we also spoke to some of Kleen-Rite's more experienced employees to get their feedback about the past, present, and future of the company.
Need for a Reliable Supplier in the Early Years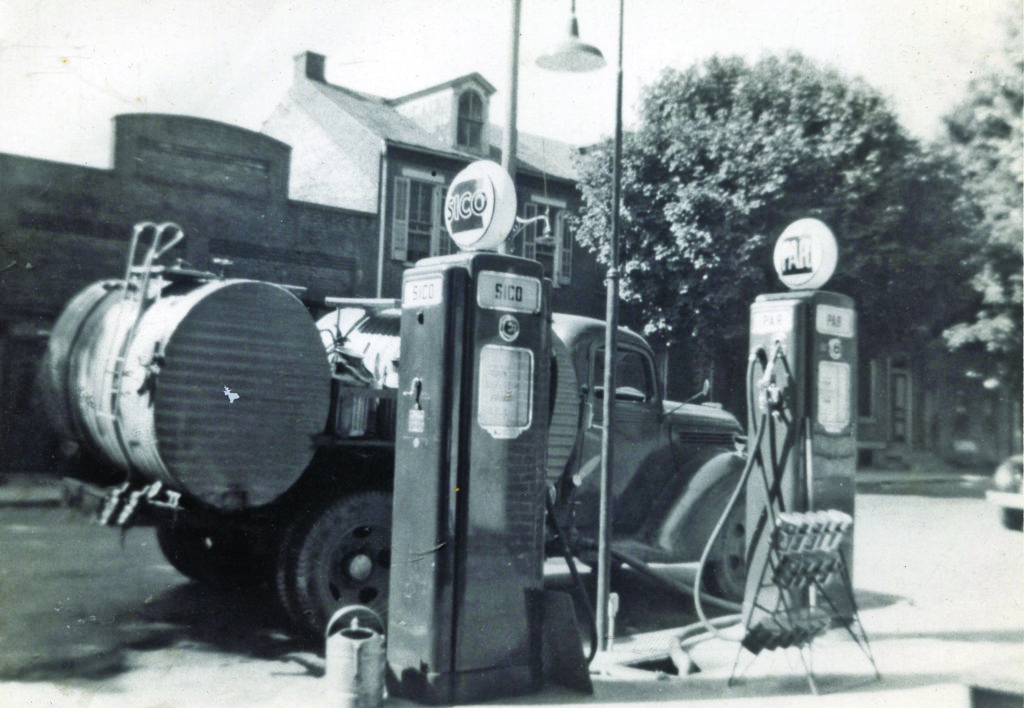 In the 1950s, Harold McKonly owned several businesses in Columbia, Pennsylvania. His businesses included a car wash, a laundromat, a gas station, and a parts business. In the early years of the car care industry, few dedicated equipment distributors existed.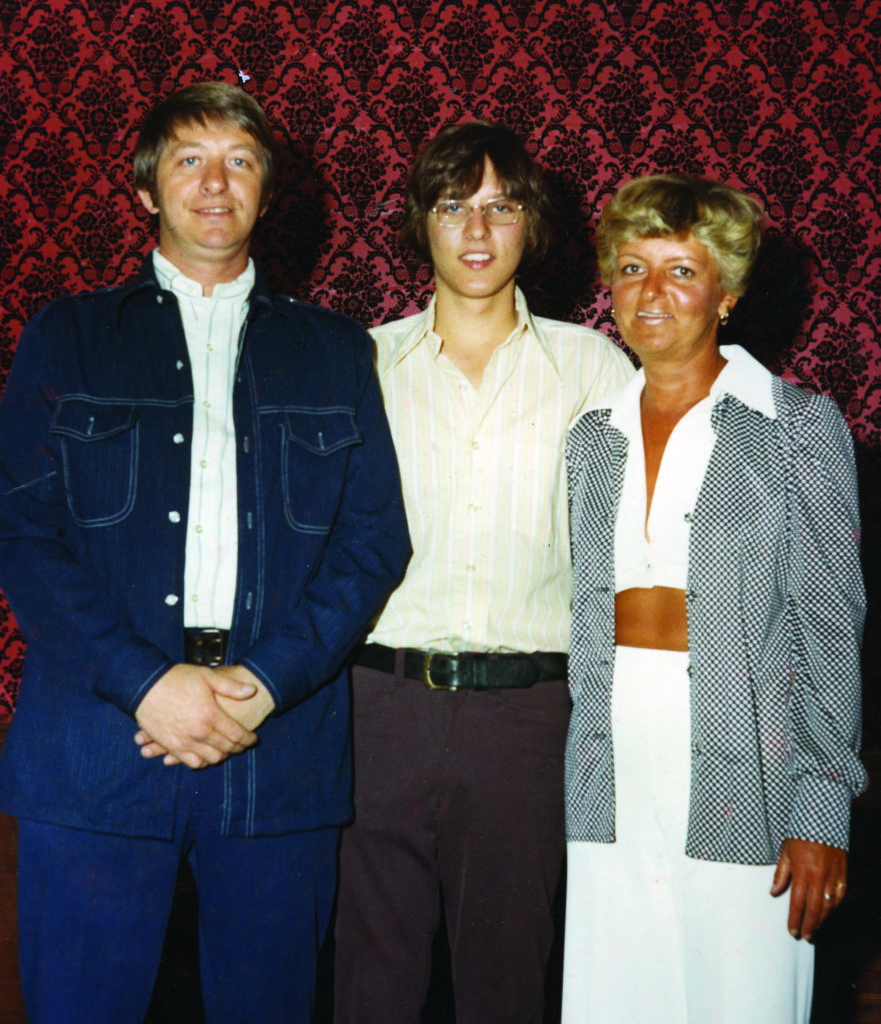 "Mom and Dad got started at the infancy of the industry, so we kind of feel like we were in the right place at the right time," said Mike McKonly, Harold's son and current Kleen-Rite President. "The reason we got into the supply business, way back when in 1959 and 1960, was there wasn't anyone around that you could buy supplies from."
Keith Lutz, Mike's cousin and current Vice President at Kleen-Rite, noted that the McKonlys were already operators and supplying a local geographical area prior to officially starting Kleen-Rite.
At the time, the few equipment manufacturers in existence also sold supplies. In other words, there weren't reliable distributors in specific areas to serve car wash owners. Consequently, it was very difficult to purchase items. For example, a company might just sell a few barrels of soap from the back of a van. When an operator did have the opportunity to purchase supplies, it was nearly impossible to buy those goods at a reasonable price. Of course, that meant that operators were held captive to their suppliers regarding selection and prices.
Harold and his fellow car wash owners experienced this challenge together, so they often assisted each other with extra parts and spare supplies. Harold knew that there had to be a better way; he realized that he should start stocking parts and equipment in significant volume.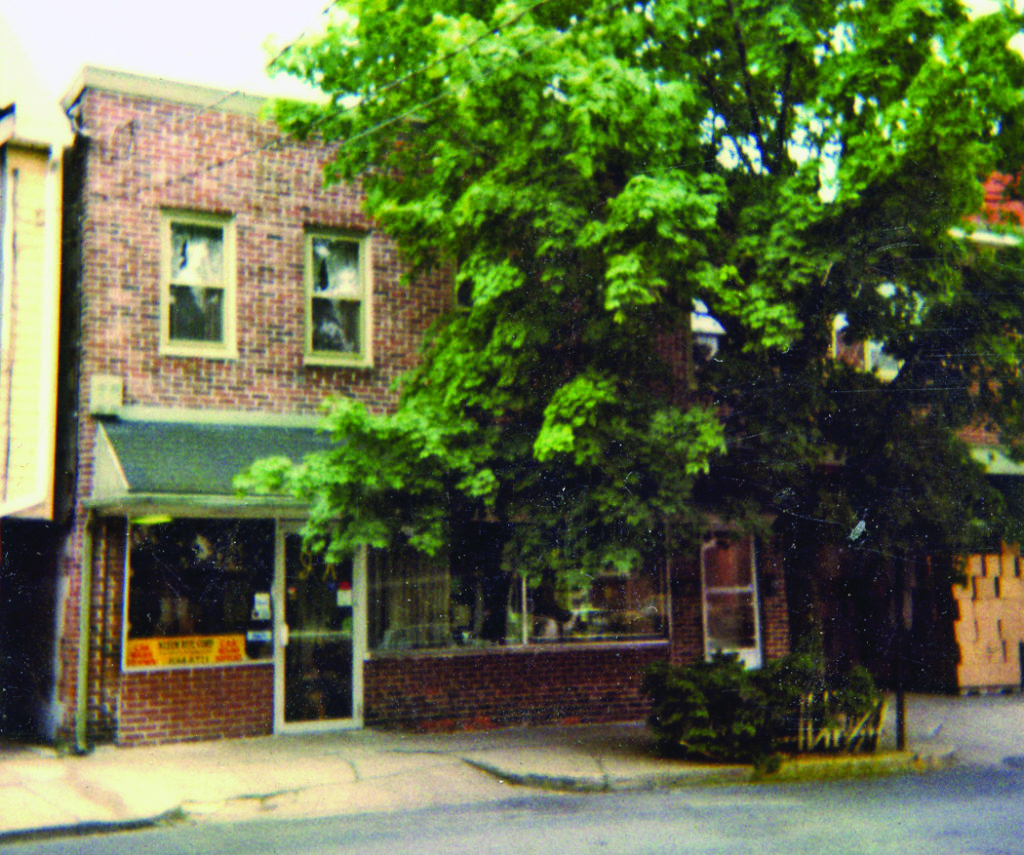 Initially, Harold would simply buy extra parts for his own car wash, and other operators would purchase them from him. It grew from there – out of need. For many years, he would build wash systems, service equipment, and fix pumps for other car washes. In order to support his service work, he had to stock more parts. Eventually, the parts-stocking portion of the business was taking up more time than the actual repair work at car washes! As a result, Harold and Judy McKonly founded Kleen-Rite in 1959. The new business venture specialized in providing car wash supplies, parts, and equipment at the lowest prices with the largest inventory and best selection.
Kleen-Rite Operates Car Washes While Becoming a Trusted Distributor
Having genuine experience running car washes is integral to the success of Kleen-Rite. Understanding the perspective of an operator means quicker diagnosis of problems, more effective product recommendations, and less frustration for customers.
"We started out with a little two-bay car wash behind my dad's gas station. Every day that he had a busy day, he went down and rebuilt the pumps and did everything so he could run another day," remembers Mike. "I grew up with the industry. I remember washing cars, vacuuming cars, and towel-drying cars. Along with the other stuff like picking up trash, filling the vendors, and mixing up soap. It becomes second nature. You certainly understand your customer's perspective, and their needs, because you've lived it and done it."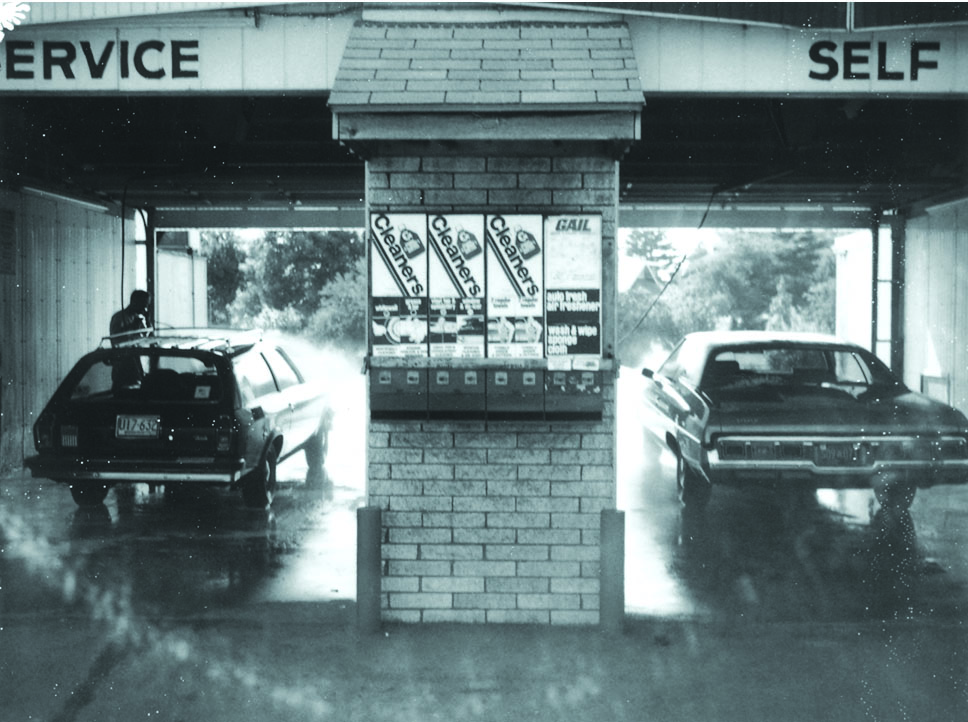 From its inception, Kleen-Rite always operated its own car wash alongside its supply business, which gave the company better insight into the problems of car wash operators. As a supplier, the company felt it essential to have its finger on the pulse of what customers needed. The car wash was Kleen-Rite's test site, as well as its roots. When new products came to market, they were put to the test in the company car wash. The company could immediately determine if a product was going to work properly or not. They could recognize the inherent problems and struggles that a user might face if they installed the product at their car wash. This firsthand, inside knowledge enabled Kleen-Rite to gain a true understanding of their customer's issues.
Kleen-Rite continues this tradition today by operating fully functional car washes just like Harold did from the beginning. That relationship to the industry, and empathy for the problems that operators experience, is a major part of Kleen-Rite's foundation.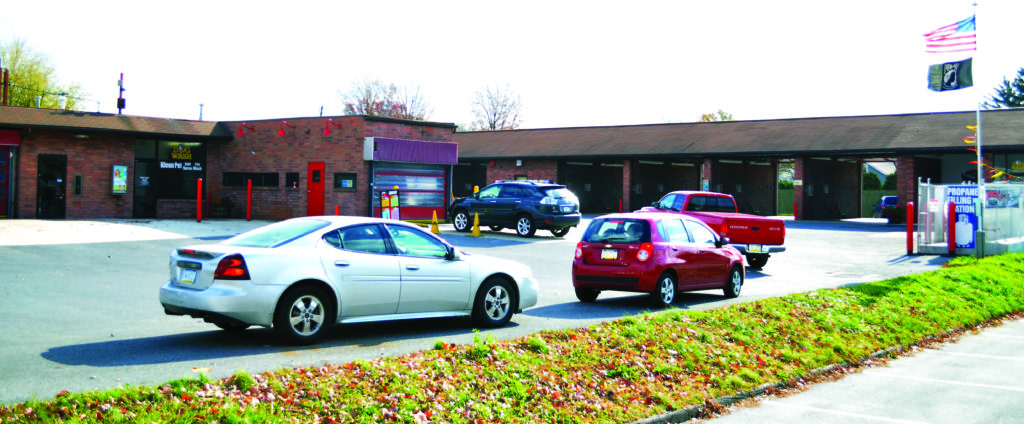 Kleen-Rite's Slow but Steady Growth
Kleen-Rite began as a true "mom-and-pop" shop, employing only Harold and Judy to conduct business. Harold was a phenomenal businessman who adhered to the philosophy that "slow growth is good management." That meant for a lot of hard work and careful spending. He only purchased something if he had the money to buy it, so he didn't deal with overwhelming debt. He only added products as consumers demanded them, not according to a marketing growth plan. He did everything he could to reinvest in the company. He grew the company on what money the business made. That resulted in steady, slow, calculated growth for Kleen-Rite that continues today. Mike McKonly and Keith Lutz echo Harold's sentiments when speaking about using his strategies in the current day.
"One of my Dad's mottoes was always that 'slow growth is good management.' We keep things simple – a hands-on approach, if you will," remarked Mike.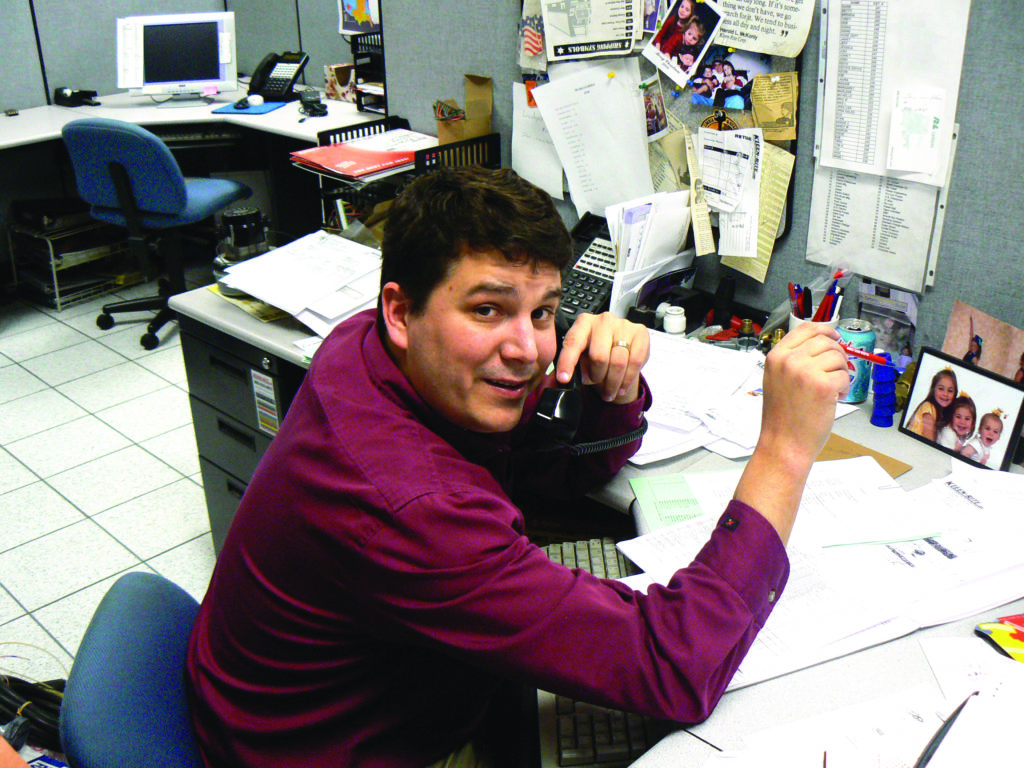 Lutz adds, "We have progressively grown for 50 plus years, and it has been nice, steady growth. As such, we have had nice, steady employment growth, too. We never go out and bite off more than we can chew. Your downside risk is not there. Slow, steady growth is the best growth. We always take advantage of anything we can do to reinvest in the company. It is so key to put money back into the company."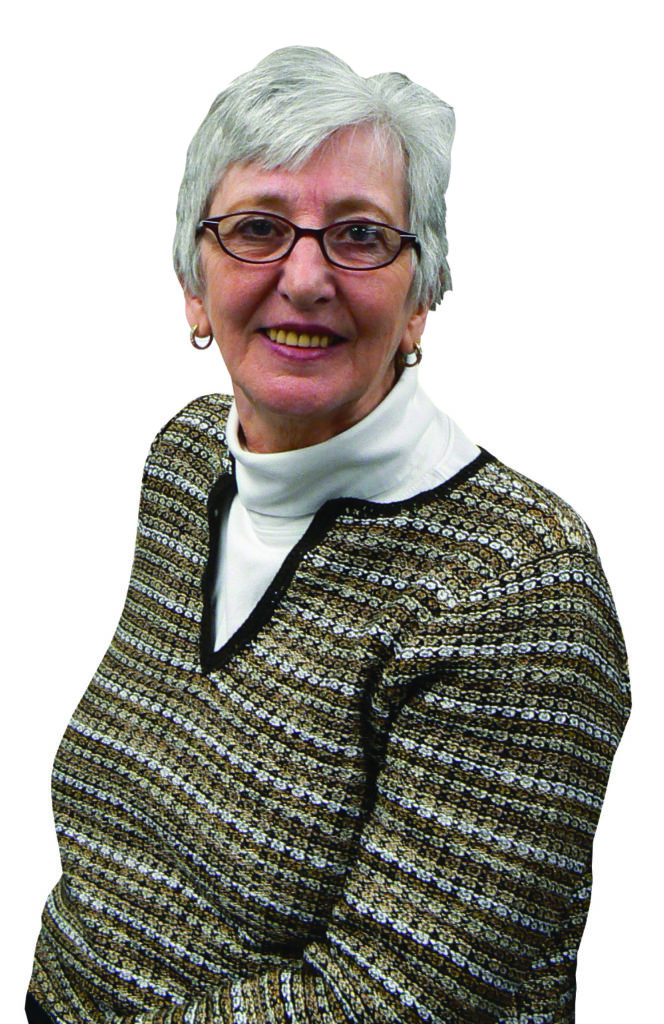 From that point forward, Kleen-Rite became more of a player in the supplier market, expanding from a regional to a national level through advertising. Sandy's hiring was the first of many additions to the Kleen-Rite workforce. Kleen-Rite did so by utilizing the "slow growth is good management" principle to hire and keep employees who were immensely important to the success of the company.
By 1979, business was booming for Harold and Judy. Harold purchased a new computer to help streamline and organize the company. Needing someone he could trust to run the computer, he hired his sister Sandy. She came to work for him even though she had never even seen a computer. She had to learn virtually everything – hand-typed monthly statements, bookwork, sales, corporate taxes, payroll taxes, keeping a ledger, and more. Despite the challenge of absorbing so much new information, Sandy knew she wanted to be a part of the exciting environment.
Acquiring Properties and Increasing Growth
As Kleen-Rite grew, it needed more space for both employees and inventory. The company was still operating from its original small building on Cherry Street in Columbia, PA. In the mid 1990s, multiple buildings were purchased on 9th Street in Columbia to add office space and basic storage area. In 1996, the bulk of the staff was moved to 9th Street, creating an important new hub for the company.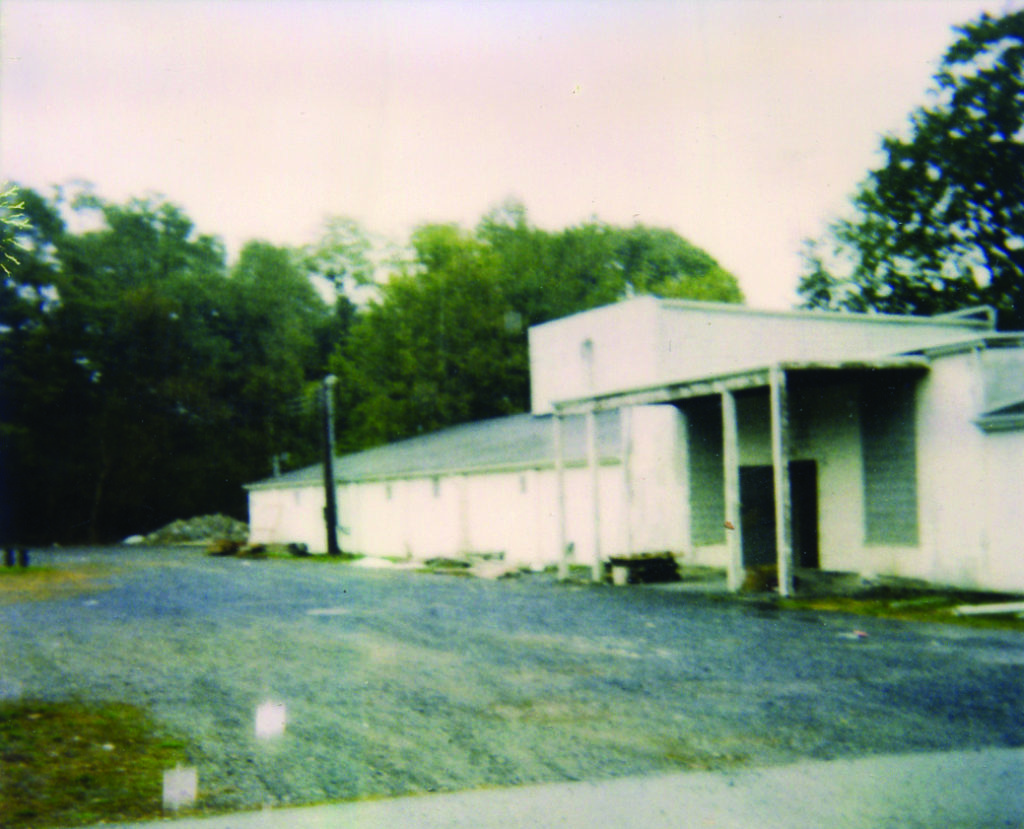 In 2004, a large industrial space was acquired on 9th Street relatively close to the other Kleen-Rite properties. This building, a former machine shop, was used for storage to accommodate the ever-growing number of products that Kleen-Rite was offering.
With the growth, the company realized that departments needed to be created so that employees could focus on more specific roles and new talent with specialized skills could be hired. Lutz marks the development of staff as one of the most important changes in recent decades. Employee Jodi Smith agrees. Smith has held several positions at Kleen-Rite over the past 25 years, from Shipping Clerk to Customer Associate and now Purchaser.
"(It) was very important to the growth of the company," Smith said, regarding departmentalization. "Creating specific roles also opened the door to more technology and advertising that helped Kleen-Rite."
Many Kleen-Rite employees, including sales and customer service, still reside in the original expansion space on South 9th street. Over time, more buildings have been purchased along the same block to house finance, purchasing, marketing, HR, and more. The former machine shop turned storage building has now become a meeting space and home of Kleen-Rite's biennial car wash expo.
Adding a Website and Moving into the Digital Age
The Kleen-Rite website was launched in 2001. The intention of starting the website was less about grabbing a lot of new customers, and more about providing a new way for customers to place their orders. Before the internet was such a massive part of our lives, it was much tougher to allocate resources to build a presence in the digital realm. Having a more service-minded approach has let the website evolve over time by tweaking design, refining marketing methods, and hiring new staff. The website has grown to have better data that's improving all the time, a live chat functionality, and so much more. Check it out at www.kleen-ritecorp.com!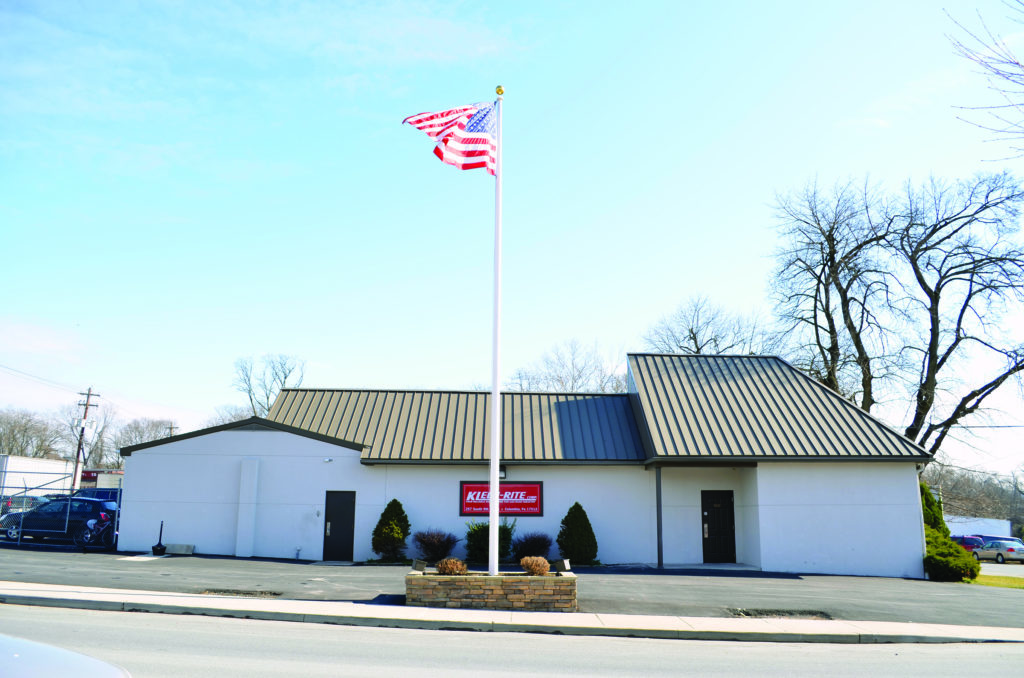 One of the biggest challenges that businesses face – Kleen-Rite included – is the logistics of shipping in the digital age. Steve Deeg, Operations Manager at Kleen-Rite, looks at the puzzle of shipping and the customer experience as both a challenge and an opportunity.
"We live in an Amazon.com world," said Deeg. "Meeting growing expectations while still doing what's best for us as a company is tough. Shipping things cost effectively, with free freight as the ultimate goal, is what we're always working on. In today's climate, customers want things fast and expect it to be sent cheap or free. We also have worked to improve communication with customers so that they are always in-the-know throughout the ordering and shipping process. There is a greater push towards technology, and there are new difficulties with that. At the same time, we're getting closer to our customer, building a better experience, and expanding our reach."
Kleen-Scene Magazine and the Learn More, Earn More Expo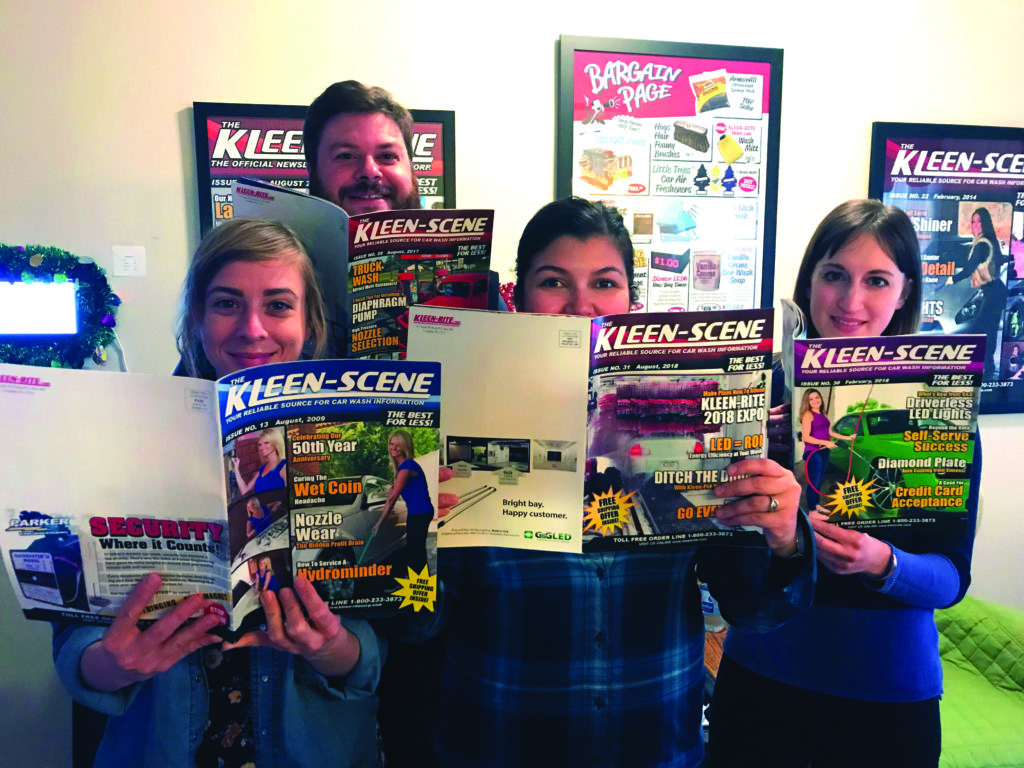 The first Kleen-Scene was published in 2005. The Kleen-Scene magazine is a car wash resource that the Kleen-Rite marketing department produces twice a year. The winter edition is released in February, while the summer edition is released in August. Those in the car wash industry read the magazine for product reviews and demonstrations, detailed looks at car washes around the nation, sales and promotions, and more.
Kleen-Rite held its inaugural expo in 2004. The scope of the expo has widened over the years, but the concept has always been on creating an informative, learning atmosphere for car wash owners to increase their industry knowledge. That is why Kleen-Rite calls it the Learn More, Earn More Car Wash Training Expo. Customers are treated to expert seminars, discussion with the best vendors in the business, and the opportunity to see products in person before buying. Of course, the free samples and door prizes don't hurt either! This event is held every two years.

Both of these items are important to Kleen-Rite, as they've provided more channels to reach customers. Maintaining a close relationship with customers is all about offering different ways to learn about the company. When customers find a comfortable, reliable way to learn about products and services, they tend to have a better overall customer experience.
Kleen-Rite Las Vegas and Texas Distribution Center Open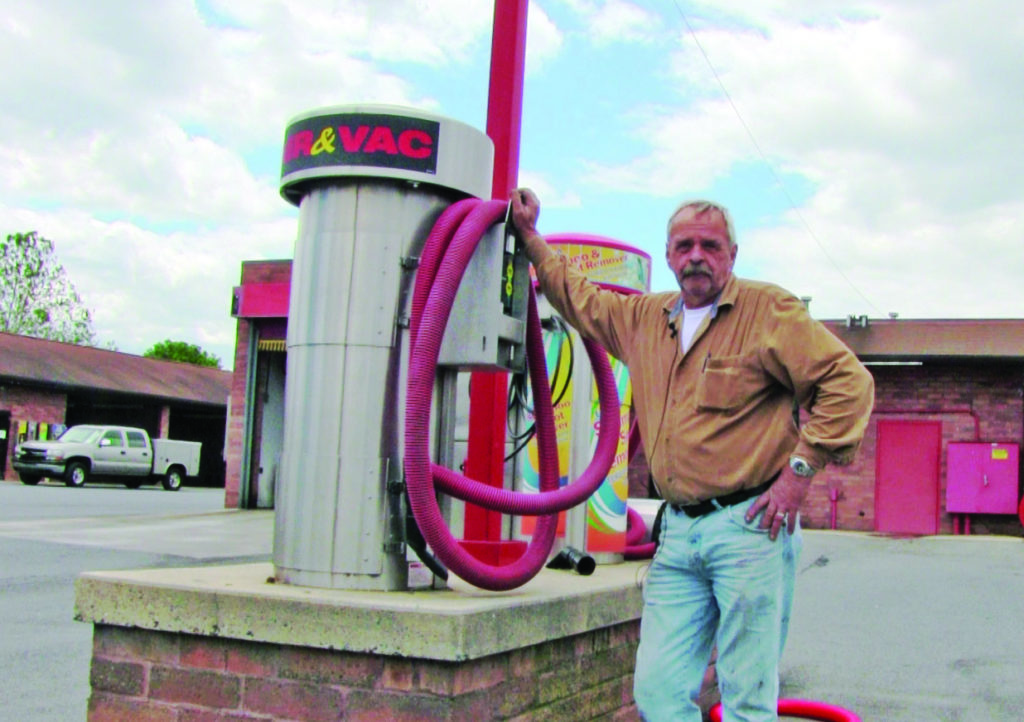 The Las Vegas and Texas facilities were opened in 2006 and 2012, respectively. In addition to offering more storage space, these distribution centers greatly increase shipping speeds, provide a place where customers in the western and southern regions of the country can interact with Kleen-Rite employees, and makes it easier to get products and materials to the large trade shows.
Tom Allen, Kleen-Rite Senior Technician and Warehouse Supervisor, is a wealth of knowledge and known at Kleen-Rite for his no-nonsense approach.
"The Texas and Las Vegas locations are really more customer service oriented, in my opinion," he shared. "They absolutely save money on shipping and logistics, but adding them also provided a place where customers could be in contact with Kleen-Rite if they needed closer assistance."
Buying and Renovating Mount Joy Warehouse
By 2016, Kleen-Rite needed a larger space to store inventory; a main spot where goods could be consolidated and shipped. The company decided to renovate a former textile manufacturing facility in Mount Joy, a town near Columbia. This involved a process of lifting the roof off of the building and adding more levels to the structure. It also involved a massive amount of work gathering products from various buildings, truck trailers, and containers to get it all organized in the new warehouse.
"The addition of the Mount Joy warehouse was huge, and had a major positive impact on Kleen-Rite," Allen points out. "Before the Mount Joy warehouse, basically everything was done outside for shipping. We'd be loading products from trucks and containers with forklifts going all around, here and there. If the weather was really bad, we were in trouble."
Even with a large new warehouse, the approach is still on efficiency and smart use of resources. Deeg knows this is a key concept for Kleen-Rite.
Deeg said, "Our mentality is to be as efficient as possible with what we have. Anyone can ask for a bigger warehouse or operation, but we are trying to do the absolute most that we can with the tools that we have. Once we are filled to capacity, THEN we would make the next step in expansion. One of the reasons why Kleen-Rite has been successful is that they focus on utilizing the resources that they have as opposed to bringing in technology or bells-and-whistles that are not really going to give you the kind of results that you need. We focus on the results and making sure that the customer is satisfied."
Allen's goals for the warehouse are a great example of his attitude.
"Zero percent mistakes – I don't like shipping things out wrong. All it does is cause a hassle for the customer and a hassle for us," he said. "It is bound to happen because we are all human, and new employees tend to make errors, but the goal is no mistakes. Everything should leave correctly – if it doesn't, I want it taken care of right now."
A Maturing Car Wash Industry
In a conversation with Mike and John Tobias, Kleen-Rite Director of Marketing, they listed some of the trends – both positive and challenging – that they've recognized in the car wash industry in recent years.
POSITIVE TRENDS:
Quality, reliable credit card acceptance.
Smart ideas for unlimited wash memberships and free vacuuming with wash purchases.
The successful use of additional profit centers at car washes. They vary from vending, dog washes, and motorcycle washes, all the way to convenience stores, coffee cafes, and restaurants being operated in tandem with car washes.
Car washes making efforts to lower their energy costs and be more environmentally conscious. Things like better lighting and safer, biodegradable chemicals come to mind.
CHALLENGES:
Consolidation and more chains versus smaller independent establishments.
Oversaturation in certain markets.
More regulation involving taxes, water issues, zoning, etc.
Vandalism and crime always a problem.
Allen notes that, "The younger crowd is starting to become more interested in the business. That means technology, CryptoPay for example, is becoming more important to the car wash industry and creating new opportunities. Technology is also helping our operations. We have guys driving around on forklifts with their tablets to assist them."
When asked about the difficulties of the car wash industry, he answered, "I have nothing bad to say about the car wash industry. I'm still happy. Someone like me has knowledge about older stuff that is still used today. It's an industry that connects what has always worked with new ideas. I can teach and learn and eventually things get done right."
Lutz provided an astute summary of the state of the car wash industry and where it is headed.
"Overall, the car wash industry has become a more mature, professional industry that makes deliberate moves and is more polished than ever. People want their businesses to look clean and attractive, so they're willing to invest heavily in their car washes. Because of the convenience, reliability, and sharper appearance, more consumers are leaving their driveways and cleaning their vehicles at car washes.
"However, along with the polish and professionalism comes some growing pains. In this climate, there is an increasing amount of consolidation and chains running car washes. Mom-and-pop operations, independently owned washes, and self-serve are still immensely important to Kleen-Rite, but working with larger chains and more advanced automatic washes is a challenge that we have to face. Neither type of car wash is going anywhere, so we have to balance our efforts in the smartest way possible."
Hall of Fame and Maintaining the Kleen-Rite Philosophy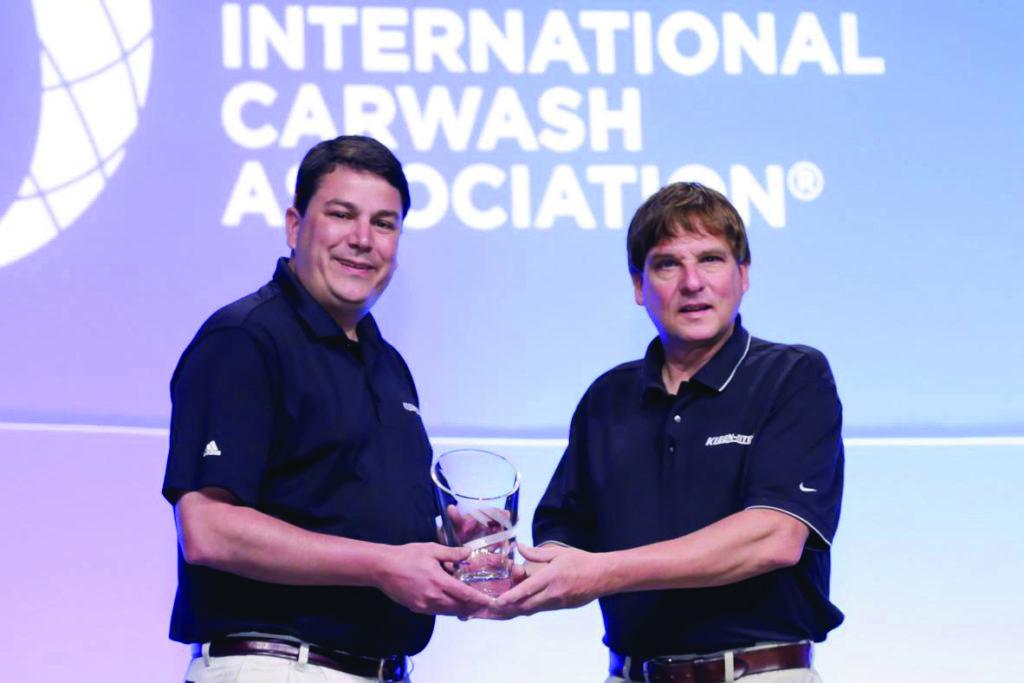 In 2015, Harold McKonly was inducted in the Car Wash Hall of Fame because of his immense contributions to the industry. His induction comes as no surprise to the people who knew him and worked with him; a well-deserved honor!
Tom Allen was the first full-time non-family employee at the company and had a close relationship with Harold. He remarks on Kleen-Rite's founder: "Harold was as close to being a father to me as anyone in my life. He was a teacher who wasn't afraid to yell, but also wasn't afraid to offer praise when it was due."
Throughout the years, the company has grown and changed, but the philosophy essentially remains the same. The goal is to be a one-stop shop for car wash operators and provide as many quality products as necessary at the best possible prices. "To be the reliable supplier to the car wash industry, and to give the best for less," Mike states simply. "Those are the two slogans we not only use, but live by."
Employees Favorite Memories from Their Kleen-Rite Career
A company that achieves long-term success is one that keeps their employees happy in addition to pleasing the customer. In fact, Smith sees that cooperative relationship between company leaders, customers, and employees as the most important aspect of future success for Kleen-Rite.
Smith said, "Respecting and holding on to existing customers, even through changes, while maintaining a high standard of concern for employees should remain a goal for Kleen-Rite as a company."
We thought it would be fun to hear some of our employees' favorite memories from their time at Kleen-Rite. Since the years go by so quickly for dedicated, loyal employees, it's great to hear them reflect on their special moments with the company!
Tom Allen, Senior Technician and Warehouse Supervisor, 34 years at Kleen-Rite: "I remember when we added seven self-service bays to the Kleen-Rite Car Wash. Everybody that was at the company pitched in to help build them. Every employee was part of the process. We could proudly say that Kleen-Rite built those bays because we literally constructed them from start-to-finish from the ground up."
Mike McKonly, President of Kleen-Rite: "Rather than one memory, mine is more of a general thing. Helping out car wash guys and talking to them is my absolute favorite thing about Kleen-Rite. Learning from them, teaching others, and just having good conversation is really what I enjoy the most."
Jodi Smith, Purchaser/Expediter, 26 years at Kleen-Rite:
"I was lucky enough to have been at the company when the founders, Harold and Judy, were still with us and working at the company. I don't even know if I have specific moments I can remember, but I just liked talking to them, hearing their thoughts about the company, and getting to know them personally. Their values were passed down and that is wonderful, but to be fortunate enough to actually interact with them in person was very special to me."
Steve Deeg, Operations Manager, 15 years at Kleen-Rite:
"I always enjoyed potluck dinners that were held over the summer in the past. Each person would chip in with food, utensils, drinks, and more. There were lots of smiles and fun. People loved the extended lunch break. Those memories stick out to me."
Gary Frey, National Sales Manager, 8 years at Kleen-Rite:
"One example of a great memory I have is going on the Big Shot ride at the top of the Stratosphere in Las Vegas. I rode it with Rick Diehl while I was out there for the ICA show. That's sort of a goofy memory, but it's the kind of thing we get to do, bringing work and play together a little bit. We build such good relationships with both customers and vendors. I get to see new places and experience new things through traveling for Kleen-Rite."
Keith Lutz, Vice President, 25 years at Kleen-Rite:
"In October 2016, we were preparing to move to our new building in Mount Joy. We needed volunteers to make it happen. Basically everybody, including people like office personnel, warehouse workers, and finance staff, helped out to make the move happen. All helped out in the warehouse to get it back on its feet. There were a lot of struggles, but our employees made sure any difficulty was absorbed by the company rather than the customer. Everything came under one roof instead of being scattered around. Between trade shows, parties, and things like that, I have a lot of amazing memories with Kleen-Rite. Even so, I still rank the move to the warehouse and the help of all employees as my favorite memory."
John Tobias, Director of Marketing, 16 years at Kleen-Rite:
"I could go on and on with memories from working at Kleen-Rite. I remember when my dog got sprayed by a skunk and I was able to take him right down the street and wash him at the Kleen-Rite Car Wash Dog Wash. The smell came right out, it was super easy. It's one thing to sell these units, but a whole other thing when you need it yourself."
Many thanks to those who contributed their thoughts and wisdom for this anniversary article. Of course, we also have to express our appreciation and gratitude to our loyal customers; Kleen-Rite would not exist without you! We are proud of our sixty-year history and anticipate many more years of success and dedicated service to the car wash industry!
*This blog was originally written as a Kleen-Scene article. Tom Allen tragically passed away shortly after the magazine went to press.