Here we are in 2020! Hope you are all enjoying a busy and prosperous New Year!
Here at Kleen-Rite we are always staying on top of what's new in Car Wash Chemistry, and 2020 is off to a fast start. What are we seeing so far that impresses us, and that brings your business new opportunities in the coming year? Here's what's new in Car Wash Chemistry!
Kleen-Rite ALL SYSTEMS Low pH Polymer Presoak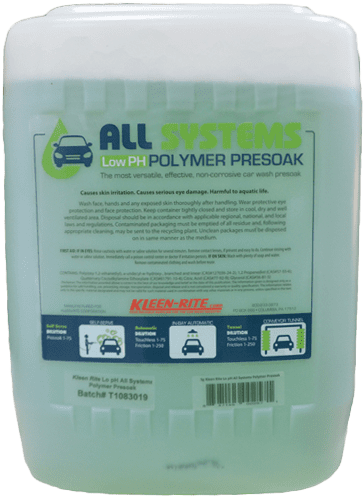 The perfect companion for our previously-released ALL SYSTEMS Hi pH Polymer Presoak, this new formulation works great as a stand-alone or as the first step in a true low pH/high pH two-step presoak.
Polymers are large molecule chains that grab, lift, and encapsulate dirt. They are slow-moving, which helps to prevent redepositing of soil during the cleaning process. Utilizing both low and high pH polymers in a two-step presoak process allows the low pH presoak to attack dirt, dust, and salts while the high pH attacks the man-made materials including dust, dirt, scale, and more. Low pH helps to provide a better gleam on glass and chrome in the process, for an all-over shine.
Working with the new ALL SYSTEMS Low pH Polymer Presoak allows your customers to take advantage of features including:
Reduced dwell time
DOT non-corrosive
No extra heating required
No offensive chemical/acid smell to your customers
You can find the new Low pH Polymer Presoak under item number KR5205L.
Simoniz Hot Wax for Self-Serve Operation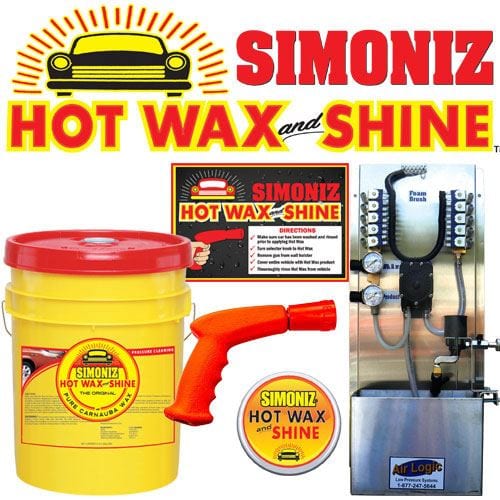 How do you improve on the industry standard for surface protection? You make it easier and more accessible!
Hot Wax and Shine has been the car wash industry's leading sealer wax for years. Using naturally-occurring carnauba wax and polymers, it gives the finish the look of a hand wax, but with the convenience of a spray application. Followed by the appropriate drying agent and fresh water rinse, it delivers a layer of protection that is unmatched.
For years, this product was limited to automatic conveyor washes and in-bay automatics. New this year, the Simoniz Hot Wax and Shine self-serve packages (KRKS5000-2 and KRKS5000-4) allow operators to outfit their self-serve bays with the Simoniz Hot Wax capabilities. Self-serve operators will be thrilled they can now include this value-adding product to their offerings, increasing in-bay time of their customers!
Simoniz Ceramic Sealant
Another development from the team at Simoniz, this brand-new formulation is diamond-tough and hydrophobic.
Simoniz Ceramic Sealant utilizes a ceramic polymer that bonds with the vehicle's paint, creating a layer of durable protection. This layer protects the vehicle's surface from the ultraviolet rays of the sun, while being resistant to etching, staining, and environmental acidic elements. The ceramic coating helps to make it difficult for grime and mud to stick to the vehicle, while at the same time causing water to bead up and run off faster, resulting in less spotting when it dries.
In addition to the protective qualities provided by the sealant, it also improves the reflective qualities of the paint itself, as well as the underlying clear coat. Your customers will like the fact that the ceramic polymer lends itself to a longer-lasting shine that stays true for weeks after a wash.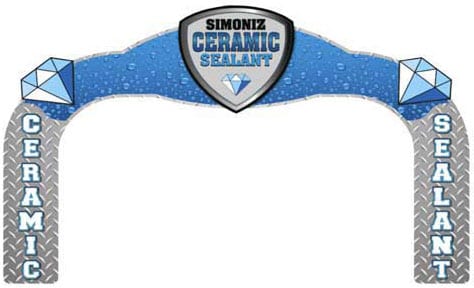 Kleen-Rite offers a Simoniz Ceramic Sealant start package that includes:
New ceramic arch with bold graphics and LED side panels
Dosatron pump station, dual 12 port manifolds and nozzle system
Marketing materials include 2 Windmaster inserts and drum covers
30-gallon drum of Simoniz Ceramic Sealant
We also provide 5-gallon, 30-gallon, and 50-gallon units for refilling your system or expanding your capacity. This new technology from Simoniz can bring your wash an entirely new profit center for your tunnel operation!
For further information on these new car wash technologies, please contact Steve Kelly at stevek@kleen-ritecorp.com or myself at jcogley@kleenrite.com
Jay Cogley