Car washing is a universal activity… and trying to find the best products for a vehicle is part of it. We talk about vending often, but it's almost always in regards to vending within the United States. But here at Kleen-Rite, we work with car washes around the world! So what do you need to do to make sure that you can vend great car wash products across the globe?
International Vending Units

The key to vending around the world is having the right units to do it!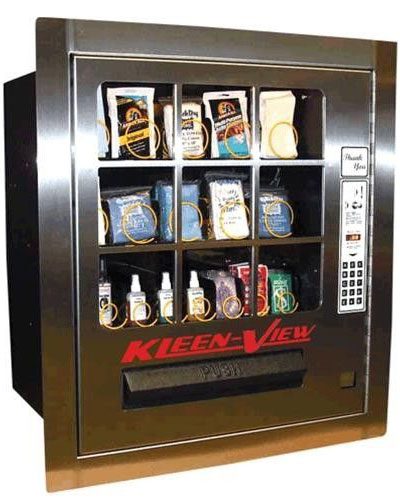 One of the premiere units for international vending is the Laurel Model 2100 Single-Column Mechanical Drop Shelf Vender. The simplicity and flexibility of these units makes them a great choice regardless of what or where you are vending. As they are mechanical, you don't have to worry about electrical connections. This means no concern for getting the right plug or the right outlet current! That mechanical operation also makes it easier to change out coin acceptors for the currency you need.
While the Laurel 2100 is a great option, the fact that it is a single-column machine can be an issue. Sometimes you want multiple options in a single machine. Kleen-View Vending machines from Kleen-Rite are great options when you want these multiple options. You can get one with a Canadian coin acceptor, or one with both a coin and bill acceptor. They're ready to go right out of the box, no acceptor change-out needed! These stainless-steel units are durable and reliable, and can vend up to 18 products at once. Customer can see what they are getting with the products being visible through a glass front.
Coin Mechanisms for Different Currencies
Sometimes you may be able to find a great deal on a vending unit… but it might not have the coin acceptor for your currency! It's hard to pass up a great deal though.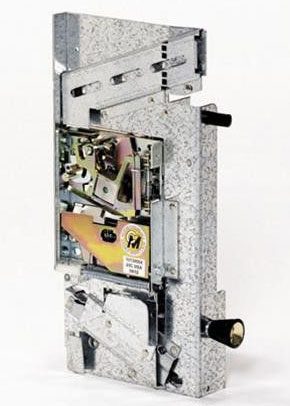 Laurel Metal Products produces a variety of replacement coin mechanisms for the single-column mechanical drop shelf vendors and more. These can be easily swapped into existing machines to replace a different mechanism. So if you need to convert an existing machine at your wash or laundromat, or want to buy a new machine but can only find one with a currency different from what you need, you can take care of it yourself! Available mechanism include:
.50, 1.00, and 2.00 Euro
Australian 1- and 2-dollar coins
Canadian loonies and quarters
New Zealand dollar coins
Swiss 1-franc coins
British 1-pound coins
While they're not the only provider of international vending coin mechanisms, they're the most thorough. You can also get mechanisms for Euros and Canadian coins from Imonex, J.E. Adams, and Coin Mechanisms. No matter what coin acceptor maker you prefer, or your machine comes with, there are alternatives that are easy to switch out!
Great Products for Vending Around the World
So what are you going to sell if you're in Canada, Australia, the European Union or elsewhere? We discussed our 12 Best Selling Car Wash Vending Items previously. However, not all of these are available to international vending customers. Here's a primer for the Top 6 types of products to offer in your single- or multi-product vending machines:
Towels: Interior, exterior, detail, window – towels are always in high demand at car washes. Offering at least drying towels is important, as a good dry-off provides an extra-clean appearance.
Glass Cleaner: While your wash will take care of the outside glass, your customers will still want to clean off the interior for the clearest vision. Whether as a small spray bottle or as a pre-wetted towelette, offering your customers something to clean off fogged or dirty interior glass will certainly bring some sales.
Air Fresheners: Everyone likes their car to smell nice. Whether you want to offer an iconic Little Trees products, sports teams, or comic and movie figures, there are plenty that can be hung throughout the cabin. In area where hanging fresheners from rear mirrors is an offense, take a look at fresheners like vent sticks, vent clips, jars, and more – these are all vendable!
All Purpose Cleaner: The nooks and crannies, the heavily handled surfaces of your interior, the hard plastics – they all need to be cleaned off. A spray bottle of all-purpose cleaner can do the trick.
Protectant/Conditioner: Dashes, interior rubber surfaces, and leather upholstery all need an extra level of attention to maintain their clean, supple look.
Tire Shine: Shiny metal and rubber brings the whole package together. Your customers will want to get that wet look – give them the products to do it!
These six types of products are the perfect products to build your vending program around. While we can't guarantee the products we carry are available internationally, we try our best to make available what we can. Check with your local suppliers for specific needs that we can't meet!
Car care is a global thing. Where you see cars, you'll find people who want them to look great, smell great, and impress others! Make sure you've got the international vending machines, acceptors, and products to take advantage of this.