Cashless transactions are much more popular than ever before. According to a February 2023 Forbes survey, only 9% of respondents typically pay with cash or check. 91% lean on virtual or physical debit or credit cards for the majority of their purchases. This follows up a study in 2021, where the Federal Reserve Bank of San Francisco found that 28% of all payments surveyed were made using a credit card. Notably, this gets even greater with higher income households. Households with income over $150,000 reported 44% of their payments as being via credit card.
On top of that, it's been shown that customers are willing to spend more when paying by credit card. A Dun & Bradstreet study noted that people spend up to 18% more when using a credit card over cash. McDonald's once noted that tickets paid by credit card were, on average, $2.50 higher than cash tickets.
What's the point here for you, the car wash owner?
More customers, particularly those with larger incomes – and likely, greater disposable income – are using credit cards to make most or all of their purchases. Which means you need to meet them where they are to keep them coming back.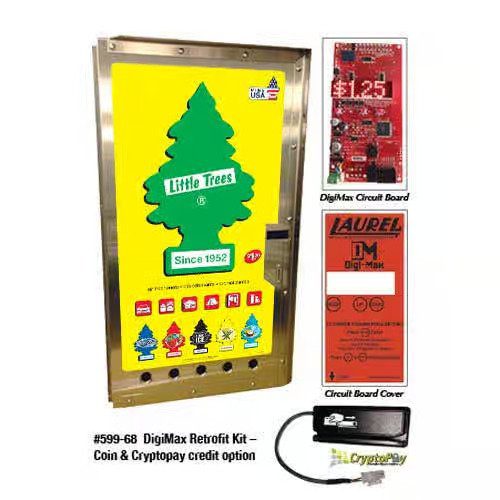 Offering a credit card reader option for your wash bays and tunnels is a no-brainer. But one area where some wash owners have been hesitant has been for vending machines. In some cases, this is because retrofitting an existing machine wasn't easy or cost-efficient, and sales couldn't dictate buying a new machine. Laurel's DigiMax machines are one of the top vending solutions on the market. However, for smaller-traffic washes, the investment in these might be more than an owner would want to make.
Laurel DigiMax Retrofit Kits
The good news is, Laurel has come up with an effective option for you! The latest retrofit kits from the leader in car wash vending machines, the Laurel Retrofit Kits allow you to upgrade your existing electronic Laurel vending machine with a brand-new DigiMax display as well as making it possible to accept credit cards!
With DigiMax retrofit options available for 399 and 2599 1-column machines, 899 3-column machines, and 599 5-column Little Tree vending machines, operators can upgrade their reliable electronic drop-shelf vendors to provide customers with the credit card option. All it takes are four things:
A DigiMax retrofit kit that matches your machine
A CryptoPay swiper
An Interface Cable
A Cryptopay Coordinator
The original circuit boards in the Laurel electronic vendors were great! However, they did not have the capability to connect the CryptoPay swiper. The board in the DigiMax retrofit kit features the correct chipset and the proper connections to be able to interface with the CryptoPay swiper. This allows the board to be able to deal with independent pricing across multiple columns.
With the DigiMax retrofit installed, the CryptoPay swiper can then be installed and plugged directly into the DigiMax board. Then, all you have to do is program your unit and make sure it's connected via the CryptoPay Coordinator. Once you do this, your vending machine is ready to accept credit card payment!
So meet your customers where they want to be! Make sure you're offering credit card payment options in your vending machines on top of your bays and vacuums. As the studies show, this increasingly popular payment method can also lead to higher spend, helping increase your profitability! If you've got questions about installing the retrofit kit on your Laurel 399, 599, or 899 machine, watch Fix It Phil walk through installing one of these fantastic kits!